IMMUNOSOL - Levels of testosterone in the blood, fertility and reproduction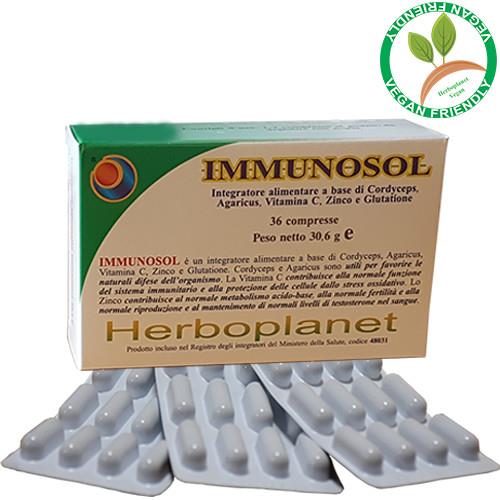 Product VEGAN FRIENDLY
COMPONENTS CONTENT FOR TWO TABLETS
: charge agent: microcrystalline cellulose. Cordyceps sporophore (
Cordyceps sinensis (Berk.) Sacc.
) dry extract titrated to 40% in Polysaccharides 350 mg, Agaricus sporophore (
Agaricus Blazei
) dry extract titrated to 10% in Polysaccharides 350 mg (
total contribution of polysaccharides 175 mg
), Vitamin C (
L-ascorbic acid
) 80 mg (
100% RDA
), zinc sulfate 66 mg (
zinc contribution 15 mg = 150% RDA
). Anti-caking agents: Silicon dioxide, Magnesium salts of fatty acids. L-Glutathione 50 mg.
Product included in the Register of supplements of the Italian Health Ministry,
Code

48031
.
Product included in the Register of supplements of the Spanish Health Ministry,
code 0599/9383/2017
.
Product included in the Register of supplements of the French Ministry of Health,
Code
2018-5-675
.
Product included in the Register of supplements of the Belgian Health Ministry,
Code NUT/PL/AS 1653/62
.
IMMUNOSOL
is a supplement based on herbal extract, Vitamin C, Zinc and L-Glutathione. The Cordiceps
has an action toned and of metabolic support
. The ABM
contributes to the body's normal defenses
. Vitamin C
contributes to the normal function of the immune system
,
to normal energy-yielding metabolism
,
to normal functioning of the nervous system and to the normal psychological function
. Vitamin C
contributes also to the protection of cells from oxidative stress
. Zinc
contributes to the maintenance of normal testosterone levels in the blood
,
to normal fertility and reproduction
. Zinc
contributes also to the maintenance of normal vision
.
SUGGESTIONS OF U
SE
:
2
tablets,
once
a day.
WARNINGS
: Keep out of reach of children under three years. Do not exceed the recommended daily dose. The product should be used as part of a veried and balanced diet, and healthy lifestyle.
NOTES ABOUT SOME PLANTS
:
CORDYCEPS SINENSIS
(
Caterpillar fungus
) is a fungus that grows in the mountainous regions of China and Tibet. It is characterized by powerful toning and considered able to
increase stamina, mental energy, sexual vigor and longevity
. The discovery its properties is due to the ancient Tibetan yak and goats shepherds, who, having noticed a vigorous behavior of their animals after grazing on the wide altitudes of the highlands, have researched its cause founding that with the common herb, another particular "
plant
" was growing there, which is grazed by their animals as well. From that moment testings and the discovery of the medicinal fungus powers began.
It is believed that it is able to improve athletic performance, increasing the flow volume
. Studies and experiments have been performed to demonstrate its effects on human performance.
It was discovered that by taking Cordyceps
,
Adenosine Triphosphate (ATP), at the cellular level, increases. It is a molecule present in all living organisms, for which it is the main form of stored energy immediately available
.
When ATP loses a phosphate it becomes Adenosine Diphosphate (ADP)
and the energy left again by the tie break is at once available for all those processes of the organism which require energy as well as muscle contraction, nerve impulses, protein synthesis and cell divisions. An increase of cellular ATP means a real increase in energy
,
not as due to the use of stimulants such as caffeine, ephedrine and amphetamines
.
With amphetamines, brain receives misleading information about its availability of energy to consume, but when it's finished our body is forced to have recourse to its reserves
. Cordyceps sinensis is a great tonic in sexual life.
It is an aphrodisiac tonic
. Excellent results were also observed in erectile dysfunction cases with a vascular origin
. During an important conference held in Rome, Italian and Chinese university professors met. Some of them were experts in acupuncture and treatments with traditional Chinese medicine, as Professor He Jialang, working at Zhejiang Chinese Medical University and also well-known acupuncturist in Italy. Jialang, together with the famous Italian immunologist Professor Samuel Paparo, Faculty of Medicine of the University "La Sapienza" in Rome, along with two other Chinese academics, father and son (Chuaiti Ke and Yueai Ke), coming from the Institute of Medical Research, University of California in San Diego, with Professor Yong Sheng Fan, from Zhejiang Chinese Medical University, have carried out research on this fungus to demonstrate its amazing properties. Cordyceps sinensis has received increasing attention from chemists, biologists and physicians.
AGARICUS BLAZEI
Murill
(
ABM
) is a popular edible medicinal fungus, native in a small village, Piedade, in the areas of the Atlantic Forest Highlands in Sao Paulo, Brazil, and it was discovered by the Japanese researcher
Takatoshi Furumoto
.
Traditionally, it is used for preventing various diseases.
Because of its effects on health, the fungus was brought to Japan in the mid of '
60
s and subjected to biomedical research. ABM is
rich in immune-modulating substances, such as β-glucans and proteoglycans. Experimentally, Japanese researchers have shown, both in vivo and in vitro, its immune anti-infection and anti-tumor effects in rats
. The most biologically active metabolites can be extracted from fruiting body in different maturity stages and, in particular,
it is believed that the polysaccharides phytocomplex is responsible, specifically, of interferon and interleukins production;
these ones promote and stimulate immune function in our body, thereby activating macrophages and lymphocytes
.
GLUTATHIONE
(
l-glutathione reduced
)
is the most powerful and most important oxidants produced by our body. Glutathione in reduced form, being a tripeptide with a low molecular weight can be easily absorbed in intestine
.
It fights aging by two main streets: in intestine and circulatory system.
It protects cells, tissues and organs of the body being able to keep it young
.
Glutathione is a combination of the three amino acids (
tripeptide
)
cysteine, glutamic acid and glycine
. Its detoxifying action find expression at different levels, thanks to its ability to chelate (
ability of an element to bind to another one
) toxic and heavy metals such as lead, cadmium, mercury and aluminum, transporting and eliminating them from the body. It has also a great capacity for detoxificating against toxic substances such
as drugs
,
alcohol, tobacco
,
etc
., thus making their removal easier and quicker. From several studies it is clear that
glutathione reduced can protect immune system
. With aging, the concentration of glutathione present in human organism goes to decrease.
By increasing glutathione levels, we can then positively act on immune system. White blood cells are particularly sensitive to glutathione concentration changes, with important effects on immune reaction
(
Droge W. et al
1994
,
Villa P. et al
2002
).
The leukocyte chemotaxis is influenced by the level of glutathione
(
Elferink JG - BM De Koster
1991
).
VITAMIN C
strengthens body by strengthening phagocytes function, increasing production of antibodies and destroying oxygened free radicals
(
hydroxyl radical, superoxide radical, oxygen radical
). Vitamin C
is involved in cellular respiration processes, in development of fibroblasts, production of adrenal hormones, and also stimulates interferon synthesis and carnitine biosynthesis
.
ZINC
, however, would exert a neuro-protective role because it would block, in astrocytes and neurons, glutathione depletion, which is calcium-dependent (
Andrey Y. et al
,
2003
). Zinc is known for its protective property against diseases and immune system. It takes part in cycle of Krebs and in energy production. It has recently been discovered that
zinc lock the graduale decline of eyesight in the elderly.
It is believed that it is able to increase sexual potency in men due to its ability to regulate testosterone in prostate
.
BIBLIOGRAPHY
:
1. Kumar S, Dahiya R, Khokra SL, Mourya R, Chennupati SV, Maharaj S. Molecules. "Total Synthesis and Pharmacological Investigation of Cordyheptapeptide A." 2017 May 27;22(6). pii: E682. doi: 10.3390/molecules 22060682. PMID: 28554994
2. Nasser MI, Masood M, Wei W, Li X, Zhou Y, Liu B, Li J, Li X. Int J Oncol. "Cordycepin induces apoptosis in SGC‑7901 cells through mitochondrial extrinsic phosphorylation of PI3K/Akt by generating ROS." 2017 Mar;50(3):911-919. doi: 10.3892/ijo.2017.3862. Epub 2017 Jan 25.
PMID: 28197639
3. PTherkelsen SP, Hetland G, Lyberg T, Lygren I, Johnson E. PLoS One. "Effect of a Medicinal Agaricus blazei Murill-Based Mushroom Extract, AndoSan™, on Symptoms, Fatigue and Quality of Life in Patients with Ulcerative Colitis in a Randomized Single-Blinded Placebo Controlled Study." 2016 Mar 2;11(3):e0150191. doi: 10.1371/journal.pone.0150191. eCollection 2016. PMID: 26933886
4. Wang H, Fu Z, Han C. "The Medicinal Values of Culinary-Medicinal Royal Sun Mushroom (Agaricus blazei Murrill)." Evid Based Complement Alternat Med. 2013;2013:842619. doi: 10.1155/2013/842619. Epub 2013 Oct 31. Review. PMID: 24288568
5. Benigni R., Capra C., Cattorini P.E. - Piante medicinali: chimica, farmacologia e terapia - Inverni della beffa ed, Milano.
6. Duraffourd C., D'Ervicourt L., Lapraz J.C. - Cahieres de Phytotérapie clinique - Masson ed., Paris 1983
7. Maugini E. - Botanica farmaceutica - CLUSF ed., Firenze 1976
8. Massari E. - Erbe in Cina – Milano 1981
9. Penso G. - Piante medicinali nella terapia medica - Org. Med. Farm. Ed., Milano
10. Enrica Campanili - Dizionario di fitoterapia e piante medicinali - Tecniche Nuove - MI
11. LI. Rodale e collaboratori - "Il libro completo dei Minerali per la Salute" - Demetra S.r.l. 1988
---