MAGSOL 5 PLUS - Magnesium supplement - Nervous, psychological and muscular system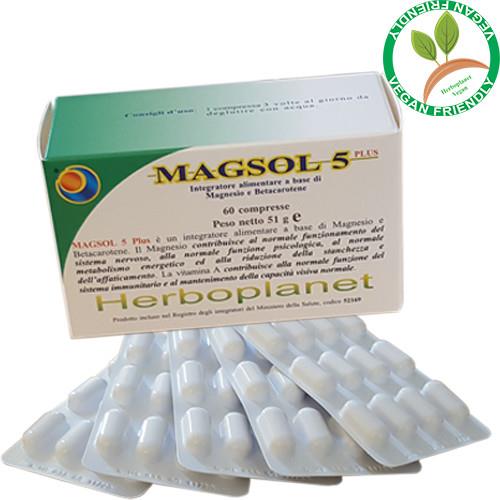 Product VEGAN FRIENDLY - Price: € 28,40
COMPONENTS CONTENT FOR

3

TABLETS
: Bulking agent: microcrystalline cellulose, Magnesium oxide
466.75
mg (
bringing in Magnesium
281.25
mg
), Magnesium pyruvate
357.15
mg (
bringing in Magnesium
37.5
mg
), Magnesium gluconate
347.88
mg (
bringing in Magnesium
18.75
mg
), Magnesium chloride
156.24
mg (
bringing in Magnesium
18.75
mg
), Dolomite powder
150
mg (
bringing in Magnesium
18.75
mg
). Anticaking agent: agnesium salts of fatty acids. Beta-carotene
50
mg titrated to
10
% beta-carotene (
bringing in Beta-carotene

5

mg =
104
,
12
% RDA Vitamin A
). Anticaking agent: silicon dioxide.
Total bringing in Magnesium

375

mg =

100

% RDA
.
Product included in the Register of supplements of the Italian Health Ministry,
Code
1335
.
Product included in the Register of supplements of the Spanish Health Ministry,
code 0599E/4450/2016
.
Product included in the Register of supplements of the French Health Ministry,
code 2017-11-774
.
Product included in the Register of supplements of the Belgian Health Ministry,
Code
NUT/AS
1653/8
.
MAGSOL

5

PLUS
is a food supplement of magnesium and betacarotene. Magnesium
contributes to a reduction of tiredness and fatigue
,
to normal functioning of the nervous system
,
to normal psychological function and to normal muscle function
. Vitamin A
contributes to the maintenance of normal skin
,
to the maintenance of normal vision and to the normal function of the immune system
.
SUGGESTIONS OF USE
:
3
tablets a day.
WARNINGS
: Keep out of reach of children under three years. Do not exceed the recommended daily dose. The product should be used in a varied and balanced diet and a healthy lifestyle.
NOTES
:
MAGNESIUM
it has many key roles in cell function, as well as to activate several enzyme complexes involved in carbohydrate and protein metabolism. Magnesium is needed in various glycolysis stages (glucose oxidation, key-molecule of cellular energetic metabolism) as coenzyme Mg
2
+; its presence activates the
enzyme hexokinase
in the phosphorylation of glucose; it activates
phosphoglycoisomerase
enzyme in glucose conversion
, phosphofructokinase
enzyme in fructose phosphorylation, pyruvatekinase
enzyme
in the transfer of phosphoenolpyruvate phosphate group to ADP. Magnesium is also involved in Krebs cycle and other metabolic pathways (
more than

300

different enzymes require his presence
.) Magnesium is the second cation dissolved in intracellular matter; it is involved in acid-base balance and redox phenomena in cells, playing an important role in cellular respiration (through this process the cell obtains nutrients and gets rid of wastes); The more cell metabolic rate is fast the more its content of magnesium is high. All this makes the wide range of therapeutic uses of this precious mineral element justified: particularly
in energy disturbances with chronic weariness syndrome, cardiac weariness, depression and all those phenomena that have an aetiology due to stress conditions
. Magnesium is the fourth cation in the human body, on average, an adult person contains about
25
grams of magnesium and half of that is contained in bones while the rest is in soft tissues. Itshigher concentrations are found in skeletal muscles, liver, heart, pancreas and, with a high percentage, in the hippocampus structure: that's why it is so important in neuropsychology.
Recommended average daily requirement is:

60/80

mg for infants,

150/250

mg for children,

300

mg for adults,

400/450

mg for women during pregnancy or while breastfeeding
.
BETA-CAROTENE
is a provitamin A in its biologically active form; from a beta-carotene molecule form two molecules of vitamin A. The beta-carotene conversion is at intestinal mucosa level, liver and kidney.
Beta-carotene produces a strong antioxidant action
,
which are responsible for most chronic degenerative or inflammatory processes at organic level
.
BIBLIOGRAPHY
:
- J. I. Rodale e collaboratori – "
Il libro completo dei minerali per la salute
" traduzione di Bernardo Draghi- DEMETRA S.r.l.
- Raul Vergini - "
Curarsi con il magnesio
(
Il ruolo del magnesio nella vita del nostro organismo: come sfruttarne le prodigiose proprietà nella prevenzione e nella cura di numerosi disturbi
)" - Red Edizioni - Como, 1994
- Giovanni Fasani e Attilio Speciali – "
Come curarsi con i minerali
" FABBRI Editori
- Dr. Frank MIRCE - "
Oligoelements et santé de l'homme
" – ANDRILLON
- "
Il libro completo delle VITAMINE
" – Demetra
---