DIFLOR PLUS - Restoration of the intestinal flora and natural defenses of the organism and well-being of the urinary tract.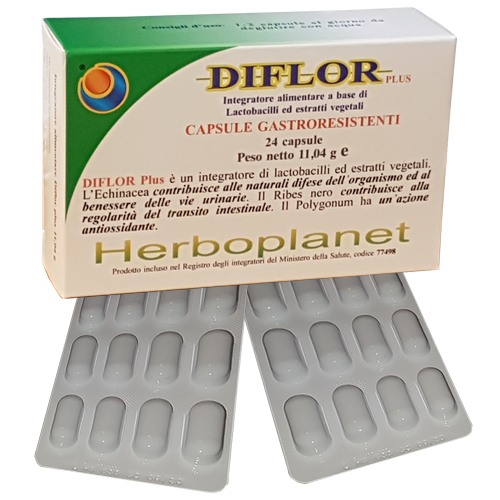 Price: € 26,50
AVERAGE VALUES CONTENT FOR

2

CAPLETS
:
Dry extract of Cone flower (
Echinacea angustifolia DC.
) root
320
mg (
bringing in echinacosides

12
.
8

mg
), dry extract of Blackcurrant (
Ribes nigrum
) fruits
200
mg (
bringing in anthocyanosides

2

mg
), lyophilized Lactobacillus bulgaris DSM 25567:
100
mg (
t
otal contribution of living cells

2
.
5

billions
), lyophilized Bifidumbacterium infantis DSM 26197: 50 mg
(
total contribution of living cells

2
.
5

billionss
), lyophilized Lactobacillus acidophilus DSM 24936: 33,4 mg (
t
otal contribution of living cells
2.5
billions
), lyophilized Bifidobacterium animalis ssp lactis DSM 25566 allergen free 16,8 mg (
total contribution of living cells

2
.
5

billions
). Resveratrol titrated at
98
% from Poliganum cuspidatum Siebold & Zucc. root
10
mg (
bringing in Resveratrol

9
.
8

mg
).
Anticakings: magnesium salts of fatty acids.
Total contribution of living cells
:
10

billions
.
Product included in the Register of supplements of the Italian Health Ministry,
code
46229.
Product included in the register of supplements of the Spanish Ministry of Health,
code 0599/13727/2015
.
Product included in the Register of supplements of the French Health Ministry,
code 2018-3-794
.
Product included in the Register of supplements of the Belgian Health Ministry
,
code
PL/AS 1653/9.
DIFLOR PLUS
is a food supplement based on lactobacillus and herbal extracts. CONE FLOWER
contributes to the body's natural defenses and at welfare of the urinary tract
. BLACKCURRANT
contributes to the regularity of transit intestinal
.
SUGGESTIONS OF USE
: 1 - 2 capsules a day.
WARNINGS
: Keep out of reach of children under three years. Do not exceed the recommended daily dose. The product should be used as a part of a varied and balanced diet, and healthy lifestyle.
NOTES
:
Russian scientist and Nobel Prize winner,
Ilya Metchnikoff
(one of the founders of modern immunology) was the first to observe the positive role of certain bacteria. In the early twentieth century, he said that you can modify the intestinal flora by replacing harmful microbes by useful microbes. Metchnikoff, at that time professor at the Pasteur Institute in Paris, supported the idea that the aging process was derived from a decay activity of some microbes producing toxins in the large intestine (
proteolytics
). Proteolytic bacteria such as Clostridia bacteria, which are part of the normal intestinal flora, produce toxic substances, including
phenols, indole and ammonia
which are products derived from digestion of proteins; Metchnikoff believes that
they are responsible for what he called
"
intestinal auto-intoxication
",
and therefore they cause physical changes associated with aging
. Just then he noticed that milk fermented by lactic acid bacteria (in English LAB)
could inhibit the growth of proteolytic bacteria because of the low pH produced by fermentation of lactose
and regularize the intestinal tract, thus helping to eliminate the annoying constipation.
Based on these facts, Metchnikoff proposed the use of this milk fermented by these bacteria; he inserted it in his own diet finding an immediate benefit to his own health.
Scientists believe that these bacteria can modify intestinal flora, thus limiting the auto-intoxication that is due to atherosclerotic changes
,
which lead to premature senility.
In the early twentieth century, probiotics
have been studied in order to rebalance intestinal environment by restoring its microbic balance
with a consequent inhibition of pathogens and bacterial agents that produce toxins and improve our immune system from which depends on our ability to defend ourselves from microbial in nature diseases
.
Today, specific effects on health were studied. For example:
the reduction of inflammatory bowel diseases
,
prevention and treatment of pathogenic bacteria that cause diarrhea
(
traveler's diarrhea, infant diarrhea, diarrhea caused by antibiotics
),
urogenital infections and atopic diseases
.
The bifidobacteria and LAB (
L
actic Acid Bacteria
) families include the most common microbes used as
probiotics microbes
. Etymologically, the term seems to be a mixture of the Latin preposition
pro
("for") and
biotic
derived from Greek
bios
(life). According to the currently definition, adopted by FAO/WHO, probiotics are "
Living microorganisms which, well administered
,
carry a health benefit on its host
".
Bacteria have many properties including the inability to ferment sugar except for lactose, which produce lactic acid from
.
This ability is very useful for people suffering from lactose intolerance because their digestive system does not have enzymes to break down lactose into simpler sugars
.
Seems verified that
CONE FLOWER
(
Echinacea angustifolia
) chemical compounds
slow pathogens germs spread in tissues and begin a defense mechanism activating
,
at the same time
,
regenerative mechanisms of these tissues
.
The active substance of this action would be
a glucoside of caffeic acid and pyrocatechin
which would have the capability to inhibit
jaluronidase
enzymethat is indirectly responsible for micro-organisms attack and for their proliferation in tissues. This active ingredient could also act directly on Hyaluronic-jaluronidase system that is enabled by fibroblasts proliferation (
L'azione fagocitaria dell'echinacea
….., in Erb. Domani, 2/91, p.16). The action of
BLACKCURRANT
(
Ribes nigrum
) (
buds
)
is exercised at cortical adrenal level, spurring it to secrete anti-inflammatory hormones.
RESVERATROL
is a polyphenol found in grapes and other plants (for ex.
Polygonum cuspidatum
). It is used by plants to protect themselves against parasites. Today,
there is so few of resveratrol in wine
,
on the contrary, telling the truth, there is none at all and this is due to pesticide used. Therefore, it can be taken if we produce extracts containing an adequate amount of it.
Resveratrol is an important supplement because
it can regenerate glutathione levels
,
to have a powerful antioxidant action
,
increasing quinone reductase levels
(
enzyme used by liver to detoxify carcinogens
). Organization indicates resveratrol essentially to be able to reduce cardiovascular risk by 40%.
As an antioxidant it protects against a wider range of free radicals than vitamin E. Resveratrol promotes nitric oxide production, biochemical mediator that human beings produce to control many of their functions and able to
relax and dilate arteries
.
BIBLIOGRAPHY
:
- Long S.S., et al.:
Development of anaerobic fecal flora in heathy newborn in
fants. J Pediatr; 91:298-301, 1977.
- Mikelsaar M., et al.:
Development of individual lactic acid microflora in the human microbial ecosystem
; in Salminen S. von Wright A.(eds): Lactic Acid Bacteria. New York, Dekker, pp237-293, 1993.
- Drasar B.S., et al.:
Intestinal Microflora
New York, Academic, 1994.
- Lejeune C., et al.:
Sequential development of intestinal flora in newborn infants
: A quantitative differntial analysis. Dev Pharmacol Ther; 7(suppl 1) :138-143, 1984.
- Rotimi v.o. et al.:
The development of the bacterial flora in normal neonates
. J Med. Microbial; 14:51-62, 1981.
- Gibson R.G. and Roberfroid M.B:
Dietary modulation of the human colonic microbiota: introducing concept of prebiotics
. J .Nutr (125) pp.1404-1412, 1995.
- Zoli G. e Franchini R.: I
probiotici e le malattie
gastrointestinali
. Cenèsthesis 1, VI, 2-5 Gennaio Febbraio 2000.
- Gatti PM "
Functional Food: i prebiotici ed i probiotici
" Cenèsthesis 1, VI, 2-5 Gennaio Febbraio 2000.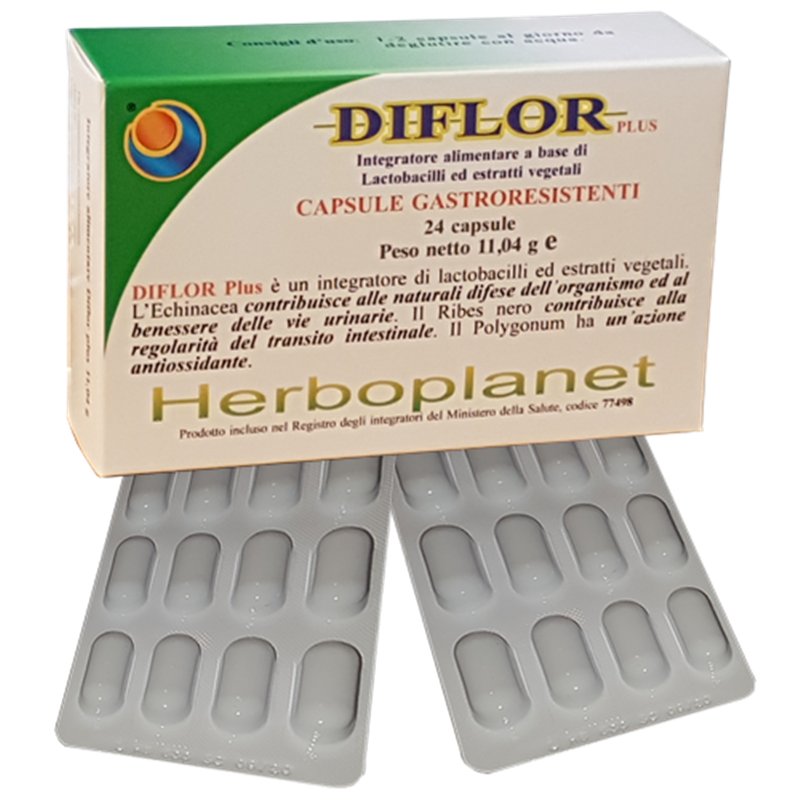 ---