COLERIL PLUS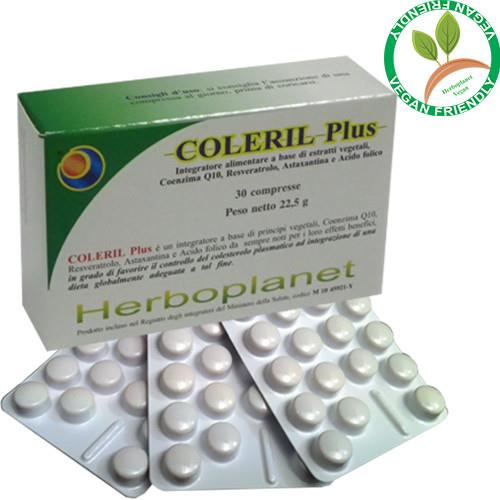 VEGAN FRIENDLY
and
GLUTEN FREE
Product
CONTRIBUTION OF COMPONENTS FOR ONE TABLET
:
dry extract of Milk thistle (
Silybum marianum Gaertn
.) fruits 200 mg (
contribution in Silymarin 160 m
g), dry extract of Monascus purpureus 200 mg (
contribution in Monacoline 3 mg
). Bulking agents: microcrystalline cellulose, gum arabic. Thaematococcus pluvialis Flotow. 40 mg (
contribution in Astaxanthin 1 mg
). Bulking agent: calcium phosphate. Anti-caking agents: magnesium salts of fatty acids, silicon dioxide. Coenzyme Q10 10 mg, Polygonum cuspidatum Siebold & Zucc. 10 mg (
contribution in resveratrol 9.8 mg
), folic acid 200 μg =
100% RDA
.
Product included in the Register of the Italian Health Ministry,
Code

45921
.
Product included in the register of supplements of the Spanish Ministry of Health,
code 0599E/14859/2015
.
Product included in the Register of supplements of the French Health Ministry,
code 2016-7-727
.
Product included in the Register of the Belgian Health Ministry,
Code NUT/PL 1653/34
.
COLERIL Plus
is a supplement containing herbal ingredients, Coenzyme Q10, Resveratrol and Folic acid,
that facilitate the control of plasma cholesterol in addition to a diet generally adequate for this purpose
. Milk Thistle helps the digestive function, hepatic and the functions purifying of the organism. The folic acid contributes to normal homocysteine metabolism.
SUGGESTIONS OF USE
: one tablet daily, before bedtime.
WARNINGS
: Keep out of reach of children under three years. Do not exceed the recommended daily dose. The product should be used in a varied and balanced diet and a healthy lifestyle. In the presence of cardiovascular disease and / or hypertension, before taking this product, consult your doctor. If you are taking anticoagulants or antiplatelet drugs, consult your doctor before taking the product. the use of this product during pregnancy, lactation and under 12 is not recommended.
NOTES
:
MONASCUS PURPUREUS
has, among its active ingredients, an inhibitor of HMG
-CoA reductase, enzyme that is responsible for checking the rate of cholesterol synthesis
. It contains monacolins of which the most abundant is Monacolin K, also named Lovastatin, that inhibits the
3
-
hydroxy
-
3
-
methylglutaryl
-
coenzyme A reductase
(
HMG
-CoA reductase
):
21
st
step to cholesterol synthesis (Endo 1976).
Without this enzyme, the entire sequence of cholesterol synthesis goes to be blocked;
that's why it constitutes an elective target for controlling cholesterol levels in the blood.
MILK THISTLE
(
Silybum marianum
) contains Silymarin and has hepatotropic activity.
Silimarin has a strong hepato-protective action against toxic substances;
indeed, laboratory tests and clinical trials showed that it has effects on
hepatocyte cell membrane, preventing or makin' very difficult the penetration of various toxic substances in the liver
(
membranotropeactivity
),
thus far to block fat degeneration and cell necrosis.
COENZYME Q

10
is useful because
HMG
-CoA reductase, which takes part in the cholesterol synthesis, takes also part in the Coenzyme Q10 synthesis; that's why if you are submitted to cares reducing your cholesterolemy (statines conteined in Monascus p.), you can have a coenzyme values reduction
.
Natural
Astaxanthin
, a carotenoide, is extracted from
HAEMATOCOCCUS PLUVIALIS
alga. Several kinds of Astaxanthin are put on the markets: chemically one obtained by yeast and natural one obtained by Haematococcus Pluvialis, a microalga growing at the Hawaii islands.
Natural Astaxanthin doesn't show toxicity levels because it's a totally natural substance and a large number of studies have confirmed its absolute alimentary security. Astaxanthin has a big antioxidative power and it's much more effective than beta-carotene and vitamin E. World Health Organization points out

RESVERATROL

to be a substance able to reduce of

40

% cardiovascular risks.
As antioxidant it protects towards an ampler range of free radicals in comparison to the Vitamin E. Resveratrol promotes the production of nitrogen oxide, biochemical mediator produced in living organisms in order to control many of their functions;
nitrogen oxide relaxes and dilates arteries. Resveratrol inhibits platelets aggregation, preventing the thrombin action; it prevents low-density-lipo-protein oxidation
(LDL-Cholesterol).
Nowadays, there's not much Resveratrol in wine
; indeed, there's not nearly more trace and this because of making use of pesticides. That's why for being able to assume it we have to produce extracts containing adequate amounts of it.
FOLIC ACID
is able to reduce homocisteine, intermediate product created from the conversion of methionine amino acid to cisteine and standing in blood flow, of which high levels bring on some pathologies (cardiovascular risks, atherosclerosis, osteoporosis). Folic acid deficiency can affect the cholesterol level because it is essentially required to use fats.
BIBLIOGRAPHY
:
- Ernesto Riva - "L'universo delle PIANTE MEDICINALI trattato storico, botanico e farmacologico di 400 piante di tutto il mondo" - Ghedina & Tassotti editori s.r.l. - Bassano del Grappa (VI), Maggio 1995.
- Tina Cecchini - "Enciclopedia delle erbe medicinali, …………" - DE VECCHI EDITORE
- Alberto Fidi - "Erbe e Piante medicinali" FRATELLI MELITA EDITORI
- Benigni R., Capra C., Cattorini P.E. - "Piante medicinali: chimica, farmacologia e terapia" Inverni della beffa ed, Milano.
- Duraffourd C., D'Ervicourt L., Lapraz J.C. - "Cahieres de Phytotérapie clinique" Masson ed., Paris 1983
- Maugini E. - "Botanica farmaceutica" CLUSF ed., Firenze 1976
- Pomini L. - "Erboristeria italiana" - Vitalità ed
- Valnet J., Duraffourd C., Lapraz J.C. - "Phytotérapie et aromatherapie" - Presse de la Renaissance, Paris 1978
- Penso G. - "Piante medicinali nella terapia medica" - Org. Med. Farm. Ed., Milano
- Enrica Campanili - "Dizionario di fitoterapia e piante medicinali" - Tecniche Nuove - MI
- Larousse - "Encyclopédie des PLANTES MÉDICINALES identification, préparations, soins" - Larousse-Bordas - 1997
- Tom Wilsons - "Guarire con le erbe, i consigli, le malattie, le ricette, le dosi nella più ricca raccolta di erboristeria" - Fratelli Melita Editori
Britton, G. (1995). Structure and properties of carotenoids in relation to function. FASEB J., 9:1551-1558.
- Nishino, H. (1998) Cancer prevention by carotenoids. Mutat. Res., 402:159-163.
- Ames, B. N., Shigenaga, M. K., and Hagen, T. M. (1993) Oxidants, antioxidants, and the degenerative diseases of aging. Proc. Natl. Acad. Sci. USA., 90(17):7915-7922.
- Terao, J. (1989) Antioxidant activity of beta-carotene-related carotenoids in solution. Lipids, 24: 659-661.
- Coyle, J. T. and Puttfarcken, P. (1993) Oxidative stress, glutamate, and neurodegenerative disorders. Science, 262:689-695.
- Jyonouchi H., Sun S., Mizokami M., and Gross M. D. (1996) Effects of various carotenoids on cloned, effector-stage T-helper cell activity. Nutr. Cancer, 26(3):313-324.
- Conn , P. F., Schalch, W., and Truscott, T. G. (1991) The singlet oxygen and carotenoid interaction. J. Photochem. Photobiol. B, 11:41-47.
- Kobayashi, M., Kakizono, T., Hishio, N., Nagai, S., Kurimura, Y., and Tsuji, Y. (1997) Antioxidant role of astaxanthin in the green alga Haematococcus pluvialis. Appl. Microbiol. Biotechnol., 48:351-356.
---