QSPC MENTA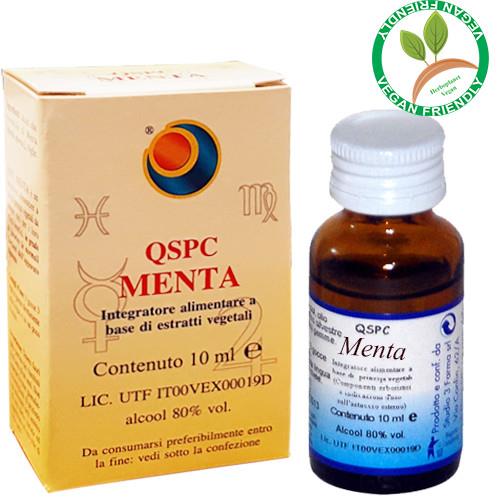 HERBAL COMPONENTS CONTENT FOR 10 ml: Alcohol derived from the plant itself 8 ml, essential oil and salt fixed of Mint leaves (Mentha piperita) 2 ml.
QSPC MINT is a food supplement based on herbal principles always known for their beneficial effects, able to facilitate the normal functions of the digestive system.
WARNINGS: keep out of the reach of children under the age of three years. Do not exceed the recommended daily dose. The product should be used in the context of a varied and well-balanced diet and a healthy lifestyle.
USE:
3
drops on your tongue or some honey,
3
times daily.
Psychic synthesis: It can help people who are unable to put themselves in someone's shoes being afraid to loose their mental clarity. The QSPC of MINT develops the mental clarity, the intellect and the memory. It increases awareness. The QSPC of MINT helps all the people that are clouded by negative thoughts of other people, lessening the mental confusion in those persons who are easily influenced.
ORGANOTROPISM: intestine, digestive system.
Signature: mercury, Jupiter-Venus, Pisces.
NOTES
:
the
QSPC
of
MINT
(
Mentha piperita
) is derived from the leaves of the plant following the canonical spagyric method. The alcohol, present in its quintessence, is derived from the plant itself from which we can derive the sulphurous principle (essential oil purified) and the salt fixed. This procedure gives more power to the Quintessence. Menthol is the main component of the essence of mint. It has got a stomachic, carminative, cholagogue action such as anti vomiting, antiseptic and anti itching properties as well. Its deworming action can encourage, in a short time, the expulsion of intestinal parasites. Its anti-itch properties make it an excellent remedy for insect bites. Peppermint has proved to be an excellent remedy for mouth ulcers and stomatitis. Its bactericidal properties are particularly effective to neutralize the bacterium of Herbert (Typhus). At a dosage of
0.4
% it may neutralize the bacillus of Koch (Tuberculosis). Its essence neutralizes the staphylococcus aureus in less than
3-4
hours and the proteus vulgaris in a variable amount of time between
7
and
24
hours.
It makes you sweat; it is analgesic (replacing the aspirin without contraindications), anaesthetic and stimulant. For those who are use to travel, it is useful to eliminate car sickness, sea sickness, air sickness. It has got a tonic action, helping to relax and calm down. It refreshes the body during the summerdays.
---