QSA EUCALIPTO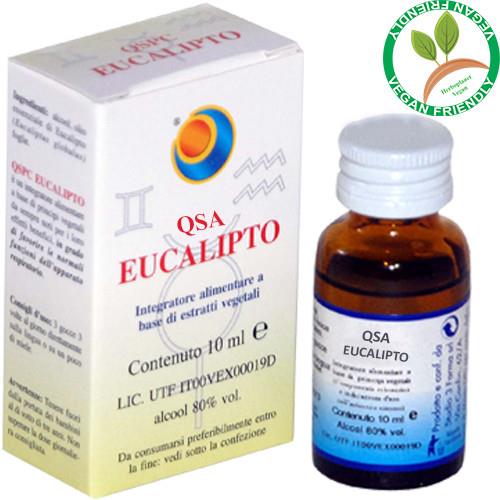 HERBAL COMPONENTS CONTENT FOR 9 DROPS
: Alchemical Spagyric alcohol of Solanimus, essential oil and salt fixed of eaves of Eucalyptus (
Eucalyptus globulus Labill
.) 23,60 mg.
Product included in the Register of food supplements of the Italian Health Ministry,
Code 70056
.
QSA
EUCALIPTO
is a food supplement based on vegetable principles
with balsamic effect
.
It has emollient and soothing action on the oropharyngeal mucosa. It helps to restore the tone of the voice.
WARNINGS
: keep out of the reach of children under the age of three years. Do not exceed the recommended daily dose. The product should be used in the context of a varied and well-balanced diet and a healthy lifestyle.
USE:
from
1
up to
3
drop on your tongue or on some sugar or honey,
3
times a day and/or when symptoms become acute.
PSYCHIC SYNTHESIS
:
It improves the ability of communication with the environment. It opens the Solar Plexus. The
QSA
EUCALIPTO
may be of some help in cases of great sorrow and pain like the loss of a dear person. It helps to resolve the disagreements within couples and associations because it allows us to understand the other points of view.
ORGANOTROPISM: respiratory apparatus, skin, nervous system, urinary tract.
SIGNATURE
:
Mercury-Gemini, Aquarius.
NOTES:
The quintessence of
EUCALYPTUS
(
Eucalyptus globulus
) is derived from the leaves of this plant in accordance with the canonical Spagyric method. The alcohol, present in its quintessence, is derived from the plant itself from which we can derive the sulphurous principle (essential oil purified) and the salt fixed. This procedure gives more power to the Quintessence The active principles contained in the oil are:
eucalyptol (

80

%), cineole, alpha and beta-pinene, delta-limonene, alpha -fellandrene, etc
. It has got
balsamic
,
fluidizing
,
expectorant
,
anti catarrhal
,
rubefacents and, furthermore
,
the eucalyptol plays a good sudorific
,
antipyretic and vermifuge action
.
It is a discrete stimulator of the nervous system nad general antiseptic as well
(in particular of the respiratory tract and urinary system), hypoglycaemic, disinfectant of air.
---