QSA LIMONE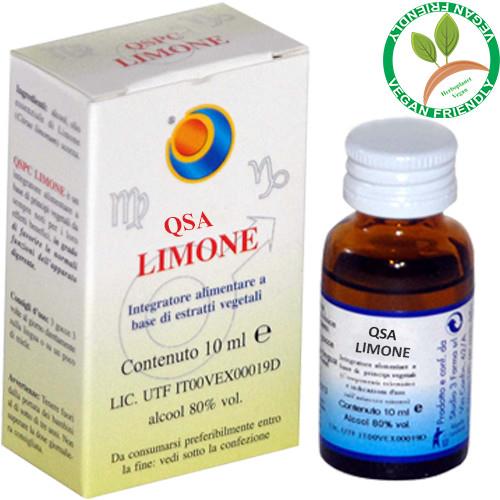 HERBAL COMPONENTS CONTENT FOR 9 DROPS: Alchemical Spagyric alcohol of Solanimus, essential oil and salt fixed of Lemon peel (Citrus limonum Burm. F.) 21,66 mg.

Product included in the Register of food supplements of the Italian Health Ministry, Code 70073.

QSA LIMONE is a food supplement based on herbal principles always known for their beneficial effects, able to facilitate the normal functions of the digestive system.

USE: 3 drops on your tongue or some honey, 3 times daily.

WARNINGS: keep out of the reach of children under the age of three years. Do not exceed the recommended daily dose. The product should be used in the context of a varied and well-balanced diet and a healthy lifestyle.
PSYCHIC SYNTHESIS: it allows you to overcome shyness due to lack of control of your own actions-reactions and fragility in a broad sense. It helps us to perform actions on a real level, thus allowing the acquisition of a tonic but not arrogant courage. It promotes the concentration raising the soul from depression and lightning the ideas. It is refreshing; it awakens vital energies giving security, self-control and self-confidence. It is useful in periods of transition and to maintain a clear mind thus reducing the mental fatigue and refreshing senses. It attenuates the confusion, calming and raising the moral. It brings light taking the darkness away ( "... he sees everything black ... " ). The QSA LIMONE allows you to find the emotional force by means of a joyful purification of old emotional burdens. It helps us to connect with the element Water and with our ancient aquatic origins. It facilitates the courage.
ORGANOTROPISM: immune system, skin, circulation, blood.
QUALITY: Yang.
SIGNATURE: Mars - Aries, Lion.
NOTES: The QSPC of LEMON (Citrus limonum) is derived from the fruit peel of the plant following the canonical spagyric method. The alcohol, present in its quintessence, is derived from the plant itself from which we can derive the sulphurous principle (essential oil purified) and the salt fixed. This procedure gives more power to the Quintessence. It activates and strengthens the organic defenses, thus stimulating the production of red and white blood cells . It has got bactericidal properties and, because of this, it is useful in the prevention and treatment of infectious diseases and viral illnesses such as flu and colds. It is a good healing, antiseptic, antianemic, purifying and fluidifying of blood, antitossic, stimulating. It fights infections of the oral cavity (gingivitis, mouth ulcers, stomatitis). The lemon essential oil purifies the air and is useful in the presence of flu and/or bacterial and viral diseases. It is excellent to disinfect skin and air, as well as in cases of hepatic , venous and digestive insufficiency, in phlebitis and infectious diseases. It is a natural immune system stimulant and fights depression.
---