QSA LAVANDA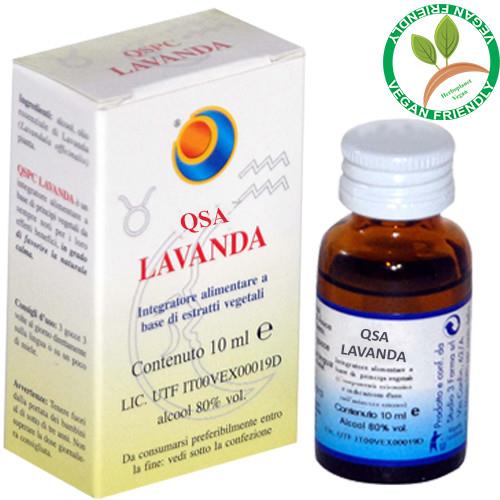 HERBAL COMPONENTS CONTENT FOR 9 DROPS: Alchemical Spagyric alcohol of Solanimus, essential oil and salt fixed of apex of Lavender (Lavandula officinalis Chaix) 22,63 mg.

Product included in the Register of food supplements of the Italian Health Ministry, Code 68597.

QSA LAVANDA is a food supplement based on vegetable principles that contribute to the relaxation and induces sleep in case of stress, bringing to the normal mood. It helps to regulate gastrointestinal motility and the elimination of gases.
WARNINGS
: keep out of the reach of children under the age of three years. Do not exceed the recommended daily dose. The product should be used in the context of a varied and well-balanced diet and a healthy lifestyle.
USE:
3
drops on your tongue or some honey,
3
times daily.
PSYCHIC SYNTHESIS
:
improves the ability to perceive and rebalances the energetic centers, relaxing and invigorating. It connects each emotion with the most sublime side and gives us the humility to understand the sacredness of daily living. It helps to find the right balance between the extreme points. It is recommended to therapists who feel weighed down because of their work always in touch with the propblems of people.
QSA
LAVANDA
helps those people who are used to absorb too many spiritual influences. These people tend to be very aware and mentally active, with a strong attraction for the spiritual practices and the various forms of meditation.
QSA
LAVANDA
works to soothing and calming. At a deeper level, it teaches people to moderate and adjust the psycho-spiritual energy.
ORGANOTROPISM: respiratory apparatus, skin, nervous system, urinary tract.

QUALITY: Yin and Yang.
SIGNATURE
:
Moon, Mercury - Taurus, Aquarius.
NOTES: The eesential oil of LAVENDER (Lavandula officinalis) is derived from aerial flowering parts of the plant following the canonical spagyric method. The alcohol, present in its quintessence, is derived from the plant itself from which we can derive the sulphurous principle (essential oil purified) and the salt fixed. This procedure gives more power to the Quintessence. The essence of lavender has got many properties as: analgesic, hypotensive, carditonic, healing, fungicide, bactericide, antidepressant, antispasmodic, regulator of the nervous system, diuretic, deodorant. It is an excellent antiseptic of genitourinary tract, in the cases of diseases that affect the respiratory system. The plant develops some expectorant and fluidifying actions. In the rooms, the scent of lavender is always discreet and delicate. It has got an balancing toning and calming effect at the same time, as well as an anti depressive and stimulating effect to body's defenses. It gives feelings of calm and relaxation fighting stress and nervousness.
---