Salviasol - Moon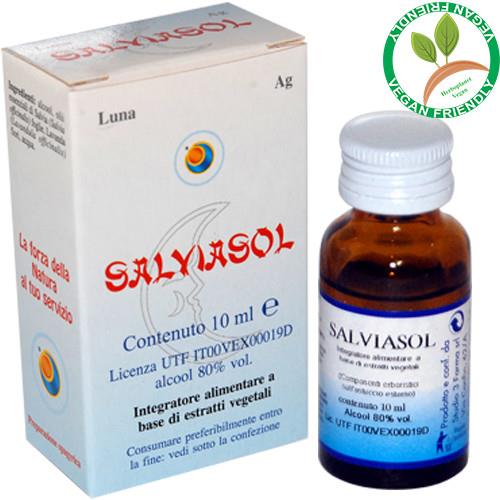 COMPONENTS CONTENT FOR

15

DROPS
:
QSA
(
Alchemical Spagyric Quintessence of Solanimus
) of Sage (
Salvia officinalis
)
4,9
ml,
QSA
(
Alchemical Spagyric Quintessence of Solanimus
) of Lavender (
Lavandula officinalis
)
4,9
ml,
Alchemical
Silver
0,2
ml.
Product included in the Register of supplements of the Health Italian Ministry,
code 16834
.
SALVIASOL
is a food supplement based on herbal principles well known for their beneficial effects,
able to facilitate the normal functions of the female genital system.
USE
: it is recommended
5
drops,
3
times a day, directly on the tongue, away from meals.
WARNINGS
: Keep out of the reach of children under the age of three years. Do not exceed the recommended daily dose. The product should be used in the context of a varied and well-balanced diet and a healthy lifestyle.
NOTES
:
The
QSA
of
SAGE
acts both on the nervous system and on the gonads, thus involving the hypothalamic group. It is important to regulate the hormonal ratio Pituitary-Gonadal, temperature (
Taurus
) during the climacteric syndromes, and it represents the plant belonging to the archetype Jupiter that is exalted in Cancer, house of the Moon. The
QSA
of
LAVENDER
is one of the Paracelsus's favourite plant to treat the disorders of the genital apparatus (axis Taurus-Scorpio). In the tradition, we also have some indications about psyche:
Steiner asserts that it helps the integration of the ethereal with the astral
. In any case,
it has got a regenerating action for the nervous system, treating a large quantity of neurological symptoms.
Alchemical
SILVER
has got the typical "
lunar
"
properties. These properties sterilize, staunch blood purulent processes, thus activating the reflection.
---