EPATOSOL - Contributes to liver function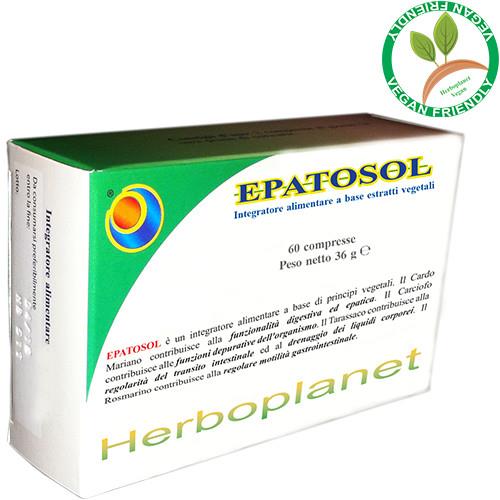 Product VEGAN FRIENDLY - Price: € 24,50
COMPONENTS AVERAGE CONTENT FOR

4

TABLETS
:
Milk Thistle flowers D.E. (
Silybum marianum Gaertn.
)
titrated at

80

% in silimarine
600
mg (
bringing in silimarine

480

mg
), Artichoke leaves D.E. (
Cynara scolimus L.
)
titrated at

2.5

% in
Caffeoylquinic acid
480
mg (
bringing in caffeoylquinic acid

12

mg
). Bulking agents: microcrystalline cellulose. Taraxacum root D.E. (
Taraxacum officinale Weber
)
titrated at

2

% in inulin
240
mg (
bringing in inulin

4.8

mg),
Rosemary leaves D.E. (
Rosmarinus officinalis L.
)
titrated at 1

5

% in
Carnosol
240
mg (
bringing in carnosol

36

mg
), Chicory root and leaves D.E. (
Cichorium intybus L.
)
40
mg. Bulking agent: dicalcium phosphate. Anti-caking agents: magnesium salts of fatty acids, silicon dioxide.
Product included in the Register of supplements of the Italian Health Ministry,
Code

10427
.
Product included in the Register of supplements of the Spanish Ministry of Health,
code 0599E/11113/2016
.

EPATOSOL is a food supplement based on herbal extracts. Milk Thistle helps the digestive and liver function. Artichoke contributes to the cleansing functions of the body. Dandelion helps the regularity of bowel movements and the drainage of body fluids. Rosemary helps to regulate gastrointestinal motility. The chicory as a prebiotic, contributes to the balance of the bacterial flora.
SUGGESTIONS OF USE
:
2
tablets
2
times a day,
10
minutes before meals.
WARNINGS
: Keep out of reach of children under three years. Do not exceed the recommended daily dose. The product should be used as a part of a varied and balanced diet, and healthy lifestyle.
NOTES ON SOME PLANTS: MILK THISTLE (Silybum marianum) is a liver-protecting and is indicated for prophylaxis and therapy of liver disease due to intoxication (toxins, alcohol). Excellent cholagogue, depurant, tonic, it stimulates digestion and is main remedy in hepatic poisonings by hepatotoxic substances. ARTICHOKE (Cynara scolimus) is a hepatic and biliary functions stimulant and this thanks to its principles (caffeoylquinic acid). It has got as a digestive and purifying action. TARAXACUM (Taraxacum officinale) triterpenes, in synergy with sesquiterpene lactones, act as cholecystokinetic agents, activating gallbladder muscles and modifying chemical and physical properties of bile. Taraxacum has protective action against free radicals. It is useful as a draining and depurant. Diterpenic and depsidic fractions contained ROSEMARY (Rosmarinus officinalis), rosmarinic acid, carry out several activities: cholecystokinetic activities, at gastrointestinal level we have got the stimulation of digestive functions and normalization of bacterial flora activity. CHICORY (Cicorium intybus) contains a bitter terpen (lactucin), glycosides, flavonoids, caffeic acid and chlorogenic acid. Chicory has got an excellent depurative action.
BIBLIOGRAPHY
:
- Ernesto Riva - "
L'universo delle PIANTE MEDICINALI trattato storico, botanico e farmacologico di 400 piante di tutto il mondo
" - Ghedina & Tassotti editori s.r.l. - Bassano del Grappa (VI), Maggio 1995.
- Tina Cecchini –
Enciclopedia delle erbe medicinali
, ………… - DE VECCHI EDITORE
- Padre Gianfranco Lazzari -
L'Erbario del Frate
- EDIZIONI S. MARCO LITOTIPO
- Alberto Fidi -
Erbe e Piante medicinali
- FRATELLI MELITA EDITORI
- AA.VV. -
Enciclopedia chimica
– USES ed., Firenze
- Benigni R., Capra C., Cattorini P.E. –
Piante medicinali: chimica, farmacologia e terapia
– Inverni della beffa ed, Milano.
- Duraffourd C., D'Ervicourt L., Lapraz J.C. –
Cahieres de Phytotérapie clinique
– Masson ed., Paris 1983
- Maugini E. –
Botanica farmaceutica
– CLUSF ed., Firenze 1976
- Pomini L. –
Erboristeria italiana
– Vitalità ed
- Valnet J., Duraffourd C., Lapraz J.C. –
Phytotérapie et aromatherapie
– Presse de la Renaissance, Paris 1978
- Penso G. –
Piante medicinali nella terapia medica
– Org. Med. Farm. Ed., Milano
- Enrica Campanili –
Dizionario di fitoterapia e piante medicinali
– Tecniche Nuove - MI
- Larousse - "
Encyclopédie des PLANTES MÉDICINALES identification, préparations, soins
" - Larousse-Bordas – 1997
- Tom Wilsons - "
Guarire con le erbe, i consigli, le malattie, le ricette, le dosi nella più ricca raccolta di erboristeria
" - Fratelli Melita Editori
---