Rosmasol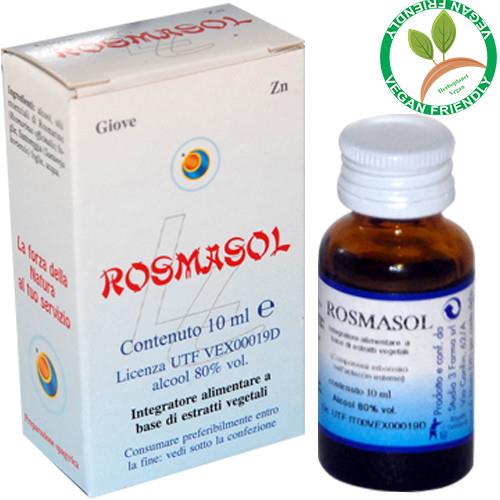 COMPONENTS CONTENT FOR 15 DROPS
:
QSA
(
Alchemical Spagyric Quintessence of Solanimus
) of Rosemary (
Rosmarinus officinalis
)
7,9
ml,
QSA
(
Alchemical Spagyric Quintessence of Solanimus
) of Savory (
Satureja Montana
)
1,9
ml,
Alchemical
Zinc
0,2
ml.
Product included in the Register of supplements of the Health Italian Ministry,
code 16833
.
ROSMASOL is a food supplement based on herbal principles well known for their beneficial effects, able to facilitate the normal functions of the digestive apparatus.
USE
: it is recommended
5
drops,
3
times a day, directly on the tongue, away from meals.
WARNINGS
: Keep out of the reach of children under the age of three years. Do not exceed the recommended daily dose. The product should be used in the context of a varied and well-balanced diet and a healthy lifestyle.

NOTES: QSA of ROSEMARY is indicated in the bile dyspepsia cases, hepatitis and asthenia. The ditherpenic and depsidic quantities contained in rosemary ,rosmarinic acid, carry out numerous activities: Colecistokinetic action, at the gastro intestinal level we have the stimulus of digestive functions (Cancer) and the regularization of the bacterial flora activity. Useful in dyspepsias with flatulence, especially if they are related to hepatobiliary stasis and digestive headaches. In our tradition, this plant is presented both obedient to the archetype Jupiter and obedient to the archetype Sun. Through the symptoms, we can observe that this plant can alleviate the presence of disturbances in the two forces: the rosemary's QSPC, in fact, acts on heart and liver. The QSA of SAVORY cleanses the liver even if it seems to have a tropic action also in the sphere of the hypothalamus. It is indicated in cases of intellectual or physical asthenia. Alchemical ZINC is a component with an hepatotropic action and, at the same time, it normalizes the pituitary functions. In the Alchemic tradition, Zinc is associated with Jupiter. Jupiter is the archetype that, in greco-roman tradition, is "The King of Gods"; he decides for everybody and administer justice on the mount Olympus. The similarity with the pituitary function is obvious: the hormonal feadback allows pituitary gland to control the other glands. Jupiter finds its home in the zodiacal sign of Sagittarius which, at energetic level, corresponds to the liver. Besides, Jupiter governs the autonomous nervous system and the pituitary gland.
---