Pinosol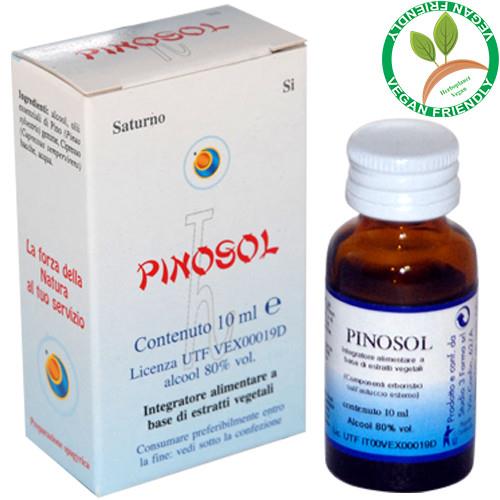 COMPONENTS CONTENT FOR 15 DROPS
:
QSA
(
Alchemical Spagyric Quintessence of Solanimus
) of Pine (
Pinus sylvestris
)
4,9
ml,
QSA
(
Alchemical Spagyric Quintessence of Solanimus
) of Cypress (
Cupressus sempervirens
)
4,9
ml,
Alchemical
Silica
0,2
ml.
Product included in the Register of supplements of the Health Italian Ministry,
code 16832
.
PINOSOL
is a food supplement based on herbal principles well known for their beneficial effects,
able to facilitate the normal functions of the respiratory apparatus
.
USE
: it is recommended

5

drops,

3

times a day, directly on the tongue, away from meals.
WARNINGS
: Keep out of the reach of children under the age of three years. Do not exceed the recommended daily dose.
The product should be used in the context of a varied and well-balanced diet and a healthy lifestyle.
NOTES
:
The
Quintessence
of
CYPRESS
is the most classic one of Saturn. The Cypress played an important role in funeral rites and, still today, it represents the dark cemeteries guardian image. In fact, it marks its borders as well as Saturn marks the human border. Saturn is depicted with a sickle exactly for this reason. It represents the death but also the time, in fact, the ancient Greeks called him Kronos (
time
). The Spagyric Canonical Quintessential of Paracelsus purifies the blood, but it seems that it has got a tropic aspect in many other apparatus too, including the respiratory one. Its essential oil (present in the
Spagyric Canonical Quintessential of Paracelsus
) is, for the most part, consisting of pinene, head and cedrol and it has got an eupneic and anti asthmatic action; that is why it is used for spasmodic coughs associated to dyspnoea. The
PINE
is useful as mineralizing remedy. Pine is a tree which,
in our tradition, is associated with Saturn, and the pineal gland
(
epiphyses
). The
Alchemical SILICA
refers to the archetype Saturn that reveals itself, in particular, through the Capricorn (biliary vesicle) and Aquarius (spleen). Saturn governs the spleen, bones, cartilage and teeth and the right ear, the crystalline and it participates, with Venus, to the action of hearing. The gland governed by Saturn is the epiphyses.
---