Ginesol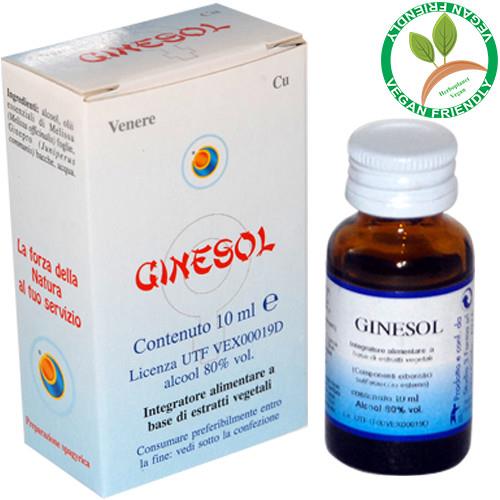 COMPONENTS CONTENT FOR 15 DROPS
:
QSA
(
Alchemical Spagyric Quintessence of Solanimus
) of Juniper (
Juniperus communis
) 38,02 mgl,
QSA
(
Alchemical Spagyric Quintessence of Solanimus
) of Balm Mint (
Melissa officinalis
) 36,10 mg,
Alchemical
Copper.
Product included in the Register of supplements of the Health Italian Ministry,
code 16830
.
GINESOL
is a food supplement based on herbal principles well known for their beneficial effects,
able to help the normal functions of the digestive system
.
USE
: it is recommended
5
drops,
3
times a day, directly on the tongue, away from meals.
WARNINGS
: Keep out of the reach of children under the age of three years. Do not exceed the recommended daily dose.
NOTES
:
the
JUNIPER
has got renaltropism. The kidney has signature Libra, dominated by
Venus
and
Saturn
.
Venus
is manifested, in the kidneys, through the processes of elimination of uric acid and
Saturn
through hydrosaline excanghes regulation. The ripe berries of juniper and harvested in Autumn, contain an essential oil,
in the Quinessence
, consisting of a mixture of terpenic substances among which some soluble diterpenes as thujopsene
, terpinen-4-olo and beta-cadinene
.
These stimulate the renal glomerulus epithelium involving less absorption of water passing through the glomerulus so to increase their elimination
.
Thus there is a diuretic and volumetric action that is accompanied by a drainage of chlorides and urea
. During the renal transition stage and elimination process through the urinary tract, these terpenes also show an antiseptic activity against many pathogenic micro-organisms. The
BALM MINT
contains an essential oil rich in
citral, linalool, geraniol and citronella
. These keep a sedative and antispasmodic effect. It is the most representative plant of the archetype
Venus.
It acts on both adrenal (balancing the adrenaline processes), both on autonomous nervous system (governed by the sign of Pisces where Venus is exalted). The
Alchemical
COPPER
has got a renal tropism, reinforcing the veins and stimulating the red blood cells formation. In the tradition, it is the metal of Venus. Kidneys and adrenals are the Venus charatteristics, referring to the zodiacal sign Libra, meanwhile Venus, as Lady of Taurus, expresses itself through the metabolism and, as exaltation of the Pisces, through the autonomous nervous system.
Venus governs kidneys, hydrosaline control, larynx, vocal cords, throat; as an endocrine gland it controls adrenals as well and it participates in the processes of autonomous nervous system.
---