PROSTASOL FORTE - Functionality of the prostate and urinary tract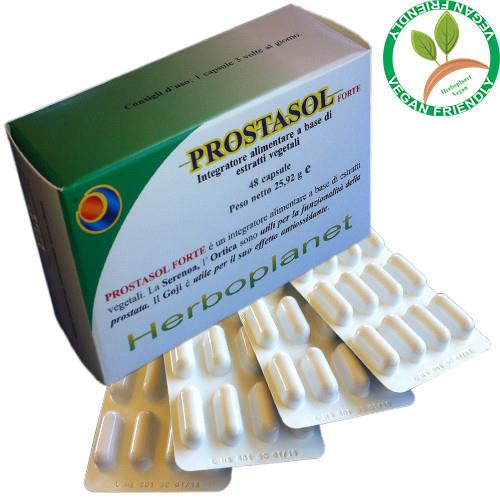 Product VEGAN FRIENDLY - Price: € 26,90
HERBAL COMPONENT CONTENT FOR 3 CAPSULES
: dry extract of: Saw Palmetto (
Serenoa repens (Batram) Small.
) fruits 375 mg, (
bringing in fatty acid
:
168
,
75 mg
),
Nettle (
Urtica dioica L.
) root 375 mg (
bringing in Beta-sitosterol
:
1
,
5 mg
), Goji (
Lycium barbarum L
.) fruit 375 mg (
bringing in polysaccharides
:
187
,
5 mg
).
African cherry (
Prunus africana (Hook. f) Kalkman
) bark 150 mg. Anticakings: vegetable magnesium stearate. Edible gelatine capsule.
Product included in the Register of supplements of the Italian Health Ministry,
Code

76071

.
Product included in the Register of supplements of the Spanish Health Ministry,
code 0599/9387/2017
.
Product included in the Register of supplements of the French Health Ministry,
code 2016-6-460
.
Product included in the Register of supplements of the Belgian Health Ministry,
Code PL
1653/18.
PROSIL
is a supplement based on plant extracts. NETTLE
contributes to the functionality of the prostate
. SAW PALMETTO
contributes to functionality of prostate and urinary tract.
.
USE
:
1
capsule, twice a day.
WARNINGS
: Keep out of reach of children under three years. Do not exceed the recommended daily dose. The product should be used as a part of a varied and balanced diet, and healthy lifestyle. Use is not recommended in women of childbearing age and in prepubescent individuals of both sexes.
NOTES
:
AFRICAN CHERRY
,
or
PYGEUM AFRICANUM
contains several active ingredients as: phytosterols (
β-sitosterol
is the most representative), fatty acids (including
myristic, palmitic, linoleic, oleic, stearic, arachidonic
), triterpenoids (
ursolic acid
,
oleanolico acid
, etc.) and alcohols (
docosanol
, etc.). In vitro studies (Edgar, Levin R, Constantinou EC, Denis L.
A critical review of the pharmacology of the plant extract of Pygeum africanum in the treatment of LUTS.
Neurourol Urodyn 2007; 26 (4): 458-63) have shown that
Prunus africana inhibits the proliferation of prostatic fibroblasts when the proliferation is induced by growth factors such as EGF
(
Epidermal Growth Factor
),
basic Fibroblast Growth Factor
(
bFGF
) and
IGF-I
(
insulin-like Growth Factor
).
African cherry
is also a weak inhibitor of the enzyme 5 alpha-reductase,
and this effect, together with the previous one, gives it
preventive and therapeutic role in the presence of benign prostatic hypertrophy
. In a multicenter trial (Breza J, Dzurny OR, Borowka et al.
Efficacy and acceptability of tadenan (Pygeum africanum extract) in the treatment of benign prostatic hyperplasia (BPH):
a multicentre trial in Central Europe. Curr Med Res Opin 1998; 14: 127-39), an extract of Pygeum (
Tadenan
)
demonstrated a
good efficacy for symptomatologic treatment of benign prostatic hypertrophy
. Administered at 100 mg doses a day for two months, followed by a month of suspension, Tadenan has indeed guaranteed:
significant improvement of the quality of life
(+40%),
IPSS
(
test internationally used in order to classify the many different symptoms following enlargements of prostate
) (+31%),
reduction of nocturia episodes
(
+32%
).
Also significant improvements of the maximum and medium urinary flow and the emptied urinary volume
.
The prostate volume and the sexual life quality remained unchanged
. There are many therapeutic indications about
NETTLE
, but only recently, prostate hyperplasia studies showed that the
gland volume can be reduced by nettle root up to 70%
(Rombi M., 100
Plantes Mèdicinales,
Edition Romart, Nice 1991, p. 207). Phytocomplexes present in some fraction of this plant (perhaps
lectins and/or sitosteroids)
seem to be able to inhibit the growth of human prostate cell by a still unknown mechanism
.
Some scholars believe that an interaction occurs between principles and serum proteins that are delegated to link free androgens. German experiments seem to show that sitosterol is beneficial to benign prostatic hypertrophy because of a prostaglandin synthesis decrease in human prostate [Ritschel W.A. Kastner U., Hussain A.S., Kock H.H., Harzneim-Forsch, 40, 463-468 (1990)]. We must even point out that polysaccharide fraction, contained in the root, shows anti-inflammatory action. This property has been demonstrated by inducted edema in rat paw. [Wagner H. ct. al.,
Planta Med.
55, 452-454 (1989)].
Indeed, the antiedemigenic action may have an important role in reducing cervicoprostatic obstructions, thus helping to improve the functional picture
.
Nettle-based chemical compounds are going to be prescribed for micturition disorders associated with I-II degree prostate adenoma
.
SERENOA REPENS
is also named Sabal serrulata; native Americans used its fruits as food but also for different issues related to reproductive and urinary system. At the present time, several studies have been performed on its fruit extracts proving that saw palmetto is very rich in fatty acids and phytosterols. These researches are the result of a meta-analysis
published in the Journal of the America Medical Association, where its effective has been proved in symptoms treatment of benign hyperplasia (hypertrophy) prostatic (enlarged prostate)
,
such as in double-blind way: a placebo and two of most common drugs on the market. To elderly people, some researches have shown that
the combination of Saw palmetto and nettle root brings a real improvement in symptoms of urinary tract infections.
Other studies,
in vitro,
have shown that
the properties of this plant also spread to prostate carcinogenic cells reduction
, although we have no clinical trials yet, in this respect.
The plant has a spasmolytic and decongestant effect
,
promoting the improvement of vesical and urethral mucosa inflammatory conditions that often take part in the clinical picture
,
obtaining so an improvement in clinical symptomatology about prostatic hypertrophy
,
such as
:
urinary frequency, pelvic heaviness and dysuria
.
GOJI
(the word "
goji
" is an approximation of the pronunciation of
gǒuqǐ
) is commercially called
goji berry.
Besides, Wolfberry,
is the English common name for the fruit of two very closely related species:
Lycium barbarum
and
Lycium chinense
:
Solanaceae
family also including potato, tomato and tobacco. It is native to southeastern Europe and Asia (Tibet, North of China and Himalaya).
The list of Goji benefits is enormous: it is one of the strongest antioxidant in nature; it helps the immune system to purify the skin and stimulate the immune system making a tonic and energizing action in the body. It helps to improve the view and promotes the healing. Through its antioxidants agents it protects the DNA and reduces cardiovascular and metabolic diseases risk. Because of its natural content of zinc it stimulates the production of testosterone, thus improving the production of sperm and libido.
BIBLIOGRAPHY
:
- Enrica Campanini,
Dizionario di fitoterapia e piante medicinali
, II edizione, 2004
- Wikipedia,
l'enciclopedia libera.
---