HS 112 ANANAS COMP. - Balance of body weight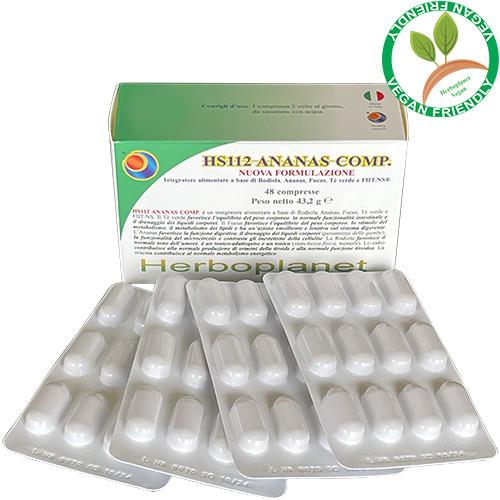 Product VEGAN FRIENDLY - Price: € 32,50
HERBAL COMPONENTS CONTENT FOR

6

TABLETS
: Dry extract of Rhodiola root (Rhodiola rosea)

900

mg (bringing in polyphenols

360

mg), dry extract of Pineapple spear (Bromelia ananas)

720

mg, microcrystalline cellulose, calcium phosphate, Guar flour (Cyamopsis tetragonolobus)

480

mg, dry extract of Sea Kelp thallus (Fucus vesciculosus)

192

mg (bringing in Iodine

96

mcg = 64% RDA) dry extract of Green Tea leaves (Camelia sinensis)

108

mg (bringing in polyphenols

86,40

mg). Anticakings: vegetable magnesium stearate, silicon dioxide.
Product included in the Register of supplements of the Italian Health Ministry,
Code

15621
.
Product included in the Register of supplements of the French Health Ministry,
code 2018-3-1319
.
HS

112

ANANAS COMP
is a food supplement based on herbal ingredients and Iodine. Rhodiola
helps to maintain a normal mood
,
Pineapple
contributes to tackling the cellulite
. Guar
limits the absorption of nutrients
,
facilitating the sense of satiety
.
Sea kelp
contributes to the stimulation of the metabolism
and the green tea to the
equilibrium of body weight
. Iodine
contributes to the normal production of thyroid hormones and normal thyroid function
.
SUGGESTIONS OF USE
: 1-
2
tablets
30
minutes before the 3 main meals.
WARNINGS
: Keep out of reach of children under three years. Do not exceed the recommended daily dose. The product should be used as part of a varied and balanced diet, and healthy lifestyle.
NOTES ON SOME PLANTES
:
RHODIOLA
(
Rhodiola rosea
) is proven to be the most active in the treatment of depression, stress and weight control, including its unique activity of adipose lipase activation. The most important components found in Rhodiola rosea, scientifically and clinically very active, are: Rosavin, Rosine, Rosarine and Salidroside. Rhodiola rosea helps to eliminate excess fat already absorbed and stored in the body. Most of fats (lipids) taken with diet are in triglycerides form: fatty destined to accumulation. Triglycerides are fatty acids esterified with glycerol. The conversion of fats into free fatty acids is a critical moment in lipid metabolism because triglycerides are not absorbed. Dietary fats should be scrapped to free fatty acids to be used. The key enzyme in this demolition is called pancreatic lipase. It breaks down molecules of fat found in foods into free fatty acids. These ones cross intestinal membranes and are absorbed. In the absence of lipase enzyme, or in case of shutdown of its enzymatic activity, dietary fats are not absorbed and, therefore, are eliminated with feces. Blocking lipase activity thus appears to be a useful tool to reduce fats absorption. Lipase controls fats digestion, their transport in various tissues and their accumulation within cells. This lipase is a special kind of enzyme, different from pancreatic lipase present in the gut. It is known as hormone-sensitive lipase. Hormone-sensitive lipase regulates with specificity the fat accumulated in adipose tissue. For many years researchers have tried natural substances that could specifically activate the hormone-sensitive lipase. This particular and important activity was found in Rhodiola rosea. Over thirty years of research conducted in the West have indisputably highlighted that administration of Rhodiola rosea, both volunteers in perfect health, both in obese patients, induce specific activation of hormone-sensitive lipase and the resulting mobilization of fatty acids from adipose tissue. The presence of rosavin (present only in Rhodiola rosea) was the responsible for lipase activation, in fact, other species of Rhodiola not containing Rosavin have not shown such an effect. This discovery clearly indicates that Rosavin presence in the extract is a critical factor in lipase activation as well as in mobilizing fatty acids from adipose tissue. Rhodiola rosea effect on weight reduction and lipid metabolism was studied at the Georgian State Hospital. 300 mg of Rhodiola extract have been given in the shape of 3 tablets before each meal. Sixty minutes after the meal to all the patients (both treated group than placebo group) was asked to walk for 30-40 minutes long. In other cases, tested subjects were instructed to eat normally, avoiding food such as pizza, chips and sweets. The total number of obese subjects was: 70 men and 60 women, aged between 29 years and 60 years (average age 42.2). 300 mg of its extract were administered to all for 90 days. A control group of 143 obese patients received the same diet devoid of Rhodiola rosea. The average weight was 79.5 kg at the beginning of the test and dropped to 70.2 kg at the end of the test. At the end of the test in the experimental group there was a reduction in average weight of 9 kg, equal to 11%. Fat average percentage, at the beginning, stood at 31.07% and at the end of the test decreased to 25.14%. It 'obvious that most of the weight decrease was due to decrease of fat accumulated. Rhodiola rosea administration, combined with moderate exercise, improved the decrease in weight in 92% of cases. There was also an improvement in patients mood, a decrease of sleep disturbance and improved overall health. It 's interesting to note that even placebo group showed a moderate reduction in body weight from 78.8 kg to 75 (-4%).
PINEAPPLE
(Ananas sativus) is a real digestive that can be taken from dyspeptics or after abundant food. This peculiarity is due to a principle contained in it: bromelain, which is a sulphydryl enzyme particularly fit to digest proteins (proteolytic action).
BIBLIOGRAPHY:
- Ernesto Riva - "
L'universo delle PIANTE MEDICINALI trattato storico, botanico e farmacologico di 400 piante di tutto il mondo
" - Ghedina & Tassotti editori s.r.l. - Bassano del Grappa (VI), Maggio 1995.
- Tina Cecchini –
Enciclopedia delle erbe medicinali
, ………… - DE VECCHI EDITORE
- Padre Gianfranco Lazzari -
L'Erbario del Frate
- EDIZIONI S. MARCO LITOTIPO
- Alberto Fidi -
Erbe e Piante medicinali
- FRATELLI MELITA EDITORI
- AA.VV. -
Enciclopedia chimica
– USES ed., Firenze
- Benigni R., Capra C., Cattorini P.E. –
Piante medicinali: chimica, farmacologia e terapia
– Inverni della beffa ed, Milano.
- Duraffourd C., D'Ervicourt L., Lapraz J.C. –
Cahieres de Phytotérapie clinique
– Masson ed., Paris 1983
- Maugini E. –
Botanica farmaceutica
– CLUSF ed., Firenze 1976
- Pomini L. –
Erboristeria italiana
– Vitalità ed
- Valnet J., Duraffourd C., Lapraz J.C. –
Phytotérapie et aromatherapie
– Presse de la Renaissance, Paris 1978
- Massari E. –
Erbe in Cina
– Milano 1981
- Penso G. –
Piante medicinali nella terapia medica
– Org. Med. Farm. Ed., Milano
- Enrica Campanili –
Dizionario di fitoterapia e piante medicinali
– Tecniche Nuove - MI
- Larousse - "
Encyclopédie des PLANTES MÉDICINALES identification, préparations, soins
" - Larousse-Bordas – 1997
- Tom Wilsons - "
Guarire con le erbe, i consigli, le malattie, le ricette, le dosi nella più ricca raccolta di erboristeria
" - Fratelli Melita Editori
- Dr. G. Fort - "
Guide de traitement par les plantes médicinales et phytocosmétologie, soins de beauté
" - Editions Heures de France - Paris, 1976
---