HS 109 - UVA URSI COMP. Draining of body fluids, functionality of the urinary tract.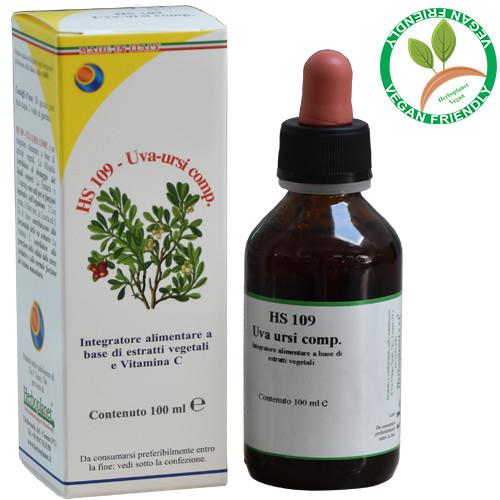 Product VEGAN FRIENDLY

INGREDIENTS FOR 150 DROPS: water. Dry extracts of: Hawkweed plant (Hieracium pilosella L.) titrated at 0.4% in vitexina 383 mg, Fumitory top (Fumaria officinalis L.) E / D: 1/4 77 mg, Rhubarb rhizome (Rheum officinalis Baill.) titrated at 1% reina 77 mg, Bearberry leaves (Arctostaphylos uva-ursi (L) Spreng.) titrated at 10% in arbutin 38 mg, Rose of maquis fruits (Rosa canina L.) titrated at 70% in vitamin C 38 mg (vitamin C contribution 26.6 mg = 33.25% RDA *), Black currant leaves (Ribes nigrum L.) E / D: 1/4 38 mg, Chicory root (Cichorium intybus L.) E / D: 1/4 38 mg , Asparagus root(Asparagus officinalis L.) E / D: 1/4 38 mg, Java tea leaves (Orthosiphon stamineus Benth) titrated to 0.1% sinensetin 38 mg. Acidifier: citric acid. Antioxidant: ascorbic acid. Preservatives: potassium sorbate, sodium benzoate.

Product included in the Register of supplements of the Italian Health Ministry, Code 113553.
Product included in the Register of supplements of the Spanish Health Ministry, code 0599E/13731/2015.
HS

109

UVA URSI COMP
.
is a food supplement based on plant extracts. The MOUSE-EAR HAWKWEED
contributes to the drainage of body liquids.
The FUMITORY
contributes to the depurative functions of the body and well-being of the skin
. BEARBERRY, BLACKCURRANT, CHICORY and JAVA TEA
contribute to the drainage of body liquids and function of urinary tracts
.
SUGGESTIONS OF USE
:
30-50
drops,
3
times a day, in some water.
WARNINGS
: Keep out of reach of children under three years. Do not exceed the recommended daily dose. The product should be used as part of a varied and balanced diet, and healthy lifestyle.
NOTES ON SOME PLANTS
:
MOUSE-EAR HAWKWEED
(
Hieracium pilosella
)
has diuretic properties
,
whether from eliminated catabolites selection side or volumetric one.
FUMITORY
(
Fumaria officinalis
) is a
regulator in biliary secretion,
whether hyper or hypo; it's also a
good diuretic.
RHUBARB
(
Rheum officinale
) has
cholagogues, laxative and, in small doses, tonic and stomachic properties.
It's also used in liver diseases because of its ability to evacuate bile.
BEARBERRY
(
Arctostaphylos Uva-ursi
)
has
a significant antibacterial activity, especially against staphylococci and E coli.
The Bearberry
is shown in various inflammatory processes of the urinary tract.
DOG ROSE
(
Rosa canina
) has diuretic anti-inflammatory and vitaminic propriety. Dog rose is called "canina" because, in the past, its root was used to treat rabies caused by rabid dogs bite.
BLACKCURRANT
(
Ribes nigrum
) is the typical remedy for allergies, chronic gouty conditions and hyperazotaemic renal insufficiency. Its field of action is at adrenocortical level.
CHICORY
(
Cichorium intybus
) contains, in its leaves and root, bitter therpens (
lattucina
), dioxicoumarin-derived glycosides, flavonoids, caffeic acid and chlorogenic acid. Thanks to these principles, this plant
has diuretic, tonic, cholagogues and stomachic properties.
Therefore, Chicory has got a depurant action.
ASPARAGUS
(
Asparagus officinalis
) has diuretic properties, draining liver, kidneys, lungs, skin and intestine. Further, it's a blood fluidifying. The plant is contraindicated in cystitis cases and whom suffer from urinary organs acute affections.
JAVA TEA
(
Orthosiphon stamineus
) has
diuretic and cholagogues properties
.
BIBLIOGRAPHY
:
- Ernesto Riva - "
L'universo delle PIANTE MEDICINALI trattato storico, botanico e farmacologico di 400 piante di tutto il mondo
" - Ghedina & Tassotti editori s.r.l. - Bassano del Grappa (VI), Maggio 1995.
- Tina Cecchini –
Enciclopedia delle erbe medicinali
, ………… - DE VECCHI EDITORE
- Padre Gianfranco Lazzari –
L'Erbario del Frate
– EDIZIONI S. MARCO LITOTIPO
- Alberto Fidi –
Erbe e Piante medicinali
- FRATELLI MELITA EDITORI
- AA.VV. –
Enciclopedia chimica
– USES ed., Firenze
- Benigni R., Capra C., Cattorini P.E. –
Piante medicinali: chimica, farmacologia e terapia
– Inverni della beffa ed, Milano.
- Duraffourd C., D'Ervicourt L., Lapraz J.C. –
Cahieres de Phytotérapie clinique
– Masson ed., Paris 1983
- Maugini E. –
Botanica farmaceutica
– CLUSF ed., Firenze 1976
- Pomini L. –
Erboristeria italiana
– Vitalità ed
- Valnet J., Duraffourd C., Lapraz J.C. –
Phytotérapie et aromatherapie
– Presse de la Renaissance, Paris 1978
- Massari E. –
Erbe in Cina
– Milano 1981
- Penso G. –
Piante medicinali nella terapia medica
– Org. Med. Farm. Ed., Milano
- Enrica Campanili –
Dizionario di fitoterapia e piante medicinali
– Tecniche Nuove - MI
- Larousse - "
Encyclopédie des PLANTES MÉDICINALES identification, préparations, so
ins" - Larousse-Bordas – 1997
- Tom Wilsons - "
Guarire con le erbe, i consigli, le malattie, le ricette, le dosi nella più ricca raccolta di erboristeria
" - Fratelli Melita Editori
- Dr. G. Fort - "
Guide de traitement par les plantes médicinales et phytocosmétologie, soins de beauté
" - Editions Heures de France - Paris, 1976
---