MIODOL  - Joint functionality, localized states of tension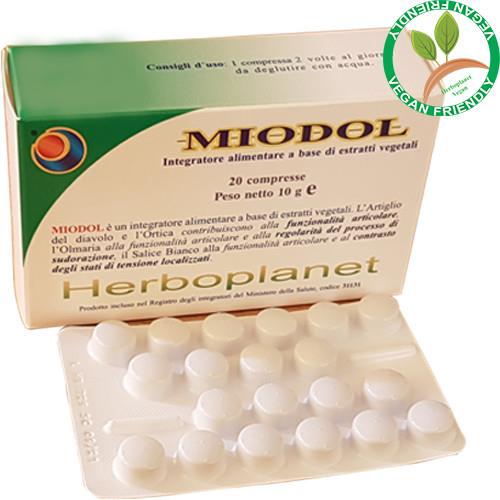 Product VEGAN FRIENDLY - Price: € 44.60 box with 60 tablets and € 19.50 box with 20 tablets
HERBAL COMPONENT CONTENT FOR

2

TABLETS
GASTRORESISTANT
:
bulking agent: Microcrystalline cellulose. Dry extracts of:
Meadowsweet (
Filipendula ulmaria Max
.) apex
160
mg (
bringing in salicylic acid

320

mcg
), Devil's Claw (
Harpagophytum procumbens DC.
) root
150
mg (
bringing in harpagosides

30

mg
), White Willow (
Salix alba L.
) cortex
80
mg (
bringing in salicin

24

mg
), Nettle (
Urtica dioica L.
) leaves
80
mg (
bringing in beta-sitosterol

320

mcg
). Disocell. Anticakings: silicon dioxide, agnesium salts of fatty acids
Product included in the Register of supplements of the Italian Health Ministry,
Code

31131
.
Product included in the Register of supplements of the Spanish Health Ministry,
code 0599/9381/2017
.
Product included in the Register of supplements of the French Health Ministry,
code 2017-11-774
.
Product included in the Register of supplements of the BelgianHealth Ministry,
Code PL
1653/2
.
MIODOL
is a supplement based on herbal ingredients always known for their beneficial effects
, able to promote the normal functions of muscular and osteoarticular apparat
. The devil's claw and nettle
contribute to joint function,
the white willow
to contrast of localized states of tension
and Meadowsweet
to the regularity of the process of sweating
.
SUGGESTION OF USE
: one tablet two times daily, before food
WARNINGS
: Keep out of reach of children under three years. Do not exceed the recommended daily dose. The product should be used in a varied and balanced diet and a healthy lifestyle.
NOTES ON SOME PLANTS
:
DEVIL'S CLAW
(
Harpagophytum procumbens
) contains a gluco-hiridoid that has analgesic properties as much as chemical anti-inflammatories but having their antiarthritic and spasmolytic action. We believe hiridoids exert their own inhibitory influence on prostaglandins synthesis and interfere in cell membrane permeability to ions (Van Hellemont J. c.w. page
191
).
Hiridoids percentage must not be less than

2

% so that its efficiency is maximum.
First pharmacological studies, published in
1958
, are to be due to Professor Zorn, from Friederch Shiller Institute in Iena, concerning the anti-arthritic action of this root. Devil's Claw is native of Kalahari desert (Africa) and was introduced in Europe in
1953
by O. Volk. Potential interaction with anticoagulants (
warfarin
) and possible bleedings are reported [Heck A.M. et al., Potential interactions between alternative therapies and Warfarin, Am. J. Health Syst. Pharm.
57, 1221-1227
(
2000
)].
WILLOW
(
Salix alba
) contains salicin, in young branches cortex, that is a glucoside that is divided into glucose and saligenin because of emulsine enzymatic action, acids, etc.. As active ingredient, we've a vested interest in saligenin. Within our body, it turns into derivates such as salicylic acid, salicin, etc.
. Salicylic acid is a prostaglandins synthesis inhibitor due to cyclooxigenase inactivation. It has got an inhibitory action on platelet aggregation.
Piria discovered salicylic acid through salicin oxidation.With regard to possible interactions, we believe that "risks are real when silicylates exceed the dose of 3 grams per day" (Firenzuoli F.
2001
).
MEADOWSWEET
(
Spirea Ulmaria
)
among its principles has acetylsalicylic acid that gives it a strong analgesic property.
It contains a strongly aromatic glucoside called gaultherin that splits into glucose and methyl salicylate under gaultherase anzyme action.
Meadowsweet is used in fever and flu, as an analgesic in headaches and toothache, in acute rheumatic forms and minor painful joint expressions.
According to folk medicine, the plant is used, in the shape of tea, for flu syndromes. In therapeutic doses, medical literature does not report side or toxic effects. Recent studies have demonstrated presence in
NETTLE
(
Urtica dioica
) of glycolic acid, glycerol, sodium salts, potassium and magnesium. These compounds would have
a diuretic action facilitating chlorides and urea elimination, and, by doing so, increasing the urinary cleaning and clearing waste materials in blood.
According to ESCOP and E Commission monographs, nettle leaves are useful because of their anti-phlogistic action, such as adjuvants in rheumatic diseases treatment.
BIBLIOGRAPHY
:
- Ernesto Riva - "
L'universo delle PIANTE MEDICINALI trattato storico, botanico e farmacologico di 400 piante di tutto il mondo
" - Ghedina & Tassotti editori s.r.l. - Bassano del Grappa (VI), Maggio 1995.
- Tina Cecchini - "
Enciclopedia delle erbe medicinali,
…………" - DE VECCHI EDITORE
- Padre Gianfranco Lazzari - "
L'Erbario del Frate
" - EDIZIONI S. MARCO LITOTIPO
- Alberto Fidi - "
Erbe e Piante medicinali
" FRATELLI MELITA EDITORI
- AA.VV. - "
Enciclopedia ch
imica" - USES ed., Firenze
- Benigni R., Capra C., Cattorini P.E. - "
Piante medicinali: chimica, farmacologia e terapia
" Inverni della beffa ed, Milano.
- Duraffourd C., D'Ervicourt L., Lapraz J.C. - "
Cahieres de Phytotérapie clinique
" Masson ed., Paris 1983
- Maugini E. - "
Botanica farmaceutica
" CLUSF ed., Firenze 1976
- Pomini L. - "
Erboristeria italiana
" - Vitalità ed
- Valnet J., Duraffourd C., Lapraz J.C. - "
Phytotérapie et aromatherapie
" - Presse de la Renaissance, Paris 1978
- Massari E. - "Erbe in Cina" - Milano 1981
- Penso G. - "
Piante medicinali nella terapia medica
" - Org. Med. Farm. Ed., Milano
- Enrica Campanili - "
Dizionario di fitoterapia e piante medicinali
" - Tecniche Nuove - MI
- Max Tètau - "
Gemmoterapia nuovi studi clinici
" - NUOVA IPSA Editore srl - Palermo, 1989
- Larousse - "
Encyclopédie des PLANTES MÉDICINALES identification, préparations, soins
" - Larousse-Bordas – 1997
- Tom Wilsons - "
Guarire con le erbe, i consigli, le malattie, le ricette, le dosi nella più ricca raccolta di erboristeria
" - Fratelli Melita Editori
---