ENZYSOL- Contributes to digestive function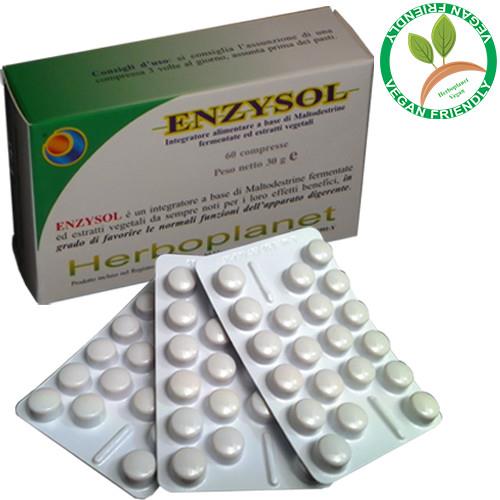 Product VEGAN FRIENDLY
GLUTEN FREE
INGREDIENTS AVERAGE CONTENTS (

3

TABLETS)
: Bulking agent: microcrystalline cellulose.
Fermented Maltodextrines

300

mg
(
bringing in enzymes
:
Amylase

9000

DU
,
Protease

18
,
000

HUT
,
Protease concentrated HTU

7500
,
glucoamylases AGU

12450

FCCLU Lipase
,
Cellulase

1000

CU
,
Lactase

3000

ALU
,
Endo-Phytase

42

endo-PG
). Bulking agent: calcium phosphate. Dry extract of Milk Thistle (
Sylibum marianum Gaertn
)
titrated at 70%, in silimarine
150
mg (
bringing in silimarine

105

mg
). Anticakings: magnesium salts of fatty acids, silicon dioxide.
Product included in the Register of supplements of the Italian Health Ministry,
Code
15591.
Product included in the register of supplements of the Spanish Ministry of Health,
code 0599/9388/2017
.
Product included in the Register of supplements of the Belgian Health Ministry,
Code PL/AS
1653/15.
ENZYSOL
is a food supplement based on fermented maltodextrin and herbal extracts. Milk Thistle
helps the digestive and liver functions
.
SUGGESTIONS OF USE
: 1 tablet three times a day, before the 3 main meals.
WARNINGS
: Keep out of reach of children under three years. Do not exceed the recommended daily dose. The product should be used as a part of a varied and balanced diet, and healthy lifestyle.
NOTES
:
FERMENTED MALTODEXTRINES
are produced by non-toxic fungal organisms, in particular, a non-toxic Aspergyllus niger strain is used as starter for fermentation. At the end of fermentation process, it's going to be completely removed so much so we can avoid allergic reactions in susceptible individuals. Maltodextrines fermentation, caused by this fungus, gives rise to the following enzymes:
Amylase
(
30000
DU/gram
),
Protease
(
60000
HUT/gram
),
concentrated Protease
(
25000
HUT/gram
),
Glucoamylase
(
40
AGU/gram
),
Lipases
(
1500
FCCLU/gram
),
Cellulases
(
6000
CU/gram
),
Lactase
(
10000
ALU/gram
),
Endo-Phytase
(
140
endo-PG/gram
). Fermented fungal maltodextrine contain this set of enzymes that can effectively help physiological digestive functions. Main features of a product like that are summarized as follows:
a)
it contains within itself a broad spectrum of digestive enzymes capable of supporting normal digestive function complementing the action of endogenous pancreatic enzymes;
b)
fungal origin enzymes are active at a temperature approaching the human body temperature
(
40-

45

°C
);
c)
they can be operative in an environment ranging from pH 3.0 to pH 9.0 and because of this their feature, they are the only enzymes acting in basic, acid and neutral intestinal stretch. Concerning this, it must be emphasized that pepsin and trypsin are only used to work in stomach acidic environment and pancreatic enzymes are active in small intestine alkaline pH range. Their activity begins in the upper stomach, favouring the organism's digestive enzymatic secretion fall, allowing pancreas to produce larger quantities of systemic and immune enzymes. That's why food enzymes are activated by heat in a natural way just during mastication, thereby starting the process called "pre-digestive process" that continues even when food is on its way towards stomach. These enzymes are rendered inactive by gastric secretions. Afterwards, smallintestine alkaline environment activates back enzymes helping to deliver digestive process.
Fungal enzymes contained in fermented maltodextrines, taken before meal, help to strengthen food predigestion, naturally made by ptyalin and enzymes that are already present in food itself.
As a general rule, fermented Maltodextrines represent a solid support for normal physiological functioning of digestive process and contribute to reduction of typical functional changes
.
Using this remedy doesn't cause side effects and there's no interference with well-known medicines
.
MARIAN THISTLE
(
Sylibum marianum
)
is an excellent cholagogue, depurant, tonic, it stimulates digestion and is main remedy in poisonings by hepatotoxic substances.
BIBLIOGRAPHY
:
- Howell Edward, Food Enzymes, Lotus Press, 1994.
- Anthony J. Chicoke, Enzymes and Enzyme Therapy, Keats Publishing, New Canaan, CT, 1994.
- Holford Patrick, Improve Your Digestion, Piatkus, London, UK, 1999.
- Ernesto Riva - "
L'universo delle PIANTE MEDICINALI trattato storico, botanico e farmacologico di 400 piante di tutto il mondo
" - Ghedina & Tassotti editori s.r.l. - Bassano del Grappa (VI), Maggio 1995.
- Tina Cecchini - "
Enciclopedia delle erbe medicinali,
…………" - DE VECCHI EDITORE
- Padre Gianfranco Lazzari - "
L'Erbario del Frate
" - EDIZIONI S. MARCO LITOTIPO
- Alberto Fidi - "
Erbe e Piante medicinali
" FRATELLI MELITA EDITORI
- AA.VV. - "
Enciclopedia ch
imica" - USES ed., Firenze
- Benigni R., Capra C., Cattorini P.E. - "
Piante medicinali: chimica, farmacologia e terapia
" Inverni della beffa ed, Milano.
- Duraffourd C., D'Ervicourt L., Lapraz J.C. - "
Cahieres de Phytotérapie clinique
" Masson ed., Paris 1983
- Maugini E. - "
Botanica farmaceutica
" CLUSF ed., Firenze 1976
- Pomini L. - "
Erboristeria italiana
" - Vitalità ed
- Valnet J., Duraffourd C., Lapraz J.C. - "
Phytotérapie et aromatherapie
" - Presse de la Renaissance, Paris 1978
- Massari E. - "Erbe in Cina" - Milano 1981
- Penso G. - "
Piante medicinali nella terapia medica
" - Org. Med. Farm. Ed., Milano
- Enrica Campanili - "
Dizionario di fitoterapia e piante medicinali
" - Tecniche Nuove - MI
- Larousse - "
Encyclopédie des PLANTES MÉDICINALES identification, préparations, soins
" - Larousse-Bordas – 1997
- Tom Wilsons - "
Guarire con le erbe, i consigli, le malattie, le ricette, le dosi nella più ricca raccolta di erboristeria
" - Fratelli Melita Editori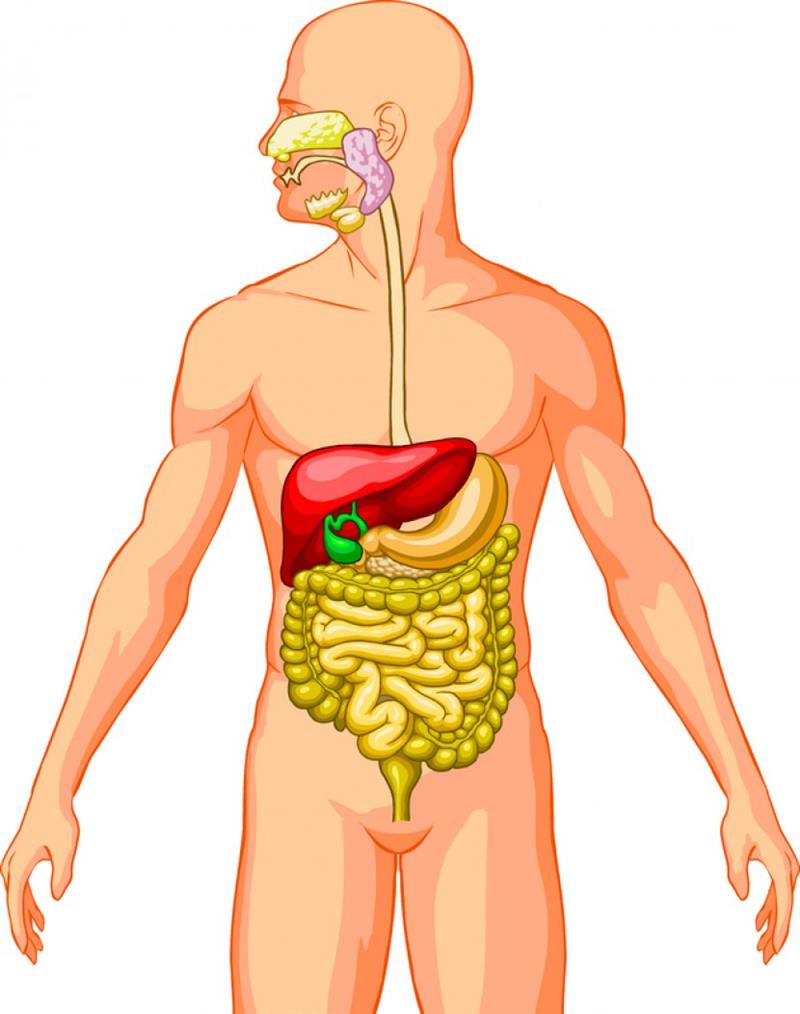 ---