OXYSOL - Normal energy metabolism, reduction of tiredness and fatigue, normal functioning of the nervous system and psychological function. Regulation of hormonal activity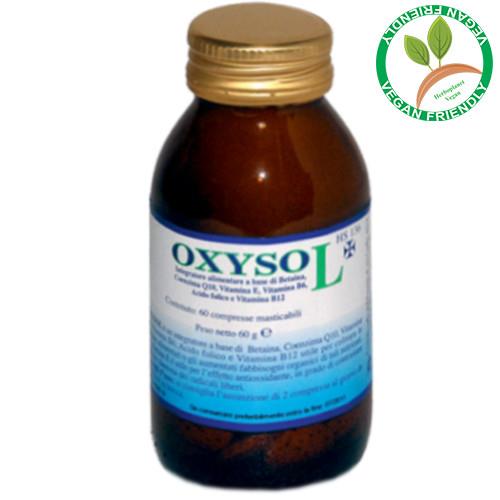 NOURISHING SUBSTANCES CONTENT FOR

2

TABLETS
: Fructose, microcrystalline cellulose, Betaine 250 mg, dehydrated pulp mix of soft fruits, maltodextrins, Coenzyme Q
10 20
mg. Acidifier: citric acid. Vitamin E 10 mg (
83.33
% RDA
), berries natural flavor, Vitamin B6 2 mg (
142.85
% RDA
), folic acid
200
μg (
100
% RDA
), vitamin B
12 1
μg (
40
% RDA
). Excipients: calcium phosphate, corn starch. Anti-caking agents: vegetable magnesium stearate, silicon dioxide.
Product included in the Italian Health Ministry food supplements Register,
code

15756
.
OXYSOL
is a food supplement based on Betaine, Coenzyme Q
10
, Vitamin E, Vitamin B
6,
Folic acid and Vitamin B
12. Vitamin E contributes to the protection of cells from oxidative stress. Vitamin B6 contributes to the reduction of tiredness and fatigue, to normal functioning of the nervous system, to normal psychological function and to the regulation of hormonal activity. Vitamin B12 contributes to the normal function of the immune system and to normal energy-yielding metabolism. Folic Acid contributes to normal amino acid synthesis, to normal homocysteine metabolism and to normal blood formation.
USE
:
1
tablet to be dissolved in your mouth
2
times a day.

WARNINGS: keep out of the reach of children under the age of three years. Do not exceed the recommended daily dose. The product should be used in the context of a varied and well-balanced diet and a healthy lifestyle.
NOTES
:
TRIMETHYLGLYCINE
(
Betaina anidra
) is taken from the sugar beet. It intervenes in transmethylation, process by which the methyl groups (CH3) are transferred from one molecule to another, essential biochemical process for cellular metabolism together with the Methionine and Choline, thus providing methyl groups to the cell. It is believed that the introduction, in the food diet, of this dietary supplement
can help recovery processes in degenerative diseases. Basically, the Trimethylglycine is a methylating agent playing a particularly important role in the process of detoxification of the Homocysteine (
powerful oxidant and free radical generator
)
to Methionine
.
The living organism metabolises, in fact, only small amounts of Homocysteine and is well known that in large amounts it is toxic:
you can then say that the Homocysteine is an excellent indicator of biochemical efficiency of methylation by cells
. Methionine (
product of methylation of homocysteine
) produces high concentrations of SAME (
S-Adenosil-Methionine
),
natural antidepressant
and methyl groups donor.
The increase of SAME is useful both in the prevention and treatment of various metabolic disorders, including those caused by serious organic deficits; example in the neoplastic patient
. It is one of the essential amino acids with antioxidant activity,
which is very important to the liver where it prevents an abnormal accumulation of grease and antibodies production
.
COENZYME Q10
was discovered in 1957 by Crane in the beefheart mitochondria. It acts as a conveyor of hydrogen in the chains of oxidation at the mitochondrial level, important for energy production and antioxidant, it has got a protective function against free radicals. It acts against the peroxides that attack collagen and elastin.
Effective against the loss of elasticity and the wrinkles formation
.
Coenzyme Q10 is synthesized by our body, but
its production decreases with age, even the use of statin-based medicines can cause a reduction in the values of Coenzyme Q10, because the HMG-CoA reductase, which is involved in cholesterol synthesis, also intervenes in the synthesis of Coenzyme Q10
. The daily requirement is estimated to be 5 mg, while recommended supplement for those people who exceed 35-40 years pld is much superior, from 20 up to 40 mg. Coenzyme Q10 does not improve our performance, just make sure that there is no shortage to prevent its lack, so after the 35 years of age it may be a reasonable thing to get a right supplement. Using
VITAMIN E
as food supplement is an excellent preventive treatment against myocardial infarction, heart failure and the intermittent claudication (
intermittent pains in the legs during walking
), an excellent antioxidant. The unsaturated fats increase the normal requirements of
Vitamin E
, reducing its amount we have available in our body. The grave arteriosclerosis reacts to the
Vitamin E
-based therapy with the loss of calcium deposited on vascular walls (E. Haegger, Vascular diseases), in fact, Haegger has showed that the local tissues that suffered for a diminished blood supply, due to the constriction of the arteries supplying that side, showed a marked and appreciable increase of the blood supply after the vitamin E-based therapy. This vitamin is also called "
vitamin angiophila
", it is able to increase the blood supply to those cells that, because of a normal blood refilling, do not work properly.
It restores the normal capillary permeability, accelerates the opening of collateral circulation around veins or occluded arteries or dangerously narrow arteries. It is useful for night cramps and in various other muscular problems
(
night rectal cramps, cramps due to physical exercise, polymyositis, etc.
). Vitamin E protects the cell membranes. If you give appropriate amounts of
VITAMIN B6
, much of the
Homocysteine
that is produced goes to be converted into
Cistatione
, an important natural antioxidant. The half of the homocysteine normally produced in the body is detoxified in this way, the other half is detoxified through another process called transmethylation (
5-methyl-tetra-dihydrofolate
, produced by the folic acid, gives its methyl group to Homocysteine converting it into Methionine). The DNA of the cell nucleus loses methyl groups as a result of A normal cellular aging. Each molecule of
Trimethylglycine gives three methyl groups to DNA and this helps the remethylation or repair process of DNA molecules.we can say that this action of repair helps the cells to slow down the aging process. The trimethylglycine reduces Homocysteine levels in the blood, a molecule which can cause arteriosclerosis, thrombosis, and other damage to the body
[Trimethylglycine converts Homocysteine into Methionine and S-adenosylmethionine (SAME)]. Homocysteine is an intermediate sulphide amino acid in the conversion of methionine into cysteine. The conversion of Homocysteine into methionine (remethylation process) or its conversion into cysteine (transsulfuration) represent the main metabolic pathways able to maintain intracellular levels within a short range. Its controlled release in the bloodstream, on the other hand, allows us to measure plasma concentrations, which represent an accurate index of the tissue state of Homocysteine
. Numerous epidemiological surveys have shown a correlation between incidence of vascular-genesis clinical events and homocysteine serum levels (
venous thrombosis, embolic events, increased incidence of atherosclerotic disease
). It can be argued that
high circulating homocysteine plasma levels in the blood are considered a risk factor for vascular disease.
High serum levels of homocysteine may depend on different factors, both congenital factors(enzymatic deficit), that acquired factors.
Hyperhomocysteinemia, in many cases, is correctable by appropriate therapy
.
FOLIC ACID
is essential for a proper development of the cells and is directly related to the synthesis of DNA and other nucleic acids.
Wherever there is a rapid multiplication of the cells, both for the building and the conservation of the organism, the Folic Acid is vital
. There is an interrelation between folic acid deficiency and an increased susceptibility to infections, viral or fungal parasites and certain bacteriological infections, which, in turn, can interfere with the absorption of vitamin (
American Journal of Clinical Nutrition
).
VITAMIN B12
, in combination with Vitamin B6,
helps suffering liver
. It participates to
carnitine, choline, creatine, adrenaline
formation and interacts with other substances to detoxify from harmful compounds.
It is included in the supplements use as anti-fatigue agent
.
---