BISOL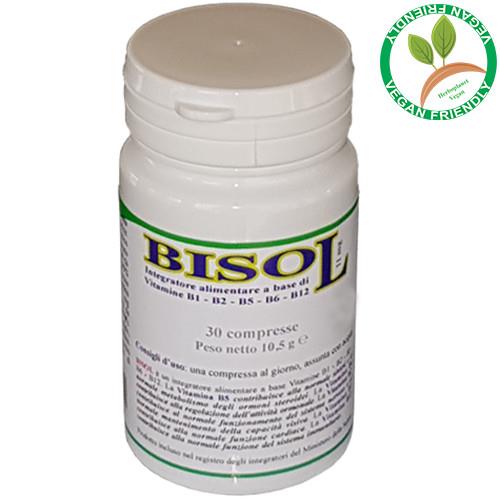 Product VEGAN FRIENDLY
NOURISHING SUBSTANCES CONTENT FOR

6

TABLETS:
Brewer's yeast plasmolysate, calcium phosphate, microcrystalline cellulose, Vitamin B
5
6
mg (
100% RDA
), vitamin B
6
2
mg (
142.85

% RDA
). Anti-caking agents: vegetable magnesium stearate, silicon dioxide. Vitamin B
2
1.6
mg (
114.28

% RDA
), vitamin B
1
1.4
mg (
127.27

% RDA
), vitamin B
12
1
µg (
40

% RDA
).
Product incuded in the supplements register of the Italian Health Ministry,
code

11178
.
Product included in the register of supplements of the Spanish Ministry of Health,
code 0599E/11117/2016
.
BETAMIX
is
food supplement based on vitamins of B group. Pantothenic acid (
vitamin B5
)
contributes to normal synthesis and metabolism of steroid hormones, vitamin D and some neurotransmitters
. Vitamin B6
contributes to the regulation of hormonal activity
. Riboflavin (vitamin B2)
contributes to normal functioning of the nervous system and to the maintenance of normal vision
. Thiamin (vitamin B1)
contributes to the normal function of the heart
. Vitamin B12
contributes to the normal function of the immune system
.
SUGGESTIONS OF U
SE
: one tablet once a day.
WARNINGS
: Keep out of reach of children under three years. Do not exceed the recommended daily dose. The product should be used as part of a varied and balanced diet, and healthy lifestyle.
NOTES
: Symptoms by deficiency of
VITAMIN B5
(
Pantothenic Acid
) go from intestinal atony to decreased resistance to infectious diseases to some strange sensations of itching and burning too. This vitamin is often referred as
antistress vitamin
because
it is necessary for the adrenal glands
which protect man from every type of stress, both physical and mental.
The intake of Vitamin B5 helps us to face long periods of stress with less suffering and waste of energy
. It is necessary for the immune system and for the normal functioning of the gastrointestinal tract. It is beneficial against the teeth gnashing during the night (
bruxism
). Vitamin B5 is vital for normal reproduction, Roger J. Williams writes on
Nutrition Against Disease
that "there are very good reasons for believing that a number of failures in human reproduction (
borns-dead, premature births, physical or mental disabilities of infants
) are due to the lack, during gestation, of vitamin B. The name pantothenic derives from the greek pantos that means "everywhere", precisely because this vitamin is found in all living cells. This vitamin plays in the maximum degree to its function when combined with other vitamins of the same complex B. When
VITAMIN B6
(
pyridoxine
) enter into body, is transformed, with the help of vitamin B2, in the pyridoxal phosphate coenzyme, which is essential as an activator of a large number of enzymes, which in turn
govern to a wide range of systems thus useful for the preservation of health in our body
.
If you administer some appropriate amounts of vitamin B6, much of the homocysteine so produced (high values of this substance increases the risk of cardiovascular diseases) is converted into Cistatione, an important natural antioxidant
.
VITAMIN B2
(
riboflavin
) presides over the metabolism of lipids, such as fatty acids. It is a component of the pigment in the eye, where it takes part in the process of adapting to light, it is also necessary for the metabolism of tryptophan, a natural amino acid, essential for a proper balance of nitrogenous adults.
Useful in fatigue
,
stress
,
alcoholism
.
VITAMIN B1
(
thiamine
) improves the functioning of the digestive system. It invigorates the muscles of the stomach and intestine and often has been successfully
used to cure cases of obstinate constipation.
Vitamin B1 is of primary importance for the enzymatic reactions, which provide energy to the nerves and brain and also for the formation of acetylcholine, a compound which operates in the transmission of nerve impulses.
It is important to maintain a healthy heart and stimulate and transmit nerve impulses
.
VITAMIN B12
(
cyanocobalamin
) is vital in blood formation process; the anemia caused by folic acid deficiency is similar to that due to lack of vitamin B12.
This vitamin has a vital role in maintaining the normal formation of red blood cells and to the integrity of the nervous system
THE COMPLETE BOOK OF VITAMINS, by Rodale Press, Inc. - Emmaus, PA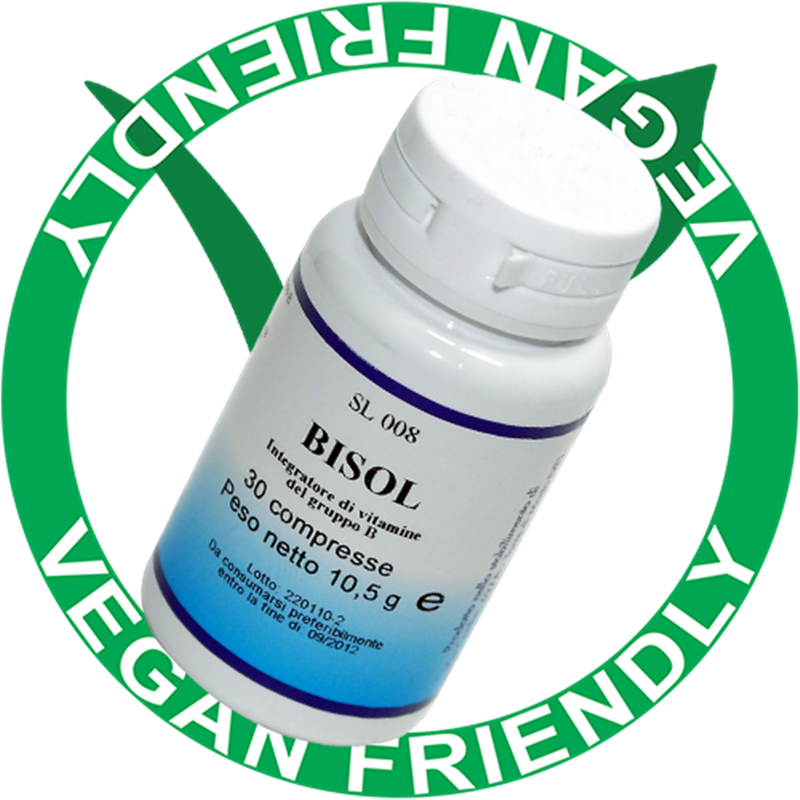 ---