FERROSOL - Normal formation of red blood cells and hemoglobin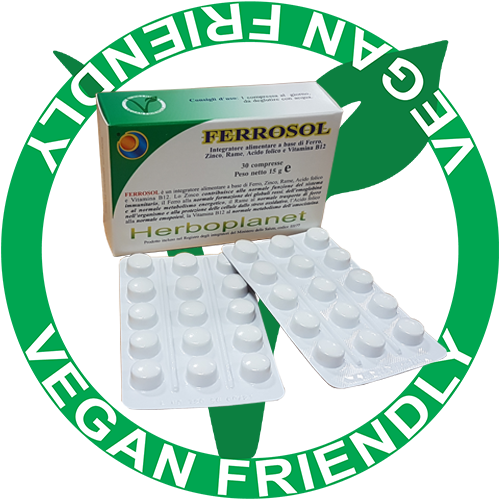 Product VEGAN FRIENDLY - Price: € 19,90
CONTRIBUTION OF INGREDIENTS FOR 1 TABLET
: charge agent: microcrystalline cellulose.
Sunactive®
(
Iron pyrophosphate, polyglyceric esters of fatty acids, soy lecithin, sodium chloride, maltodextrin
) 175 mg (
Iron contribution of 14 mg - 100% RDA
), zinc citrate 46.8 mg (
contribution in Znco of 15 mg - 150% RDA
). Anti-caking agents: silicon dioxide, magnesium salts of fatty acids. Copper gluconate 1.43 mg (
Copper contribution of 0.2 mg - 20% RDA
), Vitamin B12 (
Cyanocobalamin
) 1 μg (
40% RDA
), Folate (
Pteroil-monoglutamic acid
) 200 μg (
100% RDA
).
Product included in the Register of supplements of the Italian Health Ministry,
Code

11177
.
Product included in the Register of supplements of the Spanish Health Ministry,
code 0599/9384/2017
.
Product included in the Register of supplements of the Belgian Health Ministry,
Code NUT
1653/17.
FERROSOL
is a food supplement containing Iron , Zinc, Copper, Folic acid andVitamin B
12
. Iron
contributes to normal formation of red blood cells and haemoglobin
. Zinc
contributes to normal acid-base metabolism
. Copper
contributes to normal iron transport in the body
. Folic acid
contributes to normal blood formation
. Vitamin B12
contributes to normal red blood cell formation
.
SUGGESTIONS OF USE
:
1 tablet
a day.
WARNINGS
: Keep out of reach of children under three years. Do not exceed the recommended daily dose. The product should be used as a part of a varied and balanced diet, and healthy lifestyle.
NOTES
:
BREWER'S YEAST PLASMOLYSED BY IRON
brings vitamins B
and highly assimilable organic iron
into the body (
it does not ferment because it is plasmolysed and Iron is well tolerated by stomach
); in a
70
kg man, there should be 3.5 grams of iron (70% is used and the remaining
30
% is stored for emergency cases ). Woman's body contains less iron than man's one and exactly it contains 2.5 g of iron. This allows us to understand that she has less stored iron and this is very important because women, having problems for assimilating iron, often consume their reserves. Woman is hampered by a number of factors such as menstruations (
we know that 80% of iron is in red blood cells and that's why blood leaks involve significant loss of iron
).
Pregnant woman needs an extra iron dose, especially during last

4

months of pregnancy, because iron is transferred to fetus in large quantity. Moreover, during pregnancy, woman's body produces

30

% more of red blood cells: this causes a bigger need for iron.
A study reported in the
Canadian Medical Association Journal
says that in case of arthritis, a characteristic phenomenon especially in women, is that
patient tends to have dysfunctions about iron absorption. Even silicates can reduce iron absorption. An iron deficient woman and suffering from rheumatoid arthritis increased her iron levels from

32

% up to

82

% after she suspended silicates for

48

hours
(J.I. Rodale e collaboratori - Il libro completo dei minerali per la salute - Demetra S.r.l). A
ZINC
deficiency, even if it's very low, can bring on an ability reduction of using food and inhibiting general well-being.Zinc is related to copper. In our body,
COPPER
acts in combination with iron. The most important function of copper, in the human body, is hemoglobin synthesis and, along with iron, is involved in its production. If in our own body there is not a sufficient amount of copper, iron alone will not be able to produce hemoglobin because it is stored in tissues but is not used in hemoglobin synthesis
. Liver contains two distinct substances,
VITAMIN B
12
and
FOLIC ACID
, both of these vitamins are vital elements in the formation of blood.
Anemia due to folic acid deficiency is similar to anemia due to a deficiency of vitamin B
12
. Red blood cells become very large, with an abnormal shape and have very short life.
Megaloblastic anemia is commonly regarded as the most common symptom of folic acid and vitamin B
12
deficiency
, and this because, even though it is similar to other kinds of anemia in its most obvious symptoms, it is relatively easy to identify as a lack of vitamin B12, folic acid, methionine and choline. If a woman, during pregnancy, is not getting enough folic acid, the fetus may receive an injury.
It is estimated that half of all pregnant women all over the world are deficient in folic acid.
Vitamin B
12
is a water-soluble vitamin and pregnancy causes an extraordinary demand of this vitamin; if the woman had used birth control pills during her pregnancy she will need a vitamin B
12
supplement.
BIBLIOGRAPHY
:
Il libro completo dei MINERALI per la salute
- Demetra S.r.l.
THE COMPLETE BOOK OF VITAMINS
, by Rodale Press, Inc. – Emmaus, PA
- J. I. Rodale e collaboratori – "
Il libro completo dei minerali per la salute
" traduzione di Bernardo Draghi- DEMETRA S.r.l.
-- Giovanni Fasani e Attilio Speciali – "
Come curarsi con i minerali
" FABBRI Editori
- Dr. Frank MIRCE - "
Oligoelements et santé de l'homme
" – ANDRILLON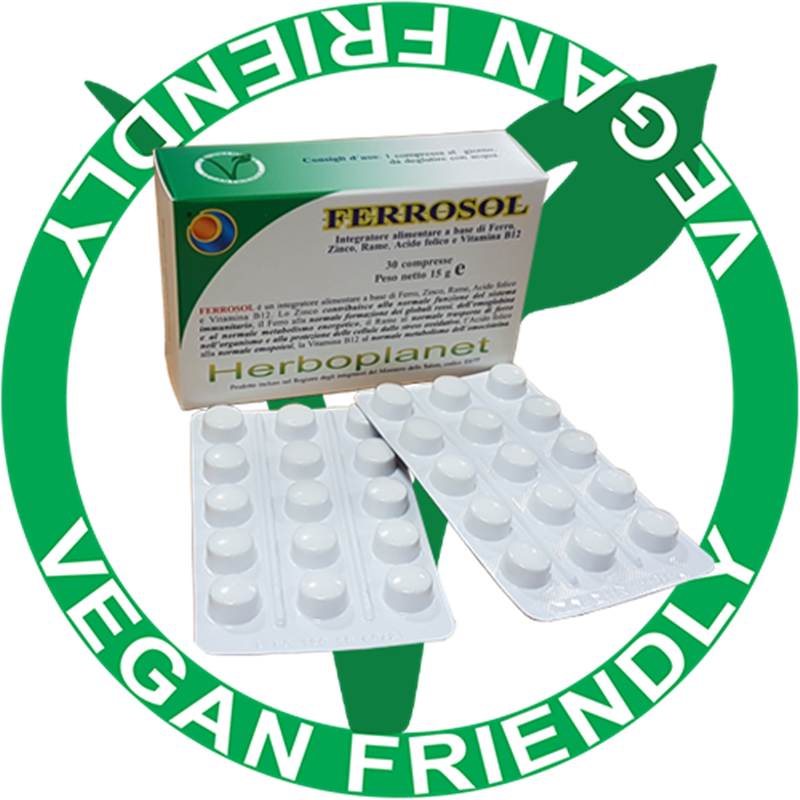 ---