ALIVIT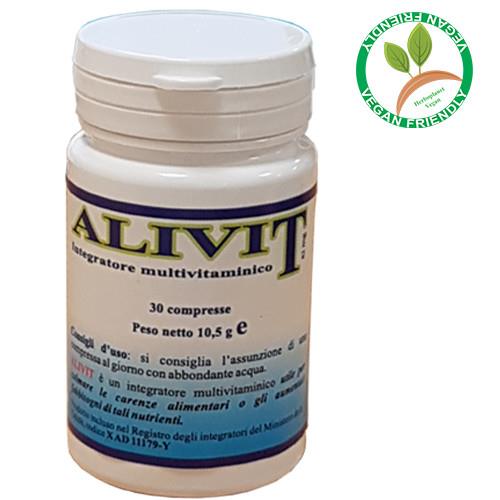 Product VEGAN FRIENDLY
NOURISHING SUBSTANCES CONTENT FOR

1

TABLET
: Plasmolysed yeast, calcium phosphate, microcrystalline cellulose, Vitamin C

60

mg (
75
% RDA), Vitamin E

10

mg (
83,33
% RDA
),
Vitamin B5

6

mg (100 RDA
),
Vitamin B6

2

mg (
142,85
% RDA
),
Anticakings: vegetable magnesium stearate,
silicon dioxide. Vitamin B2

1,6

mg
(
64
% RDA
),
Vitamin B1

1,4

mg (
127,27
% RDA
),
Vitamin A

0,8

mg (100% RDA
),
Folic Acid

0,2

mg (100% RDA
),
Biotin

0,15

mg (
300
% RDA
),
Vitamin D

0,005

mg (100% RDA
),
Vitamin B12

0,001

mg (
40
% RDA
).
Product included in the Register of the Italian Healthy Ministry,
Code
11179
.
Product included in the Register of the Belgian Healthy Ministry,
Code NUT/AS
1653/19
ALIVIT
is a multivitamin supplement. Vitamin B1
contributes to normal functioning of the nervous system and to the normal function of the heart
. Vitamin B2 and vitamin A
contribute to the maintenance of normal vision
. Vitamin B5
contributes to normal synthesis and metabolism of steroid hormones
,
vitamin D and some neurotransmitters
. Vitamin B6
contributes to normal psychological function
. Vitamine B12 and folic acid
contribute to the normal function of the immune system
. Vitamin C and vitamin E
contribute to the protection of cells from oxidative stress
. Vitamin D
contributes to normal absorption/utilisation of calcium and phosphorus
.
INSTRUCTIONS FOR USE
:

1

tablet a day.
WARNINGS
: Keep out of reach of children under three years. Do not exceed the recommended daily dose. The product should be used in a varied and balanced diet and healthy lifestyle.
NOTES
:
VITAMIN C
(Ascorbic acid) is a very strong antioxidant and general detoxifying. Man is totally dependent on food for his need of vitamin C. Dr. Klenner found that vitamin C is very important to combat carbon monoxide, environment pollutant, coming from exhaust of cars.
VITAMIN E
(tocopherol) is an antioxidant and provides protection against excessive primary biochemical oxidation of cellular lipids; therefore, it is useful to prevent formation of dangerous free radicals.
VITAMIN B5
(pantothenic acid) is often referred as anti-stress vitamin because adrenal glands and immune system staff need it. Vitamin B5 is also necessary for normal functioning of gastrointestinal tract and is useful in nocturnal grinding of teeth. If adequate amounts of
VITAMIN B6
(piridossin) is given, much homocysteine goes to be produced (high levels of this substance increase risk of cardiovascular diseases) and converted into Cystatione, an important natural antioxidant.
VITAMIN B2
(riboflavin) controls lipids metabolism, such as fatty acids. It is a component of eye pigment where it participates in the process of adaptation to light.
VITAMIN B1
(tiamin) improves digestive system functioning, tones stomach and intestine muscles and often it has been used successfully to cure stubborn cases of constipation.
VITAMIN A
is a sentinel in the front line against the continuing assaults on our health by polluting factors as: poisonous gas, irritant particles and carcinogenic materials.
FOLIC ACID
, in combination with
VITAMIN B12
(cyanocobalamin) strengthens immune system and is vital in the process of blood formation. The anemia caused by folic acid deficiency is similar to anemia due to Vitamin B12 deficiency.
BIOTIN
is one of the most active vitamins to promote a healthy and beautiful skin. Indirectly, it also contributes to the functioning of nervous system. A fair dose of
VITAMIN D
(calciferol) in our body seems to be able to prevent osteoporosis, rheumatism
BIBLIOGRAFIA
:
THE COMPLETE BOOK OF VITAMINS, by Rodale Press, Inc. – Emmaus, PA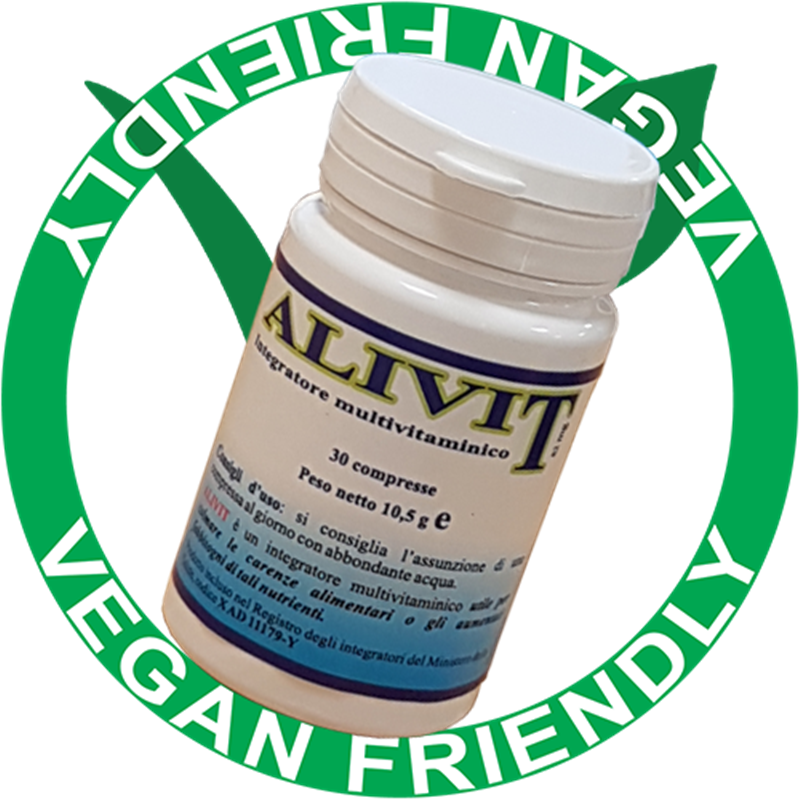 ---