YELLOW SAPPHIRE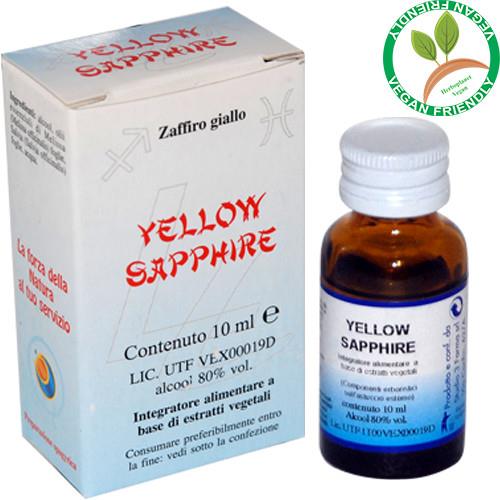 HERBAL COMPONENTS CONTENT
:
QSA
(
Alchemical Spagyric Quintessence of Solanimus
) of Melissa (
Melissa officinalis
)
4,9
ml,
QSA
(
Alchemical Spagyric Quintessence of Solanimus
) of Sage (
salvia officinalis
)
4,9
ml,
Alchemical
Zinc
0,1
ml,
Alchemical
yellow Sapphire
0,1
ml.
Product included in the Register of supplements of the Italian Health Ministry,
Code 16820
.
YELLOW SAPPHIRE
is a food supplement based on herbal principles. The
MELISSA
, in addition to being an
antioxidant,
c
ontributes to the digestive function and to elimination of gases
.
Useful for relaxation and mental well-being, as well as to recover the normal mood
. The
SAGE
contribute to digestive function and to intestinal gases elimination
.
It helps the regular process of sweating and counteracts disturbances of menopause
.
It is useful as a tonic in the physical and mental fatigue
.
WARNINGS
: keep out of the reach of children under the age of three years. Do not exceed the recommended daily dose. The product should be used in the context of a varied and well-balanced diet and a healthy lifestyle.
USE
: 5 drops directly on the tongue, or with a little honey, 3 times a day.
NOTES
:
The
SAGE
acts on the hypothalamic group and it is considered of the main plants in the treatment of hormonal disorders. The
MELISSA
conveys the forces of Jupiter toward the autonomic nervous system that, astrologically, corresponds to the zodiacal sign of the Pisces that is governed by Jupiter and Venus. The
Alchemical
ZINC
is associated to Jupiter , like tin. Jupiter gives us the courage to assume our role. In Sanskrit tradition, it has got a close analogical link with the
Yellow Sapphire
. In the Rig-Veda texts, we can find the name of Jupiter mentioned up to 170 times so as to bear witness to the importance attributed to the archetype. In Skanda Purana texts it is indicated to be the wise teacher who can lead us to the material and spiritual well-being.
YELLOW SAPPHIRE
(Blue Cosmic Rays) - THURSDAY
Chemical composition
:
aluminum oxide and iron oxide.
PSYCHE
:
It strengthens the capacity to achieve our aims and to lead a good life, allowing us to take part in the process of our own spiritual development when this proves to be too slow. It wisely helps us to face what the fate makes us meet. It helps us to discover our deep inner richness. It promotes openness, frankness and ability to express our emotions. It is useful when there is a lack of joy and enthusiasm, weak will and lack of faith, when the individual feels contract and free of meaning, when there is pessimism, depression, anxiety, sadness and self-pity, when the individual is not much compassionate, friendly and very pleasant and when the creative energy is low, if not absent, even. It makes us aware of our authority so that we learn to exercise it because we know that it is based on wisdom and experience.
---