RED CORAL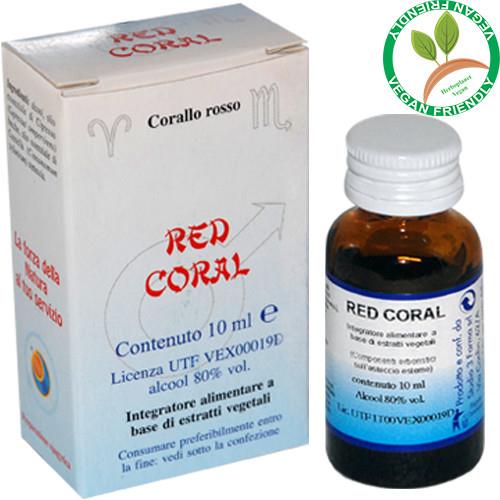 COMPONENTS CONTENT IN 10 ml
:
QSA
(
Alchemical Spagyric Quintessence of Solanimus
) of Cypress (
Cupressus sempervirens
)
8,4
ml,
QSA
(
Alchemical Spagyric Quintessence of Solanimus
) of Cinnamon (
Cinnamomum zeylanicum
)
1,4
ml,
Alchemical
Iron
0,1
ml.
Alchemical
Red Coral
0,1
ml.
Product included in the Register of supplements of the Italian Health Ministry,
code
16870
.
RED CORAL is a food supplement based on herbal principles. The CYPRESS contributes to digestive and liver function, as well as to the fluidity of bronchial secretions. The CINNAMON promotes digestive function, the elimination of intestinal gas and the regularity of bowel movements. Antioxidant. It promotes the metabolism of carbohydrates.
WARNINGS
: keep out of the reach of children under the age of three years. Do not exceed the recommended daily dose. The product should be used in the context of a varied and well-balanced diet and a healthy lifestyle.
USE
:
5 drops directly on the tongue, or with a little honey, 3 times a day.
NOTES: the CINNAMON brings the heat in the body such as Mars and the Sun promoting menstruation and blood. Even the CYPRESS acts upon the blood but it represents the cold aspect of Mars. The blood is typically subject to the archetype Mars also for the western astrological tradition. So that even the attributions of metals and stones are the same: Iron and Red Coral. Alchemical IRON is the essential component, whose qualities are brought to the whole of the popularity of the archetype Mars through the Quintessence. In Hindu traditions, these qualities are especially: creativity, fertility, and energy pulse in general. Here we find a difference compared to the malign Mars of Ptolemaic tradition.
RED CORAL
(Yellow Cosmic Rays) - TUESDAY
Chemical Composition: calcium carbonate, magnesia and organic substances.

PSYCHE: It reinforces the desire to live of the individual, inducing him to improve the conditions of his existence. It strengthens the will of the subject, making him acutely aware of the aspirations that are still waiting to be carried out. It gives dynamism and vitality. It is useful when there is a lack of motivation, energy and an inability to work. Also useful when the individual is not able to defend himself, when he is fearful and dominated by the others, when he fails to express his anger and to understand the motivations of others. It is also useful for the too passive subjects, easily controllable and who easily suffer an insult, even a physical one. It encourages the individual to take care of his basic needs as well as his physical well-being, encouraging him to fight in order to fight for their completion.
---