PEARL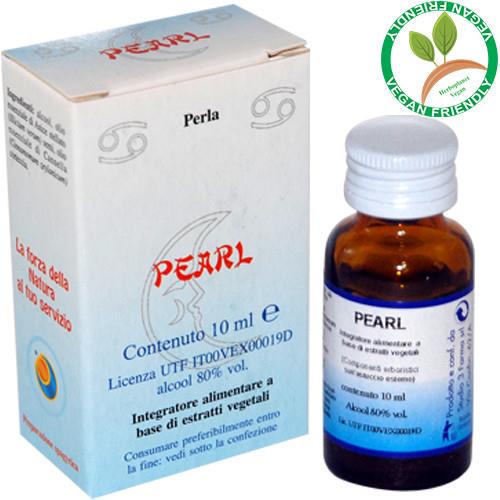 COMPONENTS CONTENT IN 10 ml
:
QSA
(
Alchemical Spagyric Quintessence of Solanimus
) of Anice (
Illicium anisatum
)
8,4
ml,
QSA
(
Alchemical Spagyric Quintessence of Solanimus
) of Cinnamon (
Cinnamomum zeylanicum
)
1,4
ml.
Alchemical
Silver
0,1
ml.
Alchemical
Pearl
0,1
ml.
Product included in the Register of supplements of the Italian Health Ministry,
code 16869
.
PEARL is a food supplement based on herbal principles. The STAR ANISE contributes to digestive function and to the elimination of intestinal gases. We cannot forget also its contribute in the fluidity of bronchial secretions and well-being of nose and throat. The CINNAMON promotes digestive function, the elimination of intestinal gas and the regularity of bowel movements. Antioxidant. It promotes the metabolism of carbohydrates.

USE: 5 drops directly on the tongue, or with a little honey, 3 times a day.

WARNINGS: keep out of the reach of children under the age of three years. Do not exceed the recommended daily dose. The product should be used in the context of a varied and well-balanced diet and a healthy lifestyle.
NOTES
:
the
ANICE
(Jupiter-Moon) acts on the digestive apparatus corresponding to the sign of Cancer, house of the Moon. The
CINNAMON
(Mars) brings the heat in the body such as Mars and the Sun, promoting menstruation and blood. In all traditions, the
Alchemical
SILVER
is associated with the archetype Moon. In the eastern tradition the
Pearl
is also associated with the moon. The Moon corresponds to gonads and brain affecting the hormonal system at a baseline level and the psychic system at a thought level.
PEARL (Orange Cosmic Rays) – MONDAY
Chemical Composition
: Calcium carbonate, water and organic substances.
PSYCHE
:
It improves the capacity (unconscious) of the subject so making him become more intuitive. It intensifies the feelings thus facilitating the memory of dreams and mitigating the lunatic temperament. It is useful in cases of: inconstancy, emotional instability, anxiety, inability to interact with other persons, fear of intimacy, low sociability and weak emotions . It can be used when the subject is unhappy and is difficult for him to bear the stress and tension of human contacts as well as when the individual suffers from variable mood, depression and his mind can be not clear or disturbed.
---