CAT'S EYES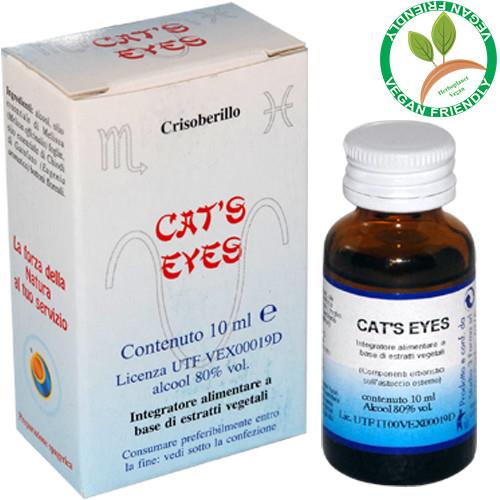 VEGAN FRIENDLY product

COMPONENTS CONTENT IN 10 ml: QSA (Alchemical Spagyric Quintessence of Solanimus) of Melissa (Melissa officinalis) 38,02 mg, QSA (Alchemical Spagyric Quintessence of Solanimus) of Cloves (Eugenia caryophillata) 37,72 mg. Alchemical Iron, Alchemical Chrysoberyl (Cat's eyes).

Product included in the Register of supplements of the Italian Health Ministry, code 16865.

CAT'S EYE is a food supplement based on herbal principles. The MELISSA, in addition to being an antioxidant, promotes digestive function and the elimination of gases. Useful for relaxation and mental well-being, as well as for recovering the normal mood. CLOVES promote digestive function, the regular gastrointestinal motility and the gases elimination. Do not forget their contribution to the welfare of the nose and throat and balsamic effect. Antioxidants.

USE: 5 drops directly on the tongue, or with a little honey, 3 times a day.
WARNINGS: keep out of the reach of children under the age of three years. Do not exceed the recommended daily dose. The product should be used in the context of a varied and well-balanced diet and a healthy lifestyle.
NOTES
:
The
CLOVES
is indicated in cases of asthenia. The
MELISSA
acts as a tonic with a neuropsychological tonic effect. Also the
alchemical
IRON
is a tonic and it corresponds to the archetype Mars, on the contrary of Venus that corresponds to
copper
. Copper brings harmony, Iron brings energy. That Kind of energy necessary to the detachment represented, in the Indian tradition, by Ketu which is the lunar node corresponding to the
chrysoberyl
.
Chrysoberyls is a concentrate of infrared cosmic rays and it has got a link with the moon's node, known as tail of the dragon. This is distant exactly 180 degrees from the head of the dragon. The infra-red is the warmer cosmic ray.
CAT'S EYES
(Infrared Cosmic Rays)

Chemical Formula: Aluminum oxide and beryllium.

PSICHE: It enhances the strategic and programming capacity of the individual and, at the same time, it promotes awareness and understanding of the mental, behavioral and social structures. It is useful to counter the fear, anxiety and nightmares. It tries that the individual can perform its aims with efficiency without being influenced by his emotions and moods. Chrysoberyl generates strength, authority and attitude to the command. It promotes a sense of discipline, self-control, ambition and independence. It helps the subject to develop his latent qualities.
---