BLUE SAPPHIRE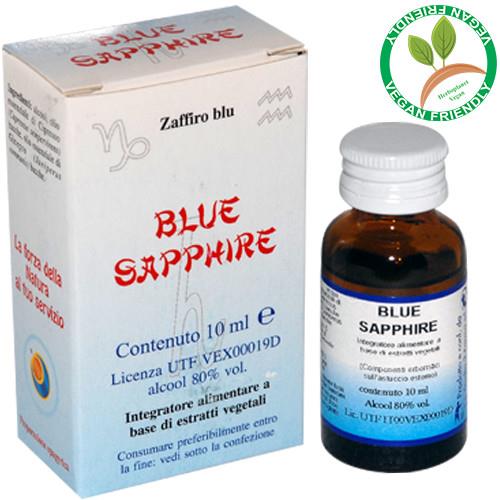 VEGAN FRIENDLY Product
COMPONENTS CONTENT IN 15 DROPS
:
QSA
(
Alchemical Spagyric Quintessence of Solanimus
) of Cypress (
Cupressus sempervirens L.
) 37,8 mg,
QSA
(
Alchemical Spagyric Quintessence of Solanimus
) of Juniper (
Junniperus communis
) 37,8 mg,
Alchemical
Silica,
Alchemical
blue Sapphire.
Product included in the Register of supplements of the Italian Health Ministry,
code
16864
.
BLUE SAPPHIRE
is a food supplement based on herbal principles. The CYPRESS
promotes digestive function
,
hepatic and fluidity of bronchial secretions
. The JUNIPER
promotes the drainage of body fluids
,
the functionality of the urinary tract and joint function
.
USE
:
5 drops directly on the tongue, or with a little honey, 3 times a day.
WARNINGS
: keep out of the reach of children under the age of three years. Do not exceed the recommended daily dose. The product should be used in the context of a varied and well-balanced diet and a healthy lifestyle.
NOTES
:
JUNIPER
is especially well suited to direct the forces of Saturn. According to Sanskrit Tradition, Saturn governs the rationality, objectivity, the proper detachment, the accuracy to each thing, sobriety, the
Lead
, and the
Blue Sapphire
. In the
Jataka Depika, the blue sapphire is named "indra nilam
".
Even if it is considered to be a malign planet, Parasara says that it gives happiness because it destroys the enemies of the happiness; i.e. what is superfluous and not essential
.
CYPRESS
emphasizes the seriousness and essentiality of the archetype Saturn.
The blue Sapphire (
corundum
family) is a concentrate of violet rays. The planet connected to this sapphire is the powerful Saturn, distributor of suffering and pride tamer. Violet is the colour of the element Air and, during storms, the surrounding landscapes become purple coloured, for the most.

BLUE SAPPHIRE (Violet Cosmic Rays) – SATURDAY
Chemical composition: aluminum oxide, iron, titanium.

PSYCHE: Lack of self discipline. It goes against the trend toward dispersion pushing the subject to concentrate on its objectives, pursuing them without distractions. It allows you to examine objectively your life and modify its undesirable aspects. It makes the desire for knowledge and wisdom more intense. It makes you sober, able to discriminate and mentally ordered. It strengthens the meditation and the will of the subjects enabling them to achieve their desires easly.
---