ELEUTEROSOL - Tonic-Adaptogen. Adjuvant in physical and mental fatigue, memory and cognitive functions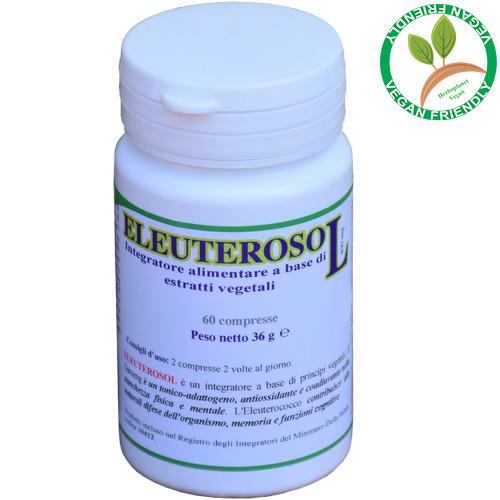 Product VEGAN FRIENDLY
HERBAL COMPONENTS CONTENT FOR

4

TABLETS
:
dry extract of Ginseng root (
Panax ginseng C.A. Meyer
)
80
% titrated in ginsenosides
600
mg (
bringing in ginsenosides

480

mg
), dry extract of Eleutherococcus root (
Eleutherococcus senticosus Maxim.
)
0.8
% titrated in eleutherosides
600
mg (
bringing in eleutherosides

4.8

mg
), Guarana seeds (
Paulinia sorbilis Cupana H.S.K.
) powder
400
mg. Bulking agents: microcrystalline cellulose, calcium phosphate. Anticakings: vegetable magnesium stearate, silicon dioxide.
Product included in the Register of supplements of the Italian Health Ministry,
Code
10412.
Product included in the register of supplements of the Spanish Ministry of Health,
code 0599E/11114/2016
.
Product included in the Register of supplements of the French Health Ministry,
code 2018-2-832
.
Product included in the register of supplements of the Belgian Health Ministry,
code PL 1653/78
.
ELEUTEROSOL
is a food supplement based on herbal ingredients always known for their beneficial effects. Ginseng
is a tonic
,
adaptogen and antioxidant that helps in the physical and mental fatigue
. The Eleutherococcus (Siberian ginseng)
helps the body's natural defenses
,
memory and cognitive functions
.
SUGGESTIONS OF USE
:
2
tablets two times a day.
WARNINGS
: Keep out of reach of children under three years. Do not exceed the recommended daily dose. The product should be used as a part of a varied and balanced diet, and healthy lifestyle.
NOTES ON SOME PLANTS
:
GINSENG
(
Panax ginseng
) is particularly rich in
ginsenosides. Ginsenosides
hormone-like structure, which would constitute the molecular skeletons used by our body to synthesize the hormones which he is deficient of, may justify many therapeutic actions previously attributed to this drug such as an
aphrodisiac
one and a therapeutic action that can
positively influence some mental disorders and autonomic disorders of elderly people
,
mostly related to hormonal imbalances. Recent researches have allowed to confirm a positive influence of ginseng-based chemical compounds about psychomotor reaction time of older persons with a
clear improvement of neuromotor co-ordination skills
. In this sense, the effect of Ginseng is called
tonic
.
Several heterosides were extracted from
ELEUTHEROCOCCUS
root. Among these the most importants are eleutherosides. Eleutherococcus is now considered an "
adaptogen
"
substance, that is a complex of substances
able to balance homeostatic cellular mechanisms by stimulation of the mediators synthesis which govern the normal functioning of tissues and organs. In the body
,
all this produces an increase in its ability to adapt to adverse conditions that lead to fatigue
.
The result is a set of stimulating properties that tend to protect the body from the attacks of stressful situations
.
GUARANA
(
Paullinia sorbilis
) because of its active principles has an main action similar to coffe but with a more intense, stimulating and tonic effect because it has a caffeine content from
2
to
5
times higher.Guarana is therefore a
stomachic tonic
,
stimulant
,
used against general weakness
,
fatigue and nervous depression
.
BIBLIOGRAPHY
:
- Ernesto Riva - "
L'universo delle PIANTE MEDICINALI trattato storico, botanico e farmacologico di 400 piante di tutto il mondo
" - Ghedina & Tassotti editori s.r.l. - Bassano del Grappa (VI), Maggio 1995.
- Tina Cecchini –
Enciclopedia delle erbe medicinali
, ………… - DE VECCHI EDITORE
- Padre Gianfranco Lazzari -
L'Erbario del Frate
- EDIZIONI S. MARCO LITOTIPO
- Alberto Fidi -
Erbe e Piante medicinali
- FRATELLI MELITA EDITORI
- AA.VV. -
Enciclopedia chimica
– USES ed., Firenze
- Benigni R., Capra C., Cattorini P.E. –
Piante medicinali: chimica, farmacologia e terapia
– Inverni della beffa ed, Milano.
- Duraffourd C., D'Ervicourt L., Lapraz J.C. –
Cahieres de Phytotérapie clinique
– Masson ed., Paris 1983
- Maugini E. –
Botanica farmaceutica
– CLUSF ed., Firenze 1976
- Pomini L. –
Erboristeria italiana
– Vitalità ed
- Valnet J., Duraffourd C., Lapraz J.C. –
Phytotérapie et aromatherapie
– Presse de la Renaissance, Paris 1978
- Massari E. –
Erbe in Cina
– Milano 1981
- Penso G. –
Piante medicinali nella terapia medica
– Org. Med. Farm. Ed., Milano
- Enrica Campanili –
Dizionario di fitoterapia e piante medicinali
– Tecniche Nuove - MI
- Larousse - "
Encyclopédie des PLANTES MÉDICINALES identification, préparations, soins
" - Larousse-Bordas – 1997
- Tom Wilsons - "
Guarire con le erbe, i consigli, le malattie, le ricette, le dosi nella più ricca raccolta di erboristeria
" - Fratelli Melita Editori
- Dr. G. Fort - "
Guide de traitement par les plantes médicinales et phytocosmétologie, soins de beauté
" - Editions Heures de France - Paris, 1976
---