ARCTIUMSOL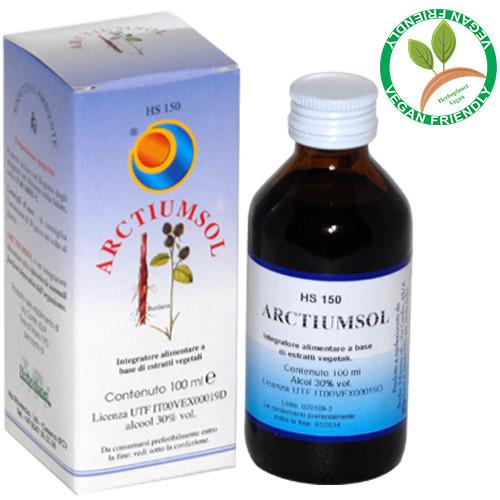 VEGAN FRIENDLY Product
HERBAL COMPONENTS CONTENT FOR

150

DROPS:
TSA
(
Alchemical-Spagyric Tincture of Solanimus R. E.
1/10
) of: Burdock (
Arctium lappa L.
) root
0.9
g, Earthsmoke (
Fumaria officinalis L.
) apexes
0.9
g, Rhubarb (
Rheum officinale Baill.
) root
0.9
g, Artichoke (
Cynara scolymus L.
) leaves
0.9
g, Mouse-ear (
Hieracium pilosella L.
) apexes
0.5
g, Rough Bindweed (
Smilax officinalis H.B.C.
) root
0.3
g, White Horehound (
Marrubium vulgare L.
) leaves and flowering apexes
0.2
g, Fennel (
Foeniculum officinale Mill.
) fruit
0.2
g, Dandelion (
Taraxacum officinale Weber
) roots
0.2
g.
Product included in the Register of supplements of the Italian Health Ministry,
code

16855
.
Product included in the Register of supplements of the Belgian Health Ministry,
code PL 1653/58
.
ARCTIUMSOL
is a food supplement based on herbal principles. BURDOCK and ROUGH BINDWEED
contribute to the body's detoxifying functions
(
healthy skin
)
and the drainage of body fluids
. EARTHSMOKE and DANDELION
contribute to the purifying functions of the body
. MOUSE-EAR and FENNEL
contribute to the drainage of body fluids
.
USE:
50
drops,
3
times daily.
WARNINGS
: keep out of the reach of children under the age of three years. Do not exceed the recommended daily dose. The product should be used in the context of a varied and well-balanced diet and a healthy lifestyle.
NOTES:
FUMARIA
(
Fumaria officinalis
) also called Fumitory, wax dolls,
has a strong diuretic action both to blood and skin
.
It also has got a tonic
,
diuretic
,
colagogue
,
refreshing
,
emollient
,
resolutive and sudorific action
.
It effectively cures any kind skin affections
.
BARDANA
(
Arctium lappa
)
has got diaphoretic properties (increasing sweat secretion), as well as diuretic, depurative, detersive and stimulating liver function, and healing too
.
It has wide use as depuratant remedy
,
so stimulating the hepato-biliary functions and in the treatment of acne
,
furunculosis and pyoderma in general
. It contains:
an essential oil, the inulin
(sugar assimilable by diabetics too),
mucilages, palmitic acid, caffeic acid
(an antibiotic).
Its bacteriostatic and antibiotic action would have been active versus staph
.
albus, aureus
,
hemolyticus
,
viridans
,
the pneumococcus
,
bact
.
subtilis and tetani
(INVERNI, Fitoterapia op. cit.). About this plant, are mainly use its roots.
RHUBARB
(
Rheum officinalis
)
is a plant rich in oxalic acid. It has eupeptic, tonic and digestive action; it is an
excellent calagogue remedy
,
helping the liver in its function as a producer of bile
;
it is also a good laxative.
ARTICHOCKE
(
Cynara scolymus
)
has diuretic, aperitive, digestive and tonic properties (in suffering from rickets and anemic persons), as well as eupeptic, purifying the blood
.
It is a liver tonic.
The artichoke contains the
cynarine
(
active principle indicated in cases of hepatic and renal impairment
),
enzymes, inulin
(a sugar easily burned by our body and therefore useful for diabetics) and
provitamin A
.
MOUSE-EAR
(
Hieracium Pilosella
)
has diuretic properties
,
both from the point of view of the selection of deleted catabolites and from the volumetric point of view; this is due to the
flavonoids
contained in it that
have the property of
greatly increase the excretion of the chlorides and the nitrogen content in the urine
. It also has
antibiotic activity,
due to the presence in the plant of coumarins. By this, we can deduce
its hypothesizing and declorurante properties in infections of kidney and bladder as well as its adjuvants properties in slimming and cellulite treatments
.
ROUGH BINDWEED
(
Smilax officinalis
) is rich in isomeric genin,
smilagenin and sarsapogenin,
whose formula contains the cholanic core of sterols and digitalic genins. These saponins are the responsible for
strong diuretic, azoturic and hypoazotemic action
that this plant shows. The plant has a therapeutic mechanism of action with double point of attack: the first indirectly on ureic and nucleic metabolism, through an action at the liver level; the second one, on the renal secretion mechanism, through an functional increase of concentration powers of the kidney itself (Benigni-Capra ,
Piante medicinali
... ). Therefore, this plant has
diuretic and sliming properties
that occur with an increase of catabolites and its increase in the values of uric acid in the urine. It seems that Rough Bindweed has given good results in the
treatment of psoriasis
,
because it would encourage the elimination of cholesterol.
HOREHOUND
(
Marrubium vulgare
) contains a flavonoid (
scutellarein
) and an alkaloid so named
marrubin,
which seems to have a parasympathetic mimetics action good in
gallbladder and biliary stasis spasmolytic muscle treatment
.
FENNEL
(
Foeniculum officinale
) is used to treat infections.
It activates the functions of the digestive glands
,
is useful as
carminative
(in other words as sedative of intestinal gases), as well as in certain intestinal tumultuarie. It is also a
good expectorant
; it is useful to reactivate the lacteal secretion. It stops the hiccups, is diuretic and finally it exerts a general sedative function. It is one if the components of the "
hot seeds
" (so used to promote the digestion or to
eliminate intestinal gas
); the other three are:
Dill, Anise and Cumin
. In
DANDELION
(
Taraxacum officinale
) triterpenes (
taraxasterols
), synergically with sesquiterpene lactones,
act as kolecistkinetics by activating the muscles of the gall bladder
by
modifying the chemical-physical characteristics of the bile
. The flavonoids and the eudesmanolides interact by increasing urination.
It protect you from free radicals
.
Useful as draining and hepato-renal depurative remedy
,
as well as in disorders of the gallbladder and biliary lithiasis
,
in dermatoses associated with dismetabolia too.
BIBLIOGRAFIA
:
- Fernando Piterà - "
Compendio di GEMMOTERAPIA CLINICA
" - De Ferrari Editor
- Ernesto Riva - "
L'universo delle PIANTE MEDICINALI trattato storico, botanico e farmacologico di 400 piante di tutto il mondo
" - Ghedina & Tassotti editori s.r.l. - Bassano del Grappa (VI), Maggio 1995.
- Tina Cecchini –
Enciclopedia delle erbe medicinali
, ………… - DE VECCHI EDITORE
- Padre Gianfranco Lazzari -
L'Erbario del Frate
- EDIZIONI S. MARCO LITOTIPO
- Alberto Fidi -
Erbe e Piante medicinali
- FRATELLI MELITA EDITORI
- AA.VV. -
Enciclopedia chimica
– USES ed., Firenze
- Benigni R., Capra C., Cattorini P.E. –
Piante medicinali: chimica, farmacologia e terapia
– Inverni della beffa ed, Milano.
- Duraffourd C., D'Ervicourt L., Lapraz J.C. –
Cahieres de Phytotérapie clinique
– Masson ed., Paris 1983
- Maugini E. –
Botanica farmaceutica
– CLUSF ed., Firenze 1976
- Pomini L. –
Erboristeria italiana
– Vitalità ed
- Valnet J., Duraffourd C., Lapraz J.C. –
Phytotérapie et aromatherapie
– Presse de la Renaissance, Paris 1978
- Massari E. –
Erbe in Cina
– Milano 1981
- Penso G. –
Piante medicinali nella terapia medica
– Org. Med. Farm. Ed., Milano
- Enrica Campanili –
Dizionario di fitoterapia e piante medicinali
– Tecniche Nuove - MI
- Max Tètau - "
Gemmoterapia nuovi studi clinici
" - NUOVA IPSA Editore srl - Palermo, 1989
- Larousse - "
Encyclopédie des PLANTES MÉDICINALES identification, préparations, soins
" - Larousse-Bordas – 1997
- Tom Wilsons - "
Guarire con le erbe, i consigli, le malattie, le ricette, le dosi nella più ricca raccolta di erboristeria
" - Fratelli Melita Editori
- Dr. G. Fort - "
Guide de traitement par les plantes médicinales et phytocosmétologie, soins de beauté
" - Editions Heures de France - Paris, 1976
---