GYMNESOL - Glucose in the blood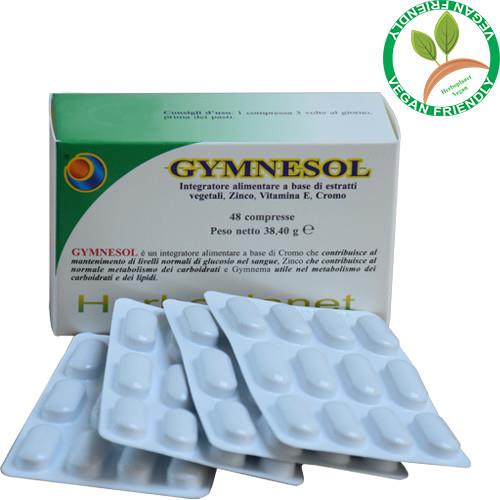 Product VEGAN FRIENDLY - Price: € 15,20 - 24 tablets

CONTRIBUTE OF INGREDIENTS FOR 3 TABLETS
:
dry extract of Gymnema (
Gymnema sylvestris R. Br.
) leaves 840 mg (
intake in gymnemic acid 210 mg
). Bulking agents: microcrystalline cellulose, calcium phosphate. Dry extract of Blueberry (
Vaccinium myrtillus L
.) fruits 360 mg (
intake in blueberry 3.6 mg
), Zinc citrate dihydrate 39 mg (
intake in Zinc 12.5 mg - 125% RDA
). Anti-caking agents: magnesium salts of fatty acids, silicon dioxide. Vitamin E acetate 19.8 mg (
intake in Vitamin E 9.9 mg - 82.5% RDA
), Chromium picolinate 1.5 mg
(intake in chromium 180
μ
g - 450% RDA
).
Product included in the Register of supplements of the Italian Health Ministry,
Code

2088
.
Product included in the Register of supplements of the Spanish Health Ministry,
code 0599E/14862/2015
.
Product included in the Register of supplements of the French Health Ministry,
code 2016-9-461
.
Product included in the Register of supplements of the Belgian Health Ministry,
Code NUT/PL
1653/33.
GYMNESOL
is a food supplement containing Vitamin E, Zinc, Chromium and herbal ingredients. Gymnema
helps to control feelings of hunger
. The Bilberry
contributes to the regularity of bowel movements
. Zinc
contributes to normal carbohydrate metabolism
. Vitamin E
contributes to the protection of cells from oxidative stress
. Chromium
contributes to the maintenance of normal blood glucose levels
.
SUGGESTIONS OF USE
: 1 tablet one hour before the 3 main meals
WARNINGS
: Keep out of reach of children under three years. Do not exceed the recommended daily dose. The product should be used in a varied and balanced diet and a healthy lifestyle.
NOTES
:
GYMNEMA SYLVESTRIS
, typical plant of Indian regions named Ghats, contains an active principle classified as gymnemic acid.
That principle blocks glucose receptors in gut and this thanks to its similarity with glucose molecule
,
resulting in this way
,
a blocking system of starches absorption
.
BILBERRY
(
Vaccinium myrtillus
) contains, in its berries and leaves, an anthocyanins glucoside, so defined
myrtillin
. There is a fairly extensive literature about bilberry hypoglycaemizing action: anthocyanosides, which are internally present, seem to be equipped with modifiable properties of insular apparatus and appear to be
capable of showing a hypoglycaemizing action with the advantage of being active
(
through oral administration
)
harmless and not to determine a hypoglycemic syndrome
,
even at high doses
(
Benigni-Capra
).
ZINC
is an essential trace element. After iron, it is the most frequent in nature. In plant kingdom there are large quantities of it, especially in green leaves, seeds and cereals. Zinc is part of at least
20
enzymes, some of which are involved in protein synthesis of nucleic acids (RNA-DNA), which are essential for cell division and growth.
Zinc also plays an important role in glucose metabolism because its presence enables insulin setting aside
.
VITAMIN E
(d-alpha-tocopherol) is primarily an antioxidant, preventing cell membranes peroxidation through oxygen molecules capture, with the benefit of having almost no toxicity even if its dosages are well over the RDA (
10
milligrams). Among other its properties, it exerts a protective action towards vitamin A and coenzyme Q
10
.
CHROMIUM
is a such indispensable mineral for glucose metabolism, insulin and fatty acids
; it is widely distributed, in small quantities, in food and in almost all living matter.
Unfortunately
,
this mineral is easily destroyed during food manufacturing process
. The daily RDA is supposed to be
50-200
micrograms but a diet high in sugar is going to consume the body's chromium reserves predisposing organs to deficiency risks we should not overlook.
BIBLIOGRAPHY
:
- J. I. Rodale e collaboratori – "
Il libro completo dei minerali per la salute
" traduzione di Bernardo Draghi- DEMETRA S.r.l.
- Giovanni Fasani e Attilio Speciali – "
Come curarsi con i minerali
" FABBRI Editori
- Dr. Frank MIRCE - "
Oligoelements et santé de l'homme
" – ANDRILLON
- "
Il libro completo delle VITAMINE
" – Demetra
- Fernando Piterà - "
Compendio di GEMMOTERAPIA CL
INICA" - De Ferrari Editor
- Ernesto Riva - "
L'universo delle PIANTE MEDICINALI trattato storico, botanico e farmacologico di 400 piante di tutto il mondo
" - Ghedina & Tassotti editori s.r.l. - Bassano del Grappa (VI), Maggio 1995.
- Tina Cecchini –
Enciclopedia delle erbe medicinali
, ………… - DE VECCHI EDITORE
- Padre Gianfranco Lazzari –
L'Erbario del Frate
– EDIZIONI S. MARCO LITOTIPO
- Alberto Fidi –
Erbe e Piante medicinali
- FRATELLI MELITA EDITORI
- AA.VV. –
Enciclopedia chimica
– USES ed., Firenze
- Benigni R., Capra C., Cattorini P.E. –
Piante medicinali: chimica, farmacologia e terapia
– Inverni della beffa ed, Milano.
- Duraffourd C., D'Ervicourt L., Lapraz J.C. –
Cahieres de Phytotérapie clinique
– Masson ed., Paris 1983
- Maugini E. –
Botanica farmaceutica
– CLUSF ed., Firenze 1976
- Pomini L. –
Erboristeria italiana
– Vitalità ed
- Valnet J., Duraffourd C., Lapraz J.C. –
Phytotérapie et aromatherapie
– Presse de la Renaissance, Paris 1978
- Massari E. –
Erbe in Cina
– Milano 1981
- Penso G. –
Piante medicinali nella terapia medica
– Org. Med. Farm. Ed., Milano
- Enrica Campanili –
Dizionario di fitoterapia e piante medicinali
– Tecniche Nuove - MI
- Max Tètau - "
Gemmoterapia nuovi studi clinici
" - NUOVA IPSA Editore srl - Palermo, 1989
- Larousse - "
Encyclopédie des PLANTES MÉDICINALES identification, préparations, so
ins" - Larousse-Bordas – 1997
- Tom Wilsons - "
Guarire con le erbe, i consigli, le malattie, le ricette, le dosi nella più ricca raccolta di erboristeria
" - Fratelli Melita Editori
- Dr. G. Fort - "
Guide de traitement par les plantes médicinales et phytocosmétologie, soins de beauté
" - Editions Heures de France - Paris, 1976
-- Dr. Frank MIRCE - "
Oligoelements et santé de l'homme
" – ANDRILLON
---