BACSOL - Natural defenses of the organism - Functionality of the urinary tract and the upper respiratory tract - Fluidity of bronchial secretions - Well-being of nose and throat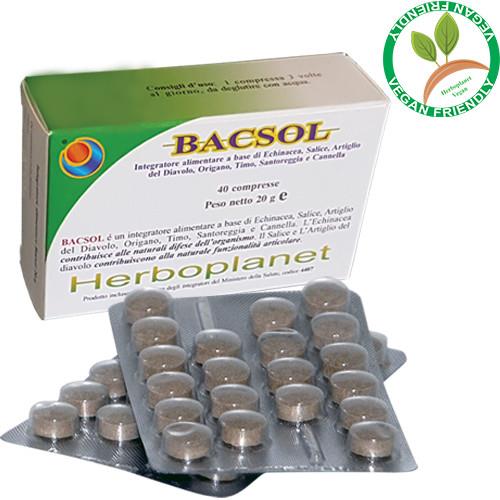 Product VEGAN FRIENDLY
HERBAL COMPONENTS CONTENT FOR

3

TABLETS
:
Dry extracts of: Echinacea angustifolia (
Coneflower
) root
480
mg (
bringing in echinacoside

19.2

mg
), Salix alba (
White Willow
) cortex
420
mg (
bringing in salicine

12.6

mg
), Harpagophytum procumbens (
Woodspider
) root
276
mg (
bringing in harpagoside

6.9

mg
). Bulking agent: microcrystalline cellulose. Anticakings: silicon dioxide, vegetable magnesium stearate.
QSA (Alchemical Spagiric Quintessence
) of: Origanum vulgare (
Wild marjoram
) aerial parts
9
mg, Thymus vulgaris (
Common thyme
) leaves
9
mg, Satureja montana (
Savory
) leaves
9
mg, Cinnamomum zeylanicum (
Cinnamon
) cortex
3
mg.
Product included in the Register of supplements of the Italian Health Ministry,
code
4407
Product included in the register of supplements of the Spanish Ministry of Health,
code 0599E/14850/2015
.
BACSOL
is a food supplement based on plant extracts. Echinacea
contributes to the body's natural defenses
,
to urinary tract function and respiratory tract
. The White Willow
contributes to normal joint function and regularity of the process of sweating
. The essence of Wild marjoram
contributes to the fluidity of bronchial secretions and has balsamic effect
. The essence of Thyme
contributes to the welfare of the nose and throat
. The essence of Cinnamon
has antioxidant effect
.
SUGGESTIONS OF USE
:
2
tablets 3 times a.
WARNINGS
: Keep out of reach of children under three years. Do not exceed the recommended daily dose. The product should be used as a part of a varied and balanced diet, and healthy lifestyle. Do not take during pregnancy.
NOTES ON SOME PLANTS
:
seems verified that
CONEFLOWER
(
Echinacea angustifolia
) chemical compounds
slow pathogens germs spread in tissues and begin a defense mechanism activating
,
at the same time
,
regenerative mechanisms of these tissues
.
The active substance of this action would be
a glucoside of caffeic acid and pyrocatechin
which would have the capability to inhibit
jaluronidase
enzymethat is indirectly responsible for micro-organisms attack and for their proliferation in tissues. This active ingredient could also act directly on Hyaluronic-jaluronidase system that is enabled by fibroblasts proliferation (
L'azione fagocitaria dell'echinacea
….., in Erb. Domani,
2/91
, p.
16
).
WILLOW
(
Salix alba
), in its cortex, contains salicin, which, in human body, becomes salicylic acid.
WOODSPIDER
(
Harpagophytum procumbens
) contains etherosides with iridoid core and the best known is
harpagoside.
According to some scholars, this
glucoiridoid has analgesic properties comparable to synthetic anti-inflammatory properties
(PEDRETTI,
Chimica e Farmacologia delle piante medicinali,
Milano
1983
, pag.
50
) . Pure essential oil of:
ORIGAN
,
THYME
,
SAVORY
and
CINNAMON
have great bactericidal
.
BIBLIOGRAFIA
:
- Ernesto Riva - "
L'universo delle PIANTE MEDICINALI trattato storico, botanico e farmacologico di 400 piante di tutto il mondo
" - Ghedina & Tassotti editori s.r.l. - Bassano del Grappa (VI), Maggio 1995.
- Tina Cecchini –
Enciclopedia delle erbe medicinali
, ………… - DE VECCHI EDITORE
- Padre Gianfranco Lazzari -
L'Erbario del Frate
- EDIZIONI S. MARCO LITOTIPO
- Alberto Fidi -
Erbe e Piante medicinali
- FRATELLI MELITA EDITORI
- AA.VV. -
Enciclopedia chimica
– USES ed., Firenze
- Benigni R., Capra C., Cattorini P.E. –
Piante medicinali: chimica, farmacologia e terapia
– Inverni della beffa ed, Milano.
- Duraffourd C., D'Ervicourt L., Lapraz J.C. –
Cahieres de Phytotérapie clinique
– Masson ed., Paris 1983
- Maugini E. –
Botanica farmaceutica
– CLUSF ed., Firenze 1976
- Pomini L. –
Erboristeria italiana
– Vitalità ed
- Valnet J., Duraffourd C., Lapraz J.C. –
Phytotérapie et aromatherapie
– Presse de la Renaissance, Paris 1978
- Massari E. –
Erbe in Cina
– Milano 1981
- Penso G. –
Piante medicinali nella terapia medica
– Org. Med. Farm. Ed., Milano
- Enrica Campanili –
Dizionario di fitoterapia e piante medicinali
– Tecniche Nuove - MI
- Larousse - "
Encyclopédie des PLANTES MÉDICINALES identification, préparations, soins
" - Larousse-Bordas – 1997
- Tom Wilsons - "
Guarire con le erbe, i consigli, le malattie, le ricette, le dosi nella più ricca raccolta di erboristeria
" - Fratelli Melita Editori
- Dr. G. Fort - "
Guide de traitement par les plantes médicinales et phytocosmétologie, soins de beauté
" - Editions Heures de France - Paris, 1976
---