HS 204 - CYNARA COMP.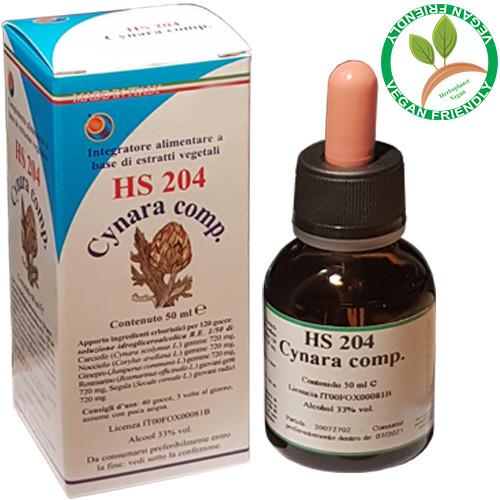 HERBAL COMPONENTS CONTENT FOR 120 DROPS:
MSA
(
Spagyric-Alchemical Macerate E.R.
1/50
) of: Artichoke (
Cynara scolymus L.
) buds
720
mg, Hazel tree (
Corylus avellana L.
) buds
720
mg, Juniper (
Juniperus communis L.
) buds
720
g, Rosemary (
Rosmarinus officinalis L.
) young shoots
720
mg, Rye (
Secale cereale L.
) young roots
720
mg.
Product included in the Register of supplements of the Italian Health Ministry.
CYNARA COMP
.
is a food supplement based on herbal principles always known for their beneficial effects,
useful to promote the normal hepatic function
.
WARNINGS
:
keep out of the reach of children under the age of three years. Do not exceed the recommended daily dose. The product should be used in the context of a varied and well-balanced diet and a healthy lifestyle.
USE
:
40
drops, in some water,
15
minutes before food,
3
times daily.
NOTES
: The
CYNARA SCOLYMUS
(
young shoots
)
stimulates the liver and bile functions
through the principles contained that are present in the plant (
o-diphenols and flavonoids
).
The increase in the metabolic activity of hepatobiliary enzymatic chains causes the reduction of cholesterolemia, of the nitrogen rates and lipids
. The
flavonoids
and
terpene alcohols protect the membrane of the hepatic parenchyma
.
It has got some digestive and depurative actions
,
useful in hepatobiliary dysfunction
(
with or without lithiasis
),
in the hypercholesterolemia
and
hyperuricemia related to liver disease of varying degree
, in the
hyperlipidemy
and atheromatous risk
.
CORYLUS AVELLANA
(
buds
) is rich in trace elements and
tocopherol
,
used in maintaining the integrity of the bio-membrane of the liver cell. Studies in France have shown an intense antisclerotizing action on hepatic parenchyma
. The buds are able to restore the elasticity of the lung tissue and
counteract the sclerosis of the liver
.
JUNIPERUS COMMUNIS
(
shoots
) has a dual action: on the deficient liver, on which it pursues an action similar to Secale cereale action (
stimulating and healing of the hepatocyte
), on deficient kidney, stimulating its function. Rich in
bitter principle and esters
, it is used as
hepatic cell defender, especially in cirrhotic processes with hepatomegaly
. It has got some normalizing action on the neurovegetative system and a
pronounced draining action
.
SECALE CEREALE
(
sprouts
) is directly active on the hepatic cell (
good for acute hepatitis, especially chronic hepatitis
), its action will be followed on the evolution of
transaminase values that will progressively normalize
.
Protector and regenerating of hepatocytes
, it is also indicated in
hepatic cirrhosis
.
ROSMARINUS OFFICINALIS
(
young shoots
) is important because of its calagogue and coleretic action also pharmacologically demonstrated. The young leaves and shoots increase the hepatotrope properties of Rosmarinus with respect to the adult branches. It has got some
digestive and colecistokinetic properties
, due to the active principles that are contained in thwe plant (
rosmarinic acid
).
It is fit to provide a good hepatic drainage in those cases so defined as "small hepatic insufficiency", biliary dyskinesia, cholelithiasis, hypertriglyceridemia, hypercholesterolemia, obesity.

BIBLIOGRAFIA:
- Fernando Piterà - "Compendio di GEMMOTERAPIA CLINICA" - De Ferrari Editor
- Ernesto Riva - "L'universo delle PIANTE MEDICINALI trattato storico, botanico e farmacologico di 400 piante di tutto il mondo" - Ghedina & Tassotti editori s.r.l. - Bassano del Grappa (VI), Maggio 1995.
- Tina Cecchini – Enciclopedia delle erbe medicinali, ………… - DE VECCHI EDITORE
- Padre Gianfranco Lazzari - L'Erbario del Frate - EDIZIONI S. MARCO LITOTIPO
- Alberto Fidi - Erbe e Piante medicinali - FRATELLI MELITA EDITORI
- AA.VV. - Enciclopedia chimica – USES ed., Firenze
- Benigni R., Capra C., Cattorini P.E. – Piante medicinali: chimica, farmacologia e terapia – Inverni della beffa ed, Milano.
- Duraffourd C., D'Ervicourt L., Lapraz J.C. – Cahieres de Phytotérapie clinique – Masson ed., Paris 1983
- Maugini E. – Botanica farmaceutica – CLUSF ed., Firenze 1976
- Pomini L. – Erboristeria italiana – Vitalità ed
- Valnet J., Duraffourd C., Lapraz J.C. – Phytotérapie et aromatherapie – Presse de la Renaissance, Paris 1978
- Massari E. – Erbe in Cina – Milano 1981
- Penso G. – Piante medicinali nella terapia medica – Org. Med. Farm. Ed., Milano
- Enrica Campanili – Dizionario di fitoterapia e piante medicinali – Tecniche Nuove - MI
- Max Tètau - "Gemmoterapia nuovi studi clinici" - NUOVA IPSA Editore srl - Palermo, 1989
- Larousse - "Encyclopédie des PLANTES MÉDICINALES identification, préparations, soins" - Larousse-Bordas – 1997
- Tom Wilsons - "Guarire con le erbe, i consigli, le malattie, le ricette, le dosi nella più ricca raccolta di erboristeria" - Fratelli Melita Editori
- Dr. G. Fort - "Guide de traitement par les plantes médicinales et phytocosmétologie, soins de beauté" - Editions Heures de France - Paris, 1976
---