ACISTOM NEW - Emollient - Regular gastrointestinal motility, normal digestive function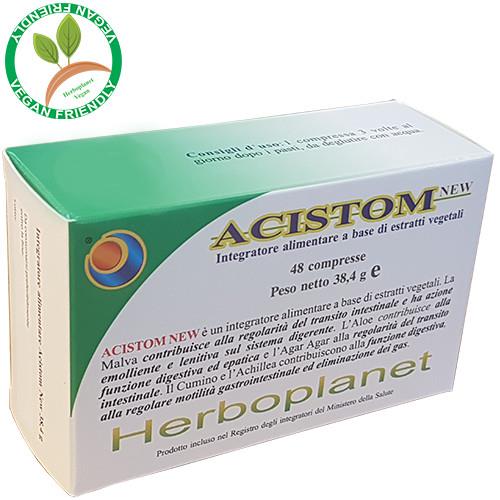 Product VEGAN FRIENDLY
AVAILABLE MEDIUM COMPONENTS FOR 1 TABLET:
Dolomite powder 260 mg, Mallow flowers and leaves (
Malva sylvestris L
.) dry extract 140 mg. Lentisk resin (Pistacia lentiscus L.) 200 mg (intake in triterpenes 150 mg)g. Charging agent: TRITAB (
Tribasic calcium phosphate
). Coral calcium 40 mg, Agar-Agar thallus (
Gelidium amansii J.V. Lamouroux
) powder 40 mg, Cumin (
Cuminum cyminum L
.) powder 40 mg. Charging agent: Microcrystalline cellulose. Milfoil flowers (
Achillea millefolium L
.) dry extract 16 mg. Anti-caking agents: Silicon dioxide, magnesium salts of fatty acids.
Product included in the Register of supplements of the Italian Health Ministry,
code
13684
.
Product included in the Register of supplements of the Spanish Health Ministry,
code 0599/4366/2018
.
Product included in the Register of supplements of the French Health Ministry,
code
2018-1-752
.
Product included in the Register of supplements of the Belgian Health Ministry,
code PL/AS
1653/13.
ACISTOM i
s a food supplement based on dolomite and plant extracts. The Cumin, Angelica and Milfoil
help to regulate the gastrointestinal motility and the elimination of gas
. Magnesium
contributes to the balance electrolyte
. Calcium
contributes to the normal function of digestive enzymes
.
SUGGESTIONS OF USE
:
2
tablets
3
times a day.
WARNINGS
: Keep out of reach of children under three years. Do not exceed the recommended daily dose. The product should be used as a part of a varied and balanced diet and healthy lifestyle.
NOTES
:
DOLOMITE POWDER
consists of calcium carbonate and magnesium and is able to make acid environment of stomach so basic (
antacid
). The
CALCIUM CORAL
has an alkalizing action and with the intake of coral the reserves in the body are restored and the pH value returns to its natural alkaline level
.
MALLOWS
contain mucilages that
act by coating the mucous membranes with a viscous layer that protects them from irritants, returning useful in gastric problems such as gastritis or gastric pyrosis
.
AGAR-AGAR
is produced by various algae like
Gelidium corneum
containing polysaccharides, of which 90% are agaropectin and agarose: very mucilaginous and
anti-inflammatories substances and excellent emollients
.
CUMIN
seeds (
Cuminum cyminum
) contain fixed oil and essential oil with high
carvone
content (from
40
% to
60
%). Cumin action is comparable to anise (
Pimpinella anisum
) and fennel ones. Cumin seeds, being
antispasmodic
,
treat digestive system and directly act on intestinal muscles to relieve griping pains
,
reduce gastric dilatations and flatulence
.
MILFOIL
(
Achillea millefolium)
contains essential oil, tannin, Achillein which monitors pressure changes and restores a normal blood circulation as well as
improving digestive and hepatic functions.

BIBLIOGRAPHY:
- J. I. Rodale e collaboratori – "
Il libro completo dei minerali per la salute
" traduzione di Bernardo Draghi- DEMETRA S.r.l.
- Giovanni Fasani e Attilio Speciali – "
Come curarsi con i minerali
" FABBRI Editori
- Dr. Frank MIRCE - "
Oligoelements et santé de l'homme
" - ANDRILLON
- Ernesto Riva - "
L'universo delle PIANTE MEDICINALI trattato storico, botanico e farmacologico di 400 piante di tutto il mondo
" - Ghedina & Tassotti editori s.r.l. - Bassano del Grappa (VI), Maggio 1995.
- Tina Cecchini –
Enciclopedia delle erbe medicinali
, ………… - DE VECCHI EDITORE
- Padre Gianfranco Lazzari -
L'Erbario del Frate
- EDIZIONI S. MARCO LITOTIPO
- Alberto Fidi -
Erbe e Piante medicinali
- FRATELLI MELITA EDITORI
- AA.VV. -
Enciclopedia chimica
– USES ed., Firenze
- Benigni R., Capra C., Cattorini P.E. –
Piante medicinali: chimica, farmacologia e terapia
– Inverni della beffa ed, Milano.
- Duraffourd C., D'Ervicourt L., Lapraz J.C. –
Cahieres de Phytotérapie clinique
– Masson ed., Paris 1983
- Maugini E. –
Botanica farmaceutica
– CLUSF ed., Firenze 1976
- Pomini L. –
Erboristeria italiana
– Vitalità ed
- Valnet J., Duraffourd C., Lapraz J.C. –
Phytotérapie et aromatherapie
– Presse de la Renaissance, Paris 1978
- Massari E. –
Erbe in Cina
– Milano 1981
- Penso G. –
Piante medicinali nella terapia medica
– Org. Med. Farm. Ed., Milano
- Enrica Campanili –
Dizionario di fitoterapia e piante medicinali
– Tecniche Nuove - MI
- Larousse - "
Encyclopédie des PLANTES MÉDICINALES identification, préparations, soins
" - Larousse-Bordas – 1997
- Tom Wilsons - "
Guarire con le erbe, i consigli, le malattie, le ricette, le dosi nella più ricca raccolta di erboristeria
" - Fratelli Melita Editori
- Dr. G. Fort - "
Guide de traitement par les plantes médicinales et phytocosmétologie, soins de beauté
" - Editions Heures de France - Paris, 1976
---