MSA VITIS VINIFERA - buds (Vine)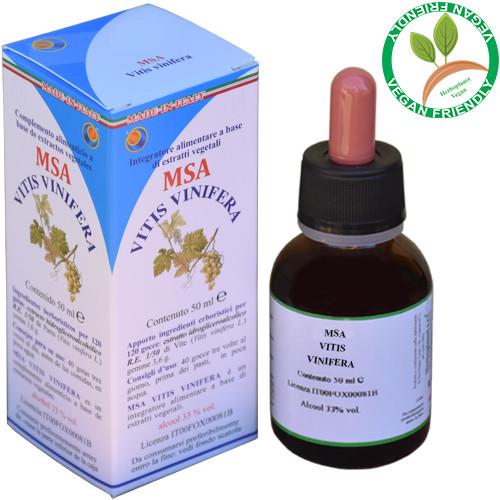 CONTRIBUTION OF HERBORISTIC COMPONENTS FOR 120 DROPS
:
Spagyric
hydro-glicero-alcoholic
solution with extraction ratio 1
:
5
(
E.R. 1/5
) of Vine (
Vitis vinifera
) buds 3.6 g.
Product included in the Register of supplements of the Belgian Health Ministry,
Code NUT/PL 1653/32
.
MSA VITIS VINIFERA
is a food supplement based on plant extracts that
contribute to the preservation of cartilage
.
SUGGESTIONS OF USE
: 25-40 drops, in some water, 3 times a day.
WARNINGS
: Keep out of reach of children under three years. Do not exceed the recommended daily dose. The product has to be used as part of a varied and balanced diet and a healthy lifestyle.
NOTES
:
The hydro-glicero-alcoholic solutions has been made with the
alchemical spagyric method of Solanimus
(
M.S.A.
) which includes all the classic spagyrical phases with the final addition of a specific phase of the alchemical philosophy. We have joint spagyrics and Alchemy to get the best from plant. The macerate of Vitis vinifera is obtained by soaking the buds, just picked, during the period of blossoming, in a hydro-glycero-alcoholic solution. The plant is rich in tannins,
laevulose, inositol, flavonoids, quercetin and quercitrin, malic acid, acetic acid, succinic acid, carotene, choline, glut
amine and other substances.
This Macerate works
on each new bone formation of the osteophytosic type
. It's a
strong anti-inflammatory remedy
and it also
reduces the articular deformations
,
thus keeping the articulation free to move
.
It is
the remedy for excellence in chronic inflammatory and relapsing states
.
PSYCHIC SYNTHESIS
:
MSA
VITIS VINIFERA
promotes a responsible attitude and able of giving fruits even if you're in difficulty. It helps you to understand that every individual has got, in his life, his own path to do for reaching his destiny. Aggressiveness for imposing their own opinion. The control desire. Tendency to dominate. Authoritarianism with which you control. Intransigence. The uncertainty that makes arrogants.
BIBLIOGRAPHY
:
- Fernando Piterà - "
Compendio di GEMMOTERAPIA CLINICA
" - De Ferrari Editore
---