MSA VACCINIUM MYRTILLUS - young shoots (Bilberry)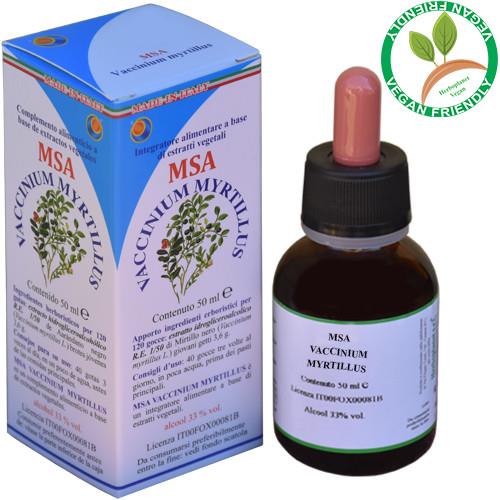 CONTRIBUTION OF HERBORISTIC COMPONENTS FOR 120 DROPS
:
Spagyric
hydro-glicero-alcoholic
solution with extraction ratio 1
:
50
(
E.R. 1/50
) of Bilberry (
Vaccinium myrtillus L.
) young shoots 3.6 g.
Product included in the Register of supplements of the Belgian Health Ministry,
Code PL 1653/31
.
MSA VACCINIUM MYRTILLUS
is a food supplement made from extracts of plants that
contributes to the normal blood circulation
.
SUGGESTIONS OF USE
: 40 drops, in some water, 3 times a day.
WARNINGS
: Keep out of reach of children under three years. Do not exceed the recommended daily dose. The product has to be used as part of a varied and balanced diet and a healthy lifestyle.
NOTES
:
The hydro-glicero-alcoholic solutions has been made with the
alchemical spagyric method of Solanimus
(
M.S.A.
) which includes all the classic spagyrical phases with the final addition of a specific phase of the alchemical philosophy. We have joint spagyrics and Alchemy to get the best from plant. The macerate of Vaccinium myrtillus is obtained by soaking the young shoots, just picked, during the period of blossoming, in a hydro-glycero-alcoholic solution.
With this glyceric macerate we must avoid prolonged treatments to prevent the possibility of anemia and/or jaundice in those sensitive subjects
. This plant contains
myrtillin
, phytosterols, flavonoids, triterpenes, mineral salts and other substances.
PSYCHIC SYNTHESIS
:
the "
Myrtillus
" kind is a very harsh person proceeding in his own life to walk zigzag. For this reason, he needs help to follow the proper course of life.
MSA
VACCINIUM MYRTILLUS
helps you to bear the acidity of the others ("...
how bitter you are
..."), to fraternize with your fellows.
BIBLIOGRAPHY
:
- Fernando Piterà - "
Compendio di GEMMOTERAPIA CLINICA
" - De Ferrari Editore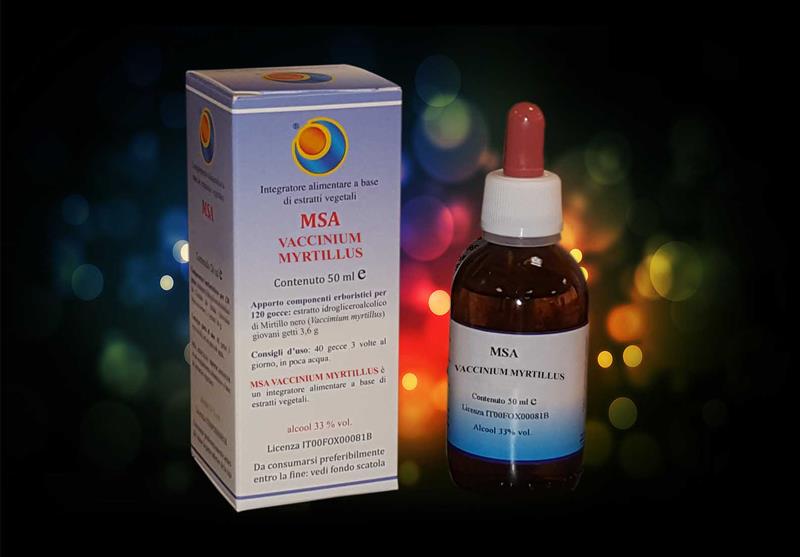 ---