MSA TILIA TOMENTOSA - buds (White Basswood)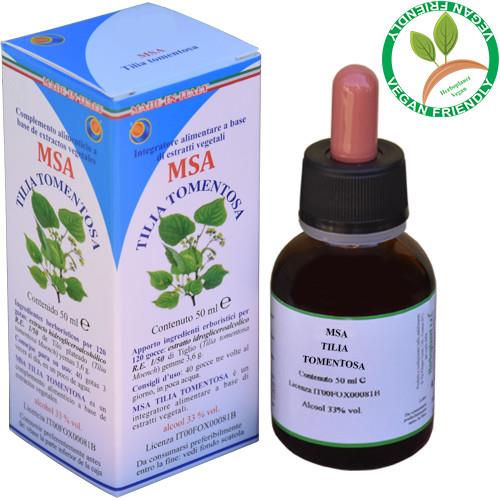 CONTRIBUTION OF HERBORISTIC COMPONENTS FOR 120 DROPS
:
Spagyrical hydro-glicero-alcoholic
solution with extraction ratio 1:50
(
E.R. 1/50
) of White basswood (
Tilia tomentosa
) buds 3.6 g.
Product included in the Register of supplements of the Belgian Health Ministry,
Code PL 1653/85
.
MSA TILIA TOMENTOSA
is a food supplement based on plant extracts
to be used in case of temporary stress
.
SUGGESTIONS OF USE
: 25-40 drops, in some water, 3 times a day.
WARNINGS
: Keep out of reach of children under three years. Do not exceed the recommended daily dose. The product has to be used as part of a varied and balanced diet and a healthy lifestyle.
NOTES
:
The hydro-glicero-alcoholic solutions has been made with the
alchemical spagyric method of Solanimus
(
M.S.A.
) which includes all the classic spagyrical phases with the final addition of a specific phase of the alchemical philosophy. We have joint spagyrics and Alchemy to get the best from plant. The Macerate of Tilia tomentosa is obtained by soaking the buds, just picked, during the period of blossoming, in a hydro-glycero-alcoholic solution. This macerate
does not give accumulation and it is non-toxic and because of this, it is suitable for use in pediatrics and geriatrics fields
, or during pregnancy or when there is a delibitated body. In a small percentage it may manifest, after taking, a slight excitation (a thing that other plants do with calming action); but simply reduce the dosage to make disappear this undesirable effect. The Macerate of Tilia tomentosa
is able to act simultaneously and on the center of sleep, and on the cortico-hypothalamic axis and on the reticulated substance and this makes the rate of serotonin higher, with
tranquillizing, sedative, antispasmodic and sedative consequent effects
.
PSYCHIC SYNTHESIS
:
MSA TILIA TOMENTOSA
gives calm. It helps you to find your own space, to rediscover your conscience ("...
you don't have an ounce of conscience
...'), to understand that in life you have to accept what it is, not just to suffer it.
BIBLIOGRAPHY
:
- Fernando Piterà - "
Compendio di GEMMOTERAPIA CLINICA
" - De Ferrari Editore
---