MSA ROSA CANINA - young shoots (Englantine)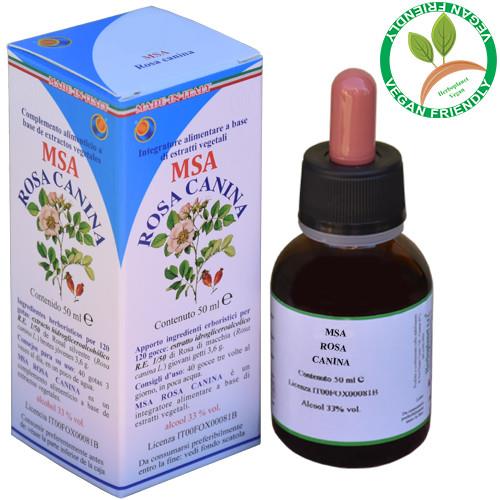 CONTRIBUTION OF HERBORISTIC COMPONENTS FOR 120 DROPS
:
Spagyrical
hydro-glicero-alcoholic
solution with extraction ratio 1
:
5
(
E.R. 1/5
) of Englantine (
Rosa canina
) young shoots 3,6 g.
Product included in the Register of supplements of the Belgian Health Ministry,
Code NUT/PL 1653/28
.
MSA ROSA CANINA
is a food supplement based on plant extracts.
SUGGESTIONS OF USE
: 40 drops, in some water, 3 times a day.
WARNINGS
: Keep out of reach of children under three years. Do not exceed the recommended daily dose.
NOTES
:
The hydro-glicero-alcoholic solutions has been made with the
alchemical spagyric method of Solanimus
(
M.S.A.
) which includes all the classic spagyrical phases with the final addition of a specific phase of the alchemical philosophy. We have joint spagyrics and Alchemy to get the best from plant. The Macerate of Rosa canine is obtained by soaking its young jets, just picked during the period of blossoming, in a hydro-glycero-alcoholic solution. The Macerate of Rosa canine has got a complementary action with several other macerates. For example, linked to Ribes nigrum it induces a more complete stimulation of adrenal cortex, linked to Tilia tomentosa it increases its sedative action.
This Macerate is the remedy for excellence to
recurrent localized inflammations
,
especially in children
(
otitis, rhinitis, tonsillitis, etc.
). It is also useful in
vasomotor headaches
and
migraines
(also with an allergic component) for the macerate seems to
have the faculty to neutralize the liberation of the amino acid tyramine that is directly concerned
in these kind of hardships.
PSYCHIC SYNTHESIS
: Generally, the "
Rosa canina
" kind is a spontaneous and common person. His main feature is the adaptability to various situations. He is gifted with great inner strength. He is not very tall and has woody limbs. He prefers the hill and the low mountains even if he does not disdain the sea. He does not love the darkness and he has almost frighted by it. He does not love salty foods.
MSA
ROSA CANINA
helps you to find the emotional balance when this has been compromised by various nature delusions. It solves old traumas and helps you to find your position and fighting to keep it.
BIBLIOGRAPHY
:
- Fernando Piterà - "
Compendio di GEMMOTERAPIA CLINICA
" - De Ferrari Editore
---