MSA QUERCUS PEDUNCOLATA - buds (Oak or Peduncolate oak)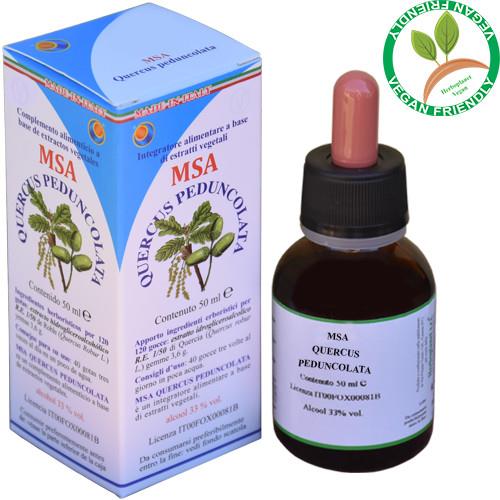 CONTRIBUTION OF HERBORISTIC COMPONENTS FOR 120 DROPS
:
Spagyrical ydroalcoholic solution with extraction ratio 1
:
5
(
E.R. 1/5
) ofor peduncolate Oak (
Quercus peduncolata
) buds 3.6 g.
Product included in the Register of supplements of the Belgian Health Ministry,
Code PL 1653/86
.
MSA QUERCUS
PEDUNCOLATA
is a food supplement based on plant extracts that
reinforces the vitality
.
SUGGESTIONS OF USE
: 25-40 drops, in some water, 3 times a day.
WARNINGS
: Keep out of reach of children under three years. Do not exceed the recommended daily dose.
NOTES:
The hydro-glicero-alcoholic solutions has been made with the
alchemical spagyric method of Solanimus
(
M.S.A.
) which includes all the classic spagyrical phases with the final addition of a specific phase of the alchemical philosophy. We have joint spagyrics and Alchemy to get the best from plant. The Macerate of Quercus peduncolata is obtained by soaking its buds (but also its young roots, the internal peel of the roots, catkins or acorns), just picked, in a hydro-glycero-alcoholic solution.
The bud-derived of Quercus peduncolata, thanks to its adrenal cortical stimulating action, stimulates the production of urinary hydroxy corticoids. It corrects the adrenal cortex hormonal deficiency
thus stimulating the corticoids hormones secretions
. It
stimulates the testosterone secretion
.
PSYCHIC SYNTHESIS
:
The "
Quercus
" kind grows slowly ("…
he nerver grows up
…"), but he can reach a high stature. He is a majestic and powerful person and feels well with everyone and often shares experiences and/or ideas with other people. He does not love the sun and always looks for the shadow.
MSA
QUERCUS PEDUNCOLATA
gives you courage (
useful when there is a need to fight against all odds and take important decisions
). It gives you "
the quiet strength
" and virility. It gives us the desire to live just when we are disappointed and sad (
the oak has always been regarded as the axis of the world, and the pedestal of the heavenly vault
). It gives us safety if we are far from the people which we refer to. It promotes the natural sense of justice.
BIBLIOGRAPHY
:
- Fernando Piterà - "
Compendio di GEMMOTERAPIA CLINICA
" - De Ferrari Editore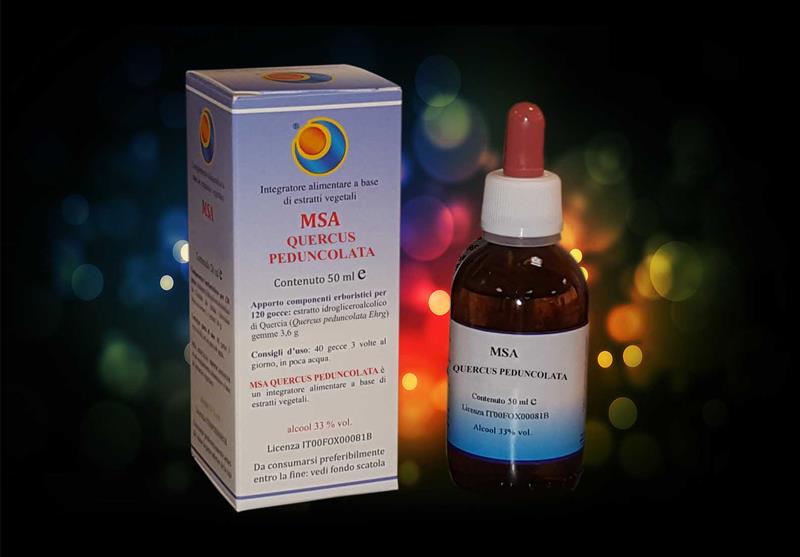 ---