MSA PRUNUS SPINOSA - buds (Blackthorn)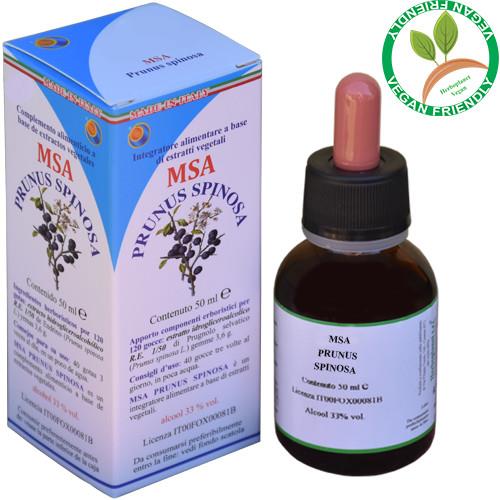 CONTRIBUTION OF HERBORISTIC COMPONENTS FOR 120 DROPS
:
Spagyrical hydro-glicero-alcoholic
solution with extraction ratio 1:0
(
E.R. 1/50
) of Blackthorn (Prunus spinosa) buds 3.6 g.
Product included in the Register of supplements of the Belgian Health Ministry,
Code PL 1653/83
.
MSA PRUNUS SPINOSA
is a food supplement based on plant extracts that
helps to energize and strengthen the body, it also contributes to the health of the kidneys and gallbladder
.
SUGGESTIONS OF USE
:
40
drops,
3
times a day, in some water.
WARNINGS
: Keep out of reach of children under three years. Do not exceed the recommended daily dose. The product has to be used as part of a varied and balanced diet and a healthy lifestyle.
NOTES
:
the Macerate of Prunus spinosa is obtained by soaking its buds, just picked, in a hydro-glycero-alcoholic solution. The biochemical action of this bud-derived
has got the faculty to reactivate the metabolism and, therefore, to detoxify the body from catabolites
. Nowadays, the auto-hetero-intoxication is strong (thanks to atmospheric pollution and the pollution in the waters and food) and it is therefore essential to have, at least, twice a year (Spring and Autumn) a detoxifying action.
The Prunus spinosa has got a
diuretic effect with double action: renal and cardiac. Therefore, it is active both in water retention (with a renal origin) both cardiac edemas
. The Macerate is an
excellent tonic and stimulant in those cases where the organism is debilitated by diseases, by intoxication, by stress
.
In addition, it is able to adjust the hormonal disharmonies and this thanks to its ability to activate the hypothalamic-pituitary-adrenal axis that allows him to have a
harmonious growth and an auxometric physiological development in children.
PSYCHIC SYNTHESIS
:
The "
Prunus spinosa
" kind is a person who generally loves the light. He does not tolerate to remain in the shadow for a long time. He loves to be noted and he knows to be pungent with those who oppose him. He is a expansive and sociable person, loves people and hates the loneliness (he gets on with "
Crataegus, Corylus, Rubus f. and Rosa c
.". Normally, he is a person who feels at home in any place.
MSA PRUNUS SPINOSA
makes you independent, helps you to understand what is good and what is evil and helps those who do not feel protected and need protection.
BIBLIOGRAPHY
:
- Fernando Piterà - "
Compendio di GEMMOTERAPIA CLINICA
" - De Ferrari Editore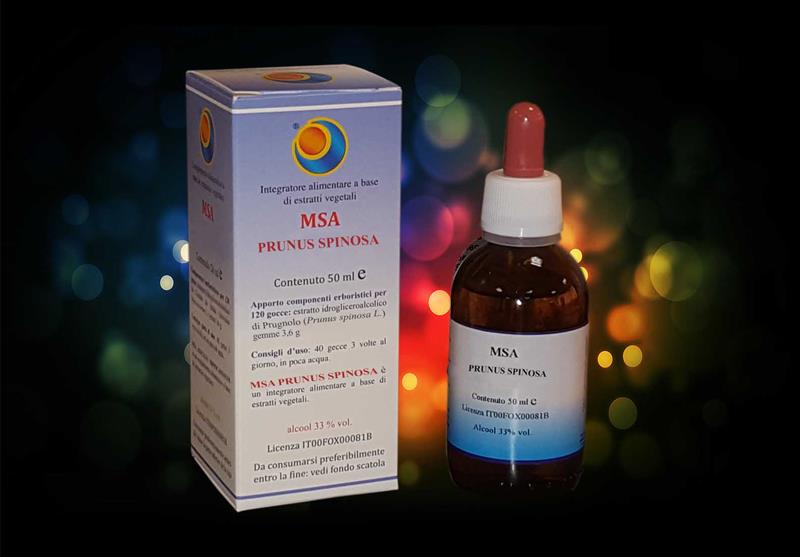 ---