FLORASOL - Miscellaneous of Lactobacilli, Bifidobacteri and Vitamin B6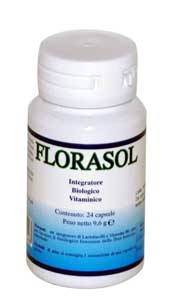 NUTRIENTS CONTRIBUTION FOR

1

CAPSULE
: Maltodextrins 200 mg, Lactobacillus bulgaricus LB
22
- DSM
21471
lyophilized
50
mg (
contribution in living cells

250

million
), Bifidumbacterium bifidus BBO
4
- DSM
21692
freeze
25
mg (
contribution in living cells

250

million
), Lactobacillus acidophvlus THE
03
- DSM
17742
lyophilized
10
mg (
contribution in living cells

500

million
), Vitamin B
6 2
mg (
142.85
RDA
). Anti-caking agents: vegetable magnesium stearate, silicon dioxide. Total contribution of living cells
1.75
billion.
Product included in the Italian Health Ministry food supplements Register,
code

7443
.
FLORASOL
is a supplement based on lactobacillus and Vitamin B
6
,
useful to re-establish the normal wellness of bacterial flora in the intestine
.
USE:
1
capsule a day.
WARNINGS
: keep out of the reach of children under the age of three years. Do not exceed the recommended daily dose. The product should be used in the context of a varied and well-balanced diet and a healthy lifestyle.
NOTE:
The administration of bacterial strains, endowed with probiotic properties (and conveyed in the form of food supplements and pharmaceutical preparations) leads to the establishment of an effective symbionts and saprophytic relationship of the micro-organisms with the host organism. This new kind of procedure, which has took place in the researches all over the world for decades, is based on the fundamental principle according to which the bacteria endowed with probiotic properties (orally administered) possess the ability to go beyond the gastric barrier with no damages, and then to colonize some intestinal tracts, in particular the ileum and the colon.
Their proven effectiveness also takes place at a topical level, especially in diseases of the mucous membranes, such as inhibiting of infectious diseases of the genito-urinary tract.
The value of these treatments, implemented at the level of prevention, may have a prophylactic and protective action for the health of the host. On the other hand,
a pharmacological therapy by specific strains of lactobacilli
,
can prove to be useful even in the presence of disease acute states, in replacement of heavy antibiotic therapies
.
Pharmacological and pharmacokinetic properties of probiotic microorganisms:
Improve the digestibility of the lactose in the individuals intolerant to this kind of sugar.
Establish and maintain, at an enteric level , unfavourable environmental conditions for abnormal and pathogenic microflora.
Reduce the production of endotoxins and biogenic amines and their absorption at systemic level.
Possess anticancer properties, having the ability to reduce the activity of those enzymes, produced by enteric microflora, that catalyze, in the colon, the conversion of procarcinogens in carcinogenic compounds.
Improve the regenerative capacity of the intestinal mucosa and stimulate specific immune responses.
Vitamin B

6
is useful for integrating any deficiencies arising from intestinal dismicrobism
.
---