MSA PINUS MONTANA - buds (Mountain Pine)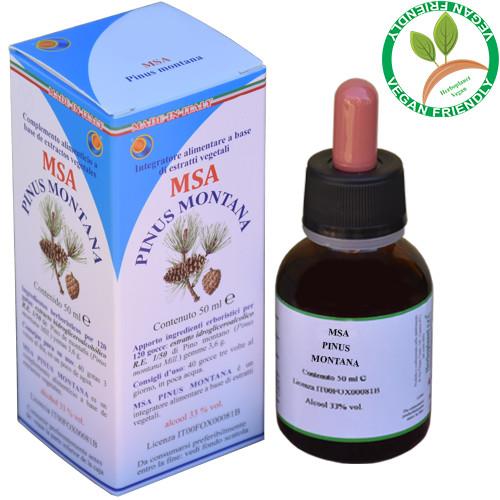 CONTRIBUTION OF HERBORISTIC COMPONENTS FOR 120 DROPS
:
Spagyrical
hydro-glicero-alcoholic
solution with extraction ratio 1
:
5
(
E.R. 1/5
) of mountain Pine (
Pinus montana
) buds 3.6 g.
Product included in the Register of supplements of the Belgian Health Ministry,
Code PL 1653/26
.
MSA PINUS MONTANA
is a food supplement made from extracts of plants that
contributes to the preservation of the cartilage
.
SUGGESTIONS OF USE
: 25-40 drops, in some water, 3 times a day.
WARNINGS
: Keep out of reach of children under three years. Do not exceed the recommended daily dose.
NOTES
:
The hydro-glicero-alcoholic solutions has been made with the
alchemical spagyric method of Solanimus
(
M.S.A
.) which includes all the classic spagyrical phases with the final addition of a specific phase of the alchemical philosophy. We have joint spagyrics and Alchemy to get the best from plant. The Macerate of Pinus montana is obtained by soaking its buds, just picked, in a hydro-glycero-alcoholic solution.
The bud-derived of Pinus montana is indicated in the
eldery osteoporotic forms
. The Macerate of Pinus montana is an
excellent anti-inflammatory of cartilages
,
slowing down its usury
.
It stimulates the regeneration of bone tissue
. The buds are rich in vitamin C, contain menthenol P (secondary therpenic alcohol), esters of borneol.
The classical gemmotherapy classifies it as an excellent remedy in rheumatism cases and generalized arthritis.
PSYCHIC SYNTHESIS
:
The "
Pinus
" kind is generally spontaneous. He loves to day-dream "
flying with his mind
". He is generally a resistant type and does not fear to bring weights. The fatigue is not a problem and he prefers the mountain and the hill even if he can well adapt himself to the sea. He is not afraid neither about the heat nor cold, thus expressing his force and its persistence. He is a modest subject, not infrequently too conscientious that tends to apologize often. He is never happy of his results because he says: "
I could do it better
".
MSA
PINUS MONTANA
teaches you to make environment appropriate for yourself. It frees your emotions and it is useful in moments where your soul is suffering or is in imbalance. It is keep his feet on the ground ("...
he is not realist
...") and helps you to be present and to break free from the need to have everything under control. It gives strength and courage (
invigorating, it reawakens energy and wellness, both at physical and spiritual level
). It helps you to overcome taboos related to sex. It can help you to feel immediately efficient when you awake in the morning. It is useful for that subject who is often not happy, who is often critical about himself and tends to condemn, reproach and blame himself, taking over the responsibility for situations which he is not guilty for. It is useful for those people who are oppressed by the sense of duty and duties.
BIBLIOGRAPHY
:
- Fernando Piterà - "
Compendio di GEMMOTERAPIA CLINICA
" - De Ferrari Editore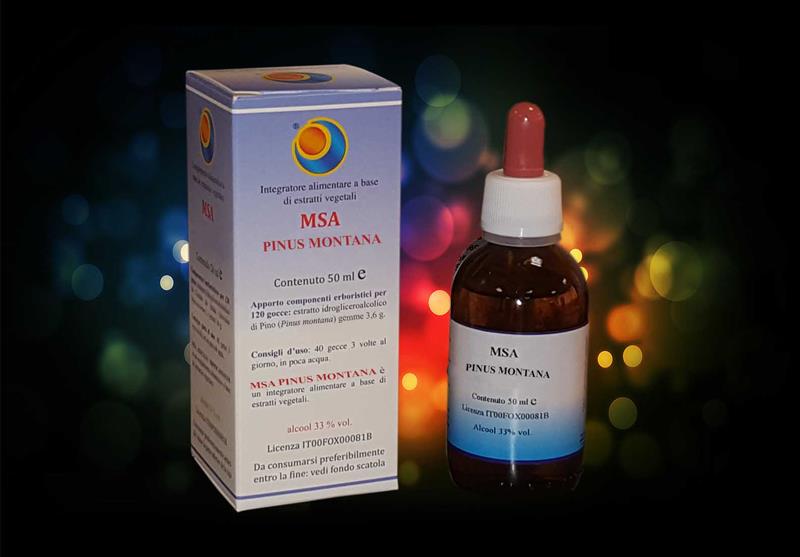 ---