MSA OLEA EUROPAEA - young shoots (Olive Tree)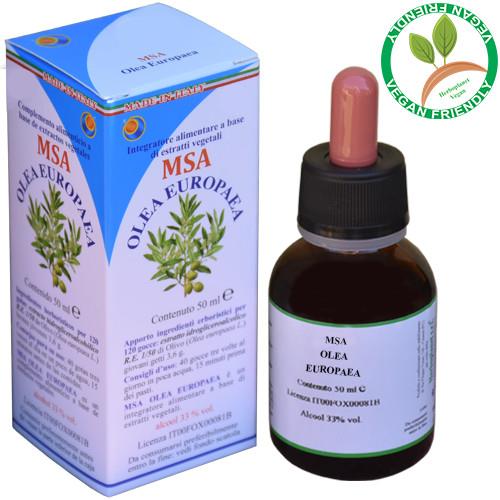 Product VEGAN FRIENDLY - Price: € 15,40
CONTRIBUTION OF HERBORISTIC COMPONENTS FOR 120 DROPS
:
Spagyrical hydro-glicero-alcoholic
solution with extraction ratio 1:50
(
E.R. 1/50
) of Olive tree (
Olea europaea
) young shoots 3.6 g.
Product included in the Register of supplements of the Italian Health Ministry,
Code 31295
.
Product included in the Register of supplements of the Belgian Health Ministry,
Code PL 1653/49
.
MSA OLEA EUROPAEA
is a food supplement based on plant extracts, which
contributes to normal blood flow
.
SUGGESTIONS OF USE
: 25-40 drops, in some water, 3 times a day.
WARNINGS
: Keep out of reach of children under three years. Do not exceed the recommended daily dose.
NOTES
:
The hydro-glicero-alcoholic solutions has been made with the
alchemical spagyric method of Solanimus
(
M.S.A.
) which includes all the classic spagyrical phases with the final addition of a specific phase of the alchemical philosophy. We have joint spagyrics and Alchemy to get the best from plant. The Macerate of Olea europaea is obtained by soaking its young shoots in a hydro-glycero-alcoholic solution.
This macerate is
the best remedy for the treatment of essential hypertension because it has a strong hypotensive action thanks to its power to dilate the arteries and make them more elastic and also thanks to its diuretic action that reverses the edemas and decrease the rate of urea in the blood.
The macerate
eliminates arterial and arteriolar spasms
in all the arterial districts(cerebral, coronary, renal). Besides, the Macerate has got a
stimulating action on liver and pancreas
. The plant contains
oleoeuropeine
(bitter glucoside), tannins,
olivine
(alkaloid) and tritherpenic flavonoids,
glycolic acid
, tannins,
carotene
and other substances.
PSYCHIC SYNTHESIS:
The "
Olea
" kind is generally stocky. He grows slowly and is very strong but sensitive to the cold and moisture. He is also sensitive to the wind which weakens him, making him nervous and restless. He is a parson who needs the light. The dark scares him ("...
I sleep with the light on
...").
MSA
OLEA EUROPAEA
helps you to fraternize and feel in peace with yourself ("...
I do not feel in peace with myself
..."). It makes you to appreciate the results you obtained without, however, taking an advantage. It solves the old trauma not forgetting or suffering them but making them accepted.
BIBLIOGRAPHY
:
- Fernando Piterà - "
Compendio di GEMMOTERAPIA CLINICA
" - De Ferrari Editore
---