MSA JUNIPERUS COMMUNIS - young shoots (Juniper)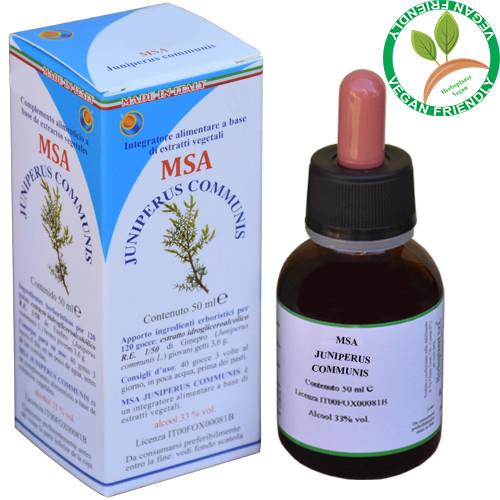 CONTRIBUTION OF HERBORISTIC COMPONENTS FOR 120 DROPS
:
Spagyrical
hydro-glicero-alcoholic
solution with extraction ratio 1
:
5
(
E.R. 1/5
) of Juniper (
Juniperus communis
) young shoots 3.6 g.
Product included in the Register of supplements of the Belgian Health Ministry,
Code NUT/PL 1653/25
.
MSA JUNIPERUS COMMINIS
is a food supplement based on plant extracts that
help to maintain joint flexibility
.
SUGGESTIONS OF USE
: 25-40 drops, in some water, 3 times a day.
WARNINGS
: Keep out of reach of children under three years. Do not exceed the recommended daily dose.
NOTES:
The hydro-glicero-alcoholic solutions has been made with the
alchemical spagyric method of Solanimus
(
M.S.A.
) which includes all the classic spagyrical phases with the final addition of a specific phase of the alchemical philosophy. We have joint Spagyrics and Alchemy to get the best from plant. The Macerate of Juniperus communis is obtained by soaking the young shoots in a hydro-glycero-alcoholic solution.
This macerate is contraindicated in the acute kidneys inflammation states and since it has tonic action on the uterus, it is controindicated even in pregnant women
. The plant contains resin, rubber, chlorophyll and terpenes as
limonene, glycolic, glyceric
and
glucuronic acids
,
calcium and potassium
salts and other substances.
PSYCHIC SYNTHESIS
:
The "
Juniper
" kind never seems to get old. He is an "
evergreen
", like the plant. He is a kind of person always ready to tease the others and push them ("...
he is a bothering type
...") but, sometimes, he is of dubious morality. For those people who believe in the Qabalah, this plant, more than any other one, represents the number 3 (
3 leaves, 3 berries, 3 bracts, 3 seeds, 3 years to mature, 3 organs that benefit from it: liver, kidney, joint
). Here, we want to remind you that its wood was used to make the cross (the
Trinity
).
MSA JUNIPERUS COMMUNIS
helps the individual believing to have all against him ("...
they torment me
..."). He believes that the evil persecutes him or, even, that he is bewitched ("...
they put a curse on me
..."). It helps the individual to overcome the fears due to the duty to bear uncomfortable positions; it makes you able to fraternize. It helps you to bear the misadventures of life ('"...
I have to bear this cross
... ").

BIBLIOGRAPHY:
- Fernando Piterà - "Compendio di GEMMOTERAPIA CLINICA" - De Ferrari Editore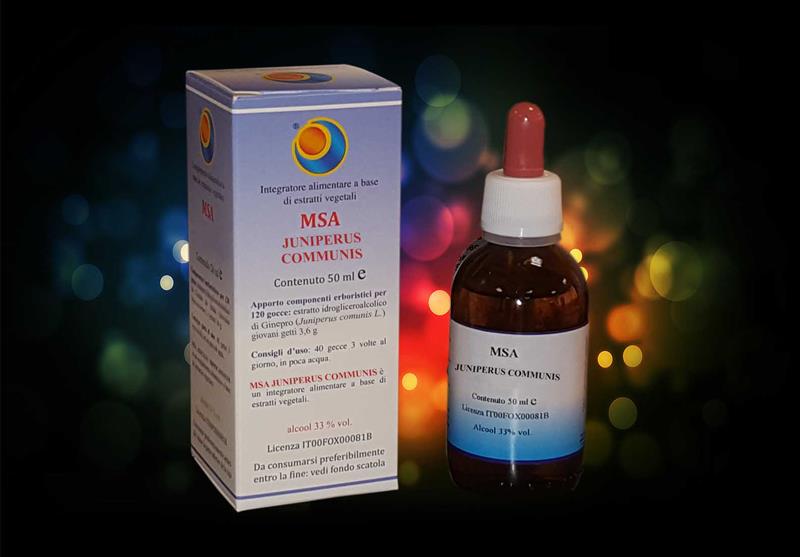 ---