MSA JUGLANS REGIA - buds (Nut)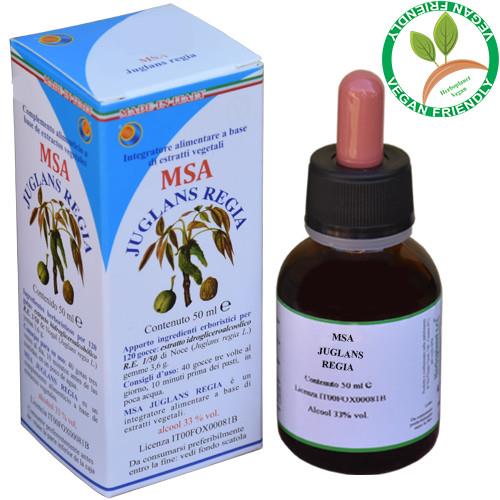 CONTRIBUTION OF HERBORISTIC COMPONENTS FOR 120 DROPS
:
Spagyrical hydro-glicero-alcoholic
solution with extraction ratio 1:50
(
E.R. 1/50
) of Nut (
Juglans regia
) buds 3,6 g.
Product included in the Register of supplements of the Belgian Health Ministry,
Code PL 1653/88
.
MSA JUGLANS REGIA
is a food supplement based on plant extracts
to be used in case of swelling
.
SUGGESTIONS OF USE
: 25-40 drops, in some water, 3 times a day.
WARNINGS
: Keep out of reach of children under three years. Do not exceed the recommended daily dose.
NOTES
:
The hydro-glicero-alcoholic solutions has been made with the
alchemical spagyric method of Solanimus
(
M.S.A.
) which includes all the classic spagyrical phases with the final addition of a specific phase of the alchemical philosophy. We have joint spagyrics and Alchemy to get the best from plant. The Macerate of Juglans regia is obtained by soaking its buds picked during the period of blossoming in springtime, in a hydro-glycero-alcoholic solution. The bud-derivated action is slow but sure and constant. The Juglans regia
is also used in veterinary medicine to combat lynphatism, rickets and adenitis in dogs
. Its leaves contain
juglone, gallic, ellegic and nucitannic acids
, an alkaloid (
juglandina
),
tyrosinase enzyme, amminoacid juglamina, nicotine, carotene, phosphorus, potassium
, and more. The main component is the juglone which has an
rubefacient, antiseptic, keratinizing and regenerating actions on the ski
n. The immature fruits husk and the leaves were used by the arabs for therapeutic purposes, while the oil was already used in The first century by Dioscorides to combat the tenia and then in 1916 also De Surel confirmed its therapeutic action against tenia.
PSYCHIC SYNTHESIS
:
The "
Juglans
" kind is a pretty corpulent which can bear the cold but prefers and goes searching for the warm. He does not easily find a company because, with his behavior, irritates the other people who try to avoid him ("...
how irritating you are
!..."). He prefers the open spaces.
MSA
JUGLANS REGIA
a
helps you not to be afraid of death, so helping the individual to find out all his interior wealth he has got hidden inside. It induces the self-protection and helps those people who don't feel good in their own family
("...I don't feel ready, or I was not ready, to start a family...").
Useful in mental Indolence in sniveling and dreary people. It helps to find a way out of the anger caused by contrasts of projects, all of this affects the liver (Juglans regia is typically Jovial plant, the Romans called "
Jovis gland
" acorn of Jupiter), in these moments the typical sentence it is: "
I would like to hit my head against the wall
". It helps to lose the too much aggressiveness and to be more flexible towards others, trying also the compromise (which is very difficult for the type "Juglans").
BIBLIOGRAPHY
:
- Fernando Piterà - "
Compendio di GEMMOTERAPIA CLINICA
" - De Ferrari Editore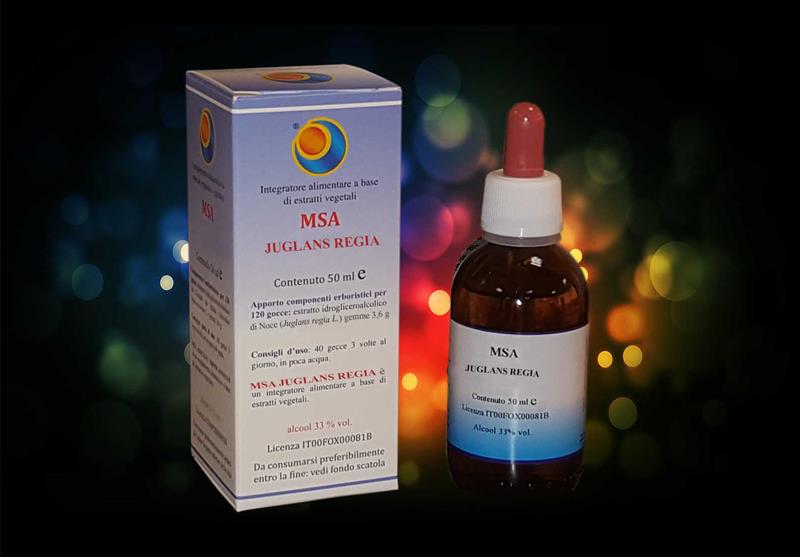 ---