MSA FICUS CARICA - buds (Fig)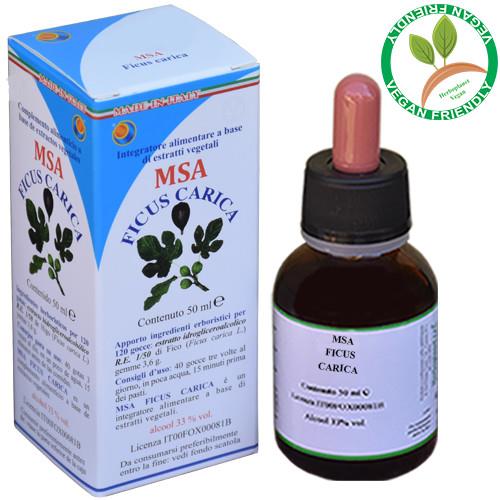 CONTRIBUTION OF HERBORISTIC COMPONENTS FOR 120 DROPS
:
Spagyrical
hydro-glicero-alcoholic
solution with extraction ratio 1
:
5
(
E.R. 1/5
) of Fig (
Ficus carica
) buds 3,6 g.
Product included in the Register of supplements of the Italian Health Ministry,
Code PL
1653/24
.
MSA FICUS CARICA
is a supplement based on herbal extracts always known for their beneficial effects,
able to promote the normal functions of the digestive apparatus
.
SUGGESTIONS OF USE
: 25-40 drops in a some water, 15 minutes before the 3 main meals.
WARNINGS
: Keep out of reach of children under three years. Do not exceed the recommended daily dose. The product should be used as a part of a varied and balanced diet and a healthy lifestyle.
NOTES
:
The hydro-glicero-alcoholic solutions has been made with the
alchemical spagyric method of Solanimus
(
M.S.A.
) which includes all the classic spagyrical phases with the final addition of a specific phase of the alchemical philosophy. We have joint spagyrics and Alchemy to get the best from plant. The Macerate of Ficus carica is obtained by soaking its buds, picked during the period of blossoming in a hydro-glycero-alcoholic solution. The macerate action mechanism, probably diencephalic origined, makes it
useful in all dystonic states
.
In very sensitive individuals it may express, in the course of the first intakes, a slight diarrheal event that will disappear by reducing the dosage or suspending its administration and resuming it after a few days.
PSYCHIC SYNTHESIS
:
The "
Ficus
" kind generally has got a short trunk and his limbs are long, particularly his upper limbs. During his adolescence, he is flaccid, weak and with a delicate resistance, then, growing up, he acquires elasticity, strength and tenacity. He does not love the humidity and the cold, but he prefers the warm season and he loves the light and the sun. He is a very impulsive type, acting without thinking of the consequences that his impulsiveness may take.
MSA FICUS CARICA
helps to weigh and metabolize your actions and experiences and to understand what is right and what is wrong ("...
he is not able to distinguish good and evil.
.."). It allows you to reflect before acting. It develops the mental clarity, the assurance and memory, helping you to clarify your choices. It helps to dissipate your hidden fears and mental blocks so accumulated in your subconscious. It helps you to understand and confess your mistakes and your wrong evaluations. It helps you to solve your interpersonal conflicts and face the complexity of life in a calm and confident way. It balances the sexual sphere.
BIBLIOGRAPHY:
- Fernando Piterà - "
Compendio di GEMMOTERAPIA CLINICA
" - De Ferrari Editore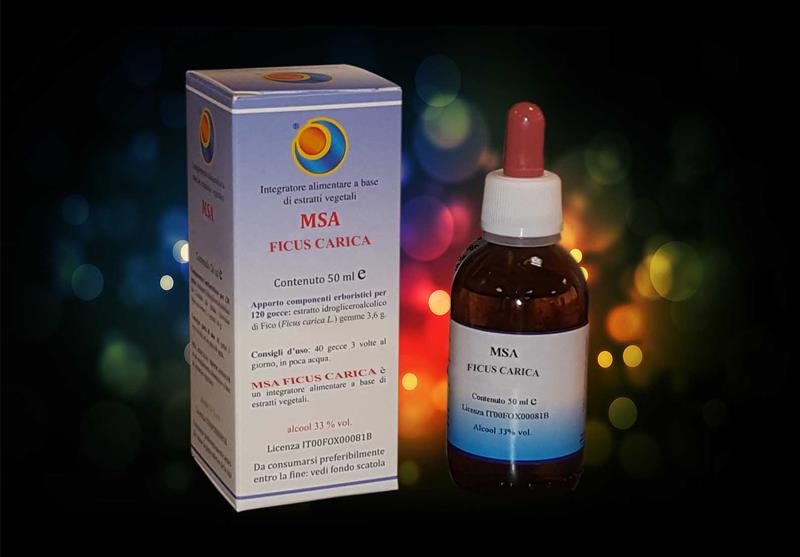 ---