MSA CASTANEA VESCA - buds (Chestnut)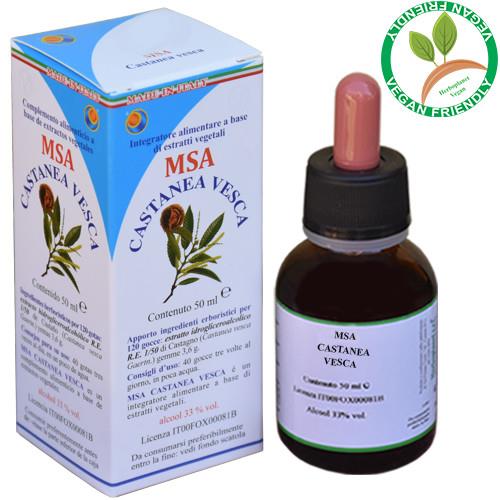 CONTRIBUTION OF HERBORISTIC COMPONENTS FOR 120 DROPS
:
Spagyrical hydro-glicero-alcoholic
solution with extraction ratio 1/50
(
E.R. 1/50
) of Chestnut (
Castanea vesca
) buds 3.6 g.
Product included in the Register of supplements of the Belgian Health Ministry,
Code PL 1653/51
.
MSA CASTANEA VESCA
is a food supplement based on plant extracts, which
contributes to normal blood flow
.
SUGGESTIONS OF USE
: 25-40 drops, in some water, 3 times a day.
WARNINGS
: Keep out of reach of children under three years. Do not exceed the recommended daily dose.
NOTES
: The hydro-glicero-alcoholic solutions has been made with the
alchemical spagyric method of Solanimus
(
M.S.A.
) which includes all the classic spagyrical phases with the final addition of a specific phase of the alchemical philosophy. We have joint spagyrics and Alchemy to get the best from plant. The Macerate of Castanea vesca is obtained by soaking the fresh buds picked in springtime in a idro-glyceric-alcoholic solution. Its buds contain deidro-digallic acid, the plant contains a glucoside, gallic acid, tannin, inositol and inosite, sucrose, minerals (
iron, calcium, magnesium, etc
.) and
Vitamin E
. The macerate is
able to reduce congestion phenomenon and lower limbs lymphatic blockage
, and, consequently,
it is an exceptional lymphatic draining in vascular disease and edema of the lower limbs
. The lymphatic stasis plays a primary role in the lower limbs veinous insufficiency and the macerate of
Castanea vesca has got a lymphatic drainage action in the varicose legs
alleviating a lot the symptoms responsible for the edema and the painful feeling of heavy legs
.
PSYCHIC SYNTHESIS
: The "
Castanea
" kind is a majestic and imposing person, with dense hair but, even if he is tough and strong as a rock, he can splinter suddenly. He prefers the hot to the cold ("...
I need the Sun
...").
MSA
CASTANEA VESCA
helps the individual to bear the mental and physical fatigues , thus helping him if he needs moral support and human warmth.
BIBLIOGRAPHY
:
- Fernando Piterà - "
Compendio di GEMMOTERAPIA CLINICA
" - De Ferrari Editore
---