MSA BETULA PUBESCENS - buds (Downy Birch)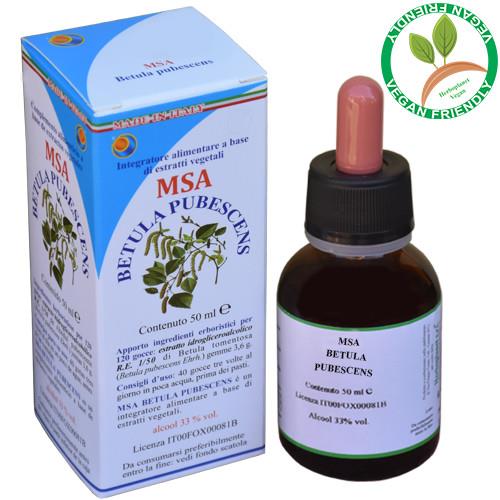 CONTRIBUTION OF HERBORISTIC COMPONENTS FOR 120 DROPS
:
Spagyrical
hydro-glicero-alcoholic
solution with extraction ratio 1/50
(
E.R. 1/50
) of downy Birch (
Betula pubescen
s) buds 3.6 g.
Product included in the Register of supplements of the Belgian Health Ministry,
Code PL 1653/79
.
MSA BETULA PUBESCENS
is a food supplement based on plant extracts that
contributes to the normal development of bones
.
SUGGESTIONS OF USE
: 25-40 drops, in some water, 3 times a day.
WARNINGS
: Keep out of reach of children under three years. Do not exceed the recommended daily dose. The product has to be used as part of a varied and balanced diet and a healthy lifestyle.
NOTES
:
The hydro-glicero-alcoholic solutions has been made with the
alchemical spagyric method of Solanimus
(
M.S.A.
) which includes all the classic spagyrical phases with the final addition of a specific phase of the alchemical philosophy. We have joint spagyrics and Alchemy to get the best from plant. The Macerate of Betula pubescens is can be prapared by using its buds, young roots and the peel of its roots; here, we have taken into account the macerate obtained by soaking the buds in a idro-glycero-alcoholic solution.
Betula pubescens stimulates all catabolisms
:
uric acid, urea and cholesterol
because it acts on the detoxifying functions of the liver by macrophage activat
ion (
Kupffer
liver cells) and confirmed by the test of Halpern.
This macerate is the remedy of the exudative inflammatory phase
and must be always associated with the macerate of Alnus glutinosa if there is a note of chronification
. The buds stimulate the immune system by activating the Endothelial Reticulo System. Its leaves contain cathechic tannin,
tannic acid
, sugar, an alkaloid, an essential ethereal oil, glucosides,
nicotinic acid
. The macerate obtained from the buds of Betula pubescens prepares and facilitates the therapeutic action of the other more specific macerates on the organotropism.
PSYCHIC SYNTHESIS
: The "
Betula pubescens
" kind is a thin person even if, during his youth, was often covered by a dense hair. He early tends to alopecia and we can define him as a "
Saturnine
" kind. Normally, he has an erect posture and light complexion. He loves the moisture and need water preferring cold to hot. His season is the winter. Normally, he prefers the mountain to the sea. He is a very generous tending to give and to spend, that he looks like a naive type ("...
he is a waster
…"). He does not become descouraged so easily and he is not afraid to start back from the beginning what, according to him, was not successful.
MSA BETULA PUBESCENS
helps you to get used to the new environmental situations and to fight the fears which you do not understand the origin of. It makes you parsimonious doing better calculate assets and liabilities. It allows you to evaluate the various situations in a more detached way.
BIBLIOGRAPHY
:
- Fernando Piterà - "
Compendio di GEMMOTERAPIA CLINICA
" - De Ferrari Editore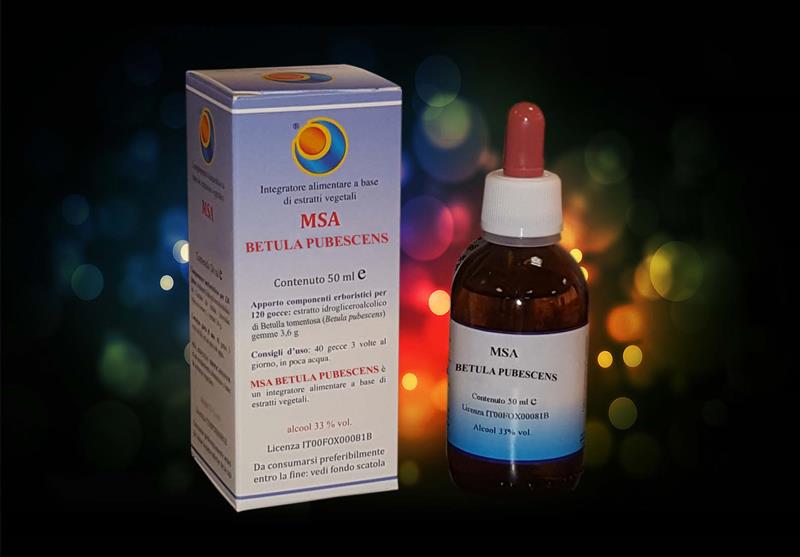 ---