MSA AESCULUS HIPPOCASTANUM - Buds (Horse Chestnut)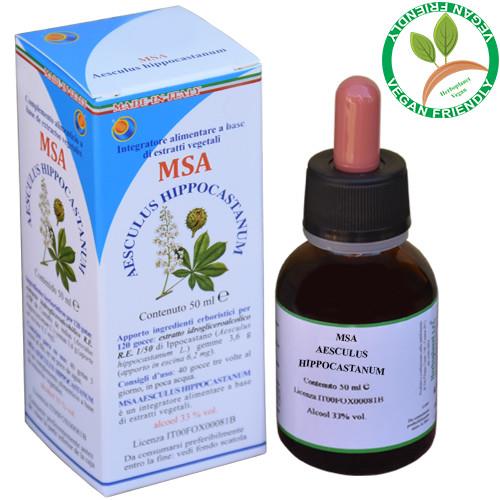 CONTRIBUTION OF HERBORISTIC COMPONENTS FOR 120 DROPS
:
MSA
(
Alchemical-Spagyric Macerated of Solanimus - Extraction Ratio 1/50
) of Horse Chestnut (
Aesculus hippocastanum L
.) buds 3,6 g.
Product included in the Register of supplements of the Italian Health Ministry.
Product included in the register of supplements of the French Health Ministry,
code 2018-3-798
.
MSA AESCULUS HIPPOCASTANUM
is a food supplement based on plant extracts that
contributes to normal circulatory function
.
USE
:
40
drops,
3
times daily, in some water.
WARNINGS
: Keep out of reach of children under the age of three years. Do not exceed the recommended daily dose. The product should be used in the context of a varied and well-balanced diet and a healthy lifestyle.
NOTES
: the Aesculus Hippocastanum Macerate is prepared by using its buds picked in springtime. In the buds are present some coumarins (esculetin, aesculin, fraxin, etc.). It is the specific macerate for the venous stasis and also for venous congestion, it not only has a vasoprotective, phlebotonic and venous decongestant action, but its mechanism of action is similar to a not gory bloodletting, because the decongestant effect on blood plethora also happens for improvement of circulatory function altered on engorgement of blood vessels side and this allows better blood flow from congested veins.
BIBLIOGRAPHY
:
- Fernando Piterà - "
Compendio di GEMMOTERAPIA CLINICA
" - De Ferrari Editore
---