MSA ACER CAMPESTRE - buds (Field Maple)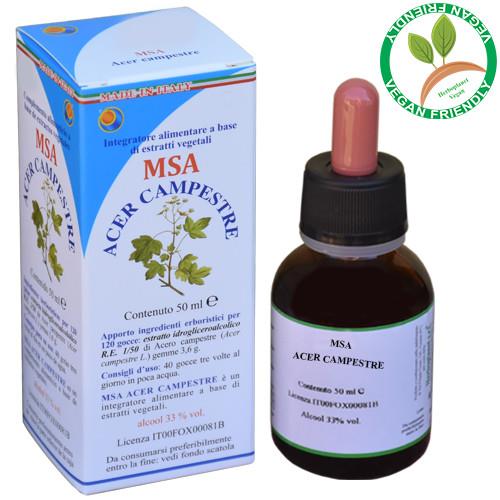 CONTRIBUTION OF HERBORISTIC COMPONENTS FOR 120 DROPS
:
Spagyrical hydro-glicero-alcoholic
solution with extraction ratio 1/50
(
E.R. 1/50
) of Field Maple (
Acer campestre L
.) buds 3.6 g. Soluble and fixed salts of the plant.
Product notified to the Italian Health Ministry.
MSA ACER CAMPESTRE
is a food supplement based on plant extracts that
contribute to digestive function and liver function
.
Also it contributes to the metabolism of cholesterol and to the regular cardiovascular function
.
USE
:
40
drops,
3
times daily, in some water.
WARNINGS
: Keep out of reach of children under three years. Do not exceed the recommended daily dose. The product has to be used as part of a varied and balanced diet and a healthy lifestyle.
NOTES
: the Macerate of Field Maple is prepared by using the buds picked in springtime. It has got an anti-inflammatory action on gallbladder and change the composition of the bile, reducing the precipitation of bile salts. It stimulates the metabolism and pancreatic tissue protecting the arteries.The Field Maple should not be taken for more than 40 days per cycle of care. Its use let other remedies act their best.
PSYCHIC SYNTHESIS
: The "
Acer campestre
" kind is often a careful, modest, very cautious person, even reserved and frightening.
MSA ACER CAMPESTRE
gives tenacity and force ("...
you're a spineless man
"), thus making the individual be not subject to attacks of profiteers.
BIBLIOGRAPHY
: - Fernando Piterà - "
Compendio di GEMMOTERAPIA CLINICA
" - De Ferrari Editore
---