TSA UNCARIA TOMENTOSA - inner part of the bark of roots (Cat'S Claw)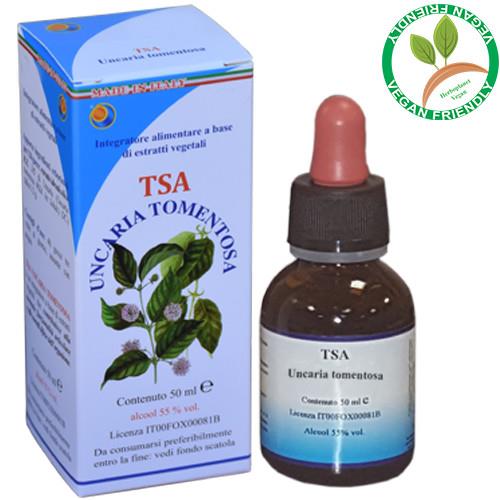 CONTRIBUTION OF HERBORISTIC COMPONENTS FOR 120 DROPS: Spagyrical ydroalcoholic solution with extraction ratio 1/5 (E.R. 1/5) of Cat's claw (Uncaria Tomentosa) root bark 3,3 g.

Product included in the Register of supplements of the Belgian Health Ministry, Code PL 1653/41.

TSA UNCARIA TOMENTOSA is a food supplement based on herbal principles, useful to restore the physiological organic defences.
Use
:
40
drops, in some water,
3
times daily.
Warnings
: Keep out of children under three years old. Do not exceed the recommended daily dose.
Notes:
The hydroalcoholic solutions has been made with the
alchemical spagyric method of Solanimus
(T.S.A.
) which includes all the classic spagyrical phases with the final addition of a specific phase of the alchemical philosophy. We have joint spagyrics and Alchemy to get the best from plant.
Uncaria tomentosa
has always been used by amazonian curanderos
as immunostimulant remedy
. Uncaria tomentosa comes from the forests of north-west of the Amazon where grows wild at the altitudes of
300-900
meters above sea level.
REFERENCE
:
- Ernesto Riva - "
L'universo delle PIANTE MEDICINALI trattato storico, botanico e farmacologico di

400

piante di tutto il mondo
" - Ghedina & Tassotti editori s.r.l. - Bassano del Grappa (VI), Maggio
1995
.
- Tina Cecchini –
Enciclopedia delle erbe medicinali
, ………… - DE VECCHI EDITORE
- Padre Gianfranco Lazzari -
L'Erbario del Frate
- EDIZIONI S. MARCO LITOTIPO
- Alberto Fidi -
Erbe e Piante medicinali
- FRATELLI MELITA EDITORI
- AA.VV. -
Enciclopedia chimica
– USES ed., Firenze
- Benigni R., Capra C., Cattorini P.E. –
Piante medicinali: chimica, farmacologia e terapia
– Inverni della beffa ed, Milano.
- Duraffourd C., D'Ervicourt L., Lapraz J.C. –
Cahieres de Phytotérapie clinique
– Masson ed., Paris
1983
- Maugini E. –
Botanica farmaceutica
– CLUSF ed., Firenze
1976
- Pomini L. –
Erboristeria italiana
– Vitalità ed
- Valnet J., Duraffourd C., Lapraz J.C. –
Phytotérapie et aromatherapie
– Presse de la Renaissance, Paris
1978
- Massari E. –
Erbe in Cina
– Milano
1981
- Penso G. –
Piante medicinali nella terapia medica
– Org. Med. Farm. Ed., Milano
- Enrica Campanili –
Dizionario di fitoterapia e piante medicinali
– Tecniche Nuove - MI
- Larousse - "
Encyclopédie des PLANTES MÉDICINALES identification, préparations, soins
" - Larousse-Bordas –
1997
- Tom Wilsons - "
Guarire con le erbe, i consigli, le malattie, le ricette, le dosi nella più ricca raccolta di erboristeria
" - Fratelli Melita Editori
- Dr. G. Fort - "
Guide de traitement par les plantes médicinales et phytocosmétologie, soins de beauté
" - Editions Heures de France - Paris,
1976
---